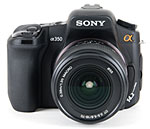 The Sony Alpha DSLR-A350 gives a new identity to the fledgling Alpha line with an industry-leading, auto-focusing, tiltable Live View display. Other user-friendly features include built-in image stabilization and dynamic range optimization (DRO), making the $800, 14.2-megapixel Sony Alpha A350 a powerful addition to the consumer digital SLR market.
Want to buy a Sony Alpha DSLR-A350?
Compare prices and shop for a Sony Alpha DSLR-A350 digital camera >>
Pros
No compromise Live View auto focus
Tilting LCD
Built-in image stabilization
14.2 megapixels of resolution
Anti-dust coating and sensor vibration
Detailed battery meter

Cons
Detail-destroying noise reduction
Small viewfinder
Fn button and other controls need fine-tuning
Lots of plastic parts
Only 2 frames-per-second capture rate using Live View

Introduction
When Sony launched the Alpha series with the budget A100 in 2006, it struggled to find an identity in a digital SLR market dominated by Nikon and Canon. Sony's better-established competitors had budget SLRs that lured professional hopefuls into upgrading, while Sony was just dipping its toes in the water. Originally the love child of Sony and Minolta, the Alpha series began life as a confused child with a good pedigree, although Sony eventually got sole custody. The original Alpha A100′s sub-$1000 price tag, built-in image stabilization and novel features like Eye-Start Auto Focus gave it some definition, but who, exactly, was it for?
Two years later, Sony has answered that question with the 14.2-megapixel A350 and the 10.2-megapixel A300. At first, the two don't seem like major improvements over their predecessors, the A100 and A200. You might even wonder, "Where's the beef?" The answer is sitting right on the back of the camera: The tilting 2.7-inch Live View LCD and innovative Live view auto focus at long last gives the Sony Alpha series a defining identity.
Unlike other Live View displays that don't auto focus, focus slowly or black out their displays, the A350′s innovative mirror system lets the LCD use the same high performance, phase-detection auto focus as the viewfinder. The display also tilts up and down, making it easier to shoot at previously awkward angles.
How does this one feature transform a digital SLR? How is it different from the Live View features on other cameras? I took it to the streets of San Francisco to find out.
next page – Sony Alpha DSLR-A350 Camera Features >>