There's a new twist on the "EVIL" (Electronic Viewfinder Interchangeable Lens) camera strategy. Yesterday, Sony announced two "SLT" (Single Lens Transparent) cameras, the 16.2-megapixel Alpha SLT-A55 and 14.2-megapixel Alpha SLT-A33. Both cameras use "Translucent Mirror Technology," which I think is what we used to call a pellicle mirror. Like Sony's recent NEX cameras and the Olympus and Panasonic Micro Four Thirds cameras, the new Sony Alpha SLT-A55 and SLT-A33 have an electronic viewfinder instead of the traditional SLR TTL optical viewfinder. Where they differ from the NEX and Micro Four Thirds cameras is the transparent mirror between the lens and sensor. The mirror allows Sony to use phase-detect auto focus in the SLT cameras instead of the less accurate contrast-detect auto focus used in video DSLRs and other EVIL cameras. That means the new Sony SLT cameras should have much better continuous auto focus in movie mode than any current digital SLR or EVIL camera. Sony also included a new 15-point auto focus system and the A55 is capable of 10-frames-per-second, making it the fastest camera for under $1000 as well as the fastest camera with an APS-C sensor.

Back in the olden days, when digital cameras were the size of a brick and had VGA sensors, Canon had a 35mm SLR called the EOS-1N RS (Canon EOS-1N RS 35mm SLR reviews). I wanted one. Bad. That's because the Canon EOS-1 RS had a transparent pellicle mirror that allowed it to shoot 10 frames-per-second. Traditionally, the mirror that allows you to see through the lens of an SLR has to move out of the way to allow light to reach the film or sensor. If you have a transparent mirror, all you have to do is open the shutter – no need to swing that big, heavy mirror up and out of the way. The mirror is also important because that's where the auto focus sensor array is located. A transparent mirror allows the auto focus to remain active even while pictures are being taken – or while the camera is in Live View / movie mode. SLRs with regular mirrors and mirrorless cameras like the Olympus Pen Digitals can't use phase-detect auto focus in Live View or movie mode. They're limited to the slower, less accurate contrast-detect auto focus. "Translucent Mirror Technology" allows the Sony SLT A55 and A33 cameras to use phase-detect auto focus for both stills and video and it also makes the super fast 10 FPS frame rate possible in the A55.
The two new SLT cameras are quite a coup for Sony – especially following on the heels of Nikon's D3100 digital SLR announcement, "the world's first D-SLR to introduce full time auto focus (AF) in Live View and D-Movie mode…" Since the D3100 is still limited to contrast-detect auto focus, the Sony announcement really steals Nikon's D3100 thunder.
The new Sony Alpha SLT-A55 and the A33 capture full 1920 x 1080 60i AVCHD video and have built-in, sensor-level Super SteadyShot image stabilization. Both cameras also have a built-in pop-up flash and fully articulated, 3-inch tilt-swivel LCD display. The A55, as mentioned, has a faster 10 FPS burst rate. But the A33 also has a very respectable 7 FPS burst rate. The A55 and A33 cameras have a sensitivity range of ISO 100 to 12,800 and a full range of exposure controls. They also include some more consumer-friendly fun features like built-in HDR, Hand-held Twilight, Sweep Panorama, 3D capture, HDMI output, and the A55 has built-in GPS for tagging photos.
The Sony Alpha SLT-A33 will be available in September and the A55 will be available in October for $650 and $750, respectively. For $100 more you can buy each camera in a kit with the Sony 18-55mm zoom lens.

Sony Alpha SLT A55 Reviews & Shopping:


Sony Alpha SLT A33 Reviews & Shopping:


Related Content:
Sony Digital SLR User Reviews
All Digital SLR User Reviews
Sony Cameras Forum
EVIL & Micro Four Thirds Cameras Forum
Digital SLR Forum
More Sony News, Reviews And Articles
Sony Web Site
Sony Alpha SLT-A55 Translucent Mirror Technology DSLR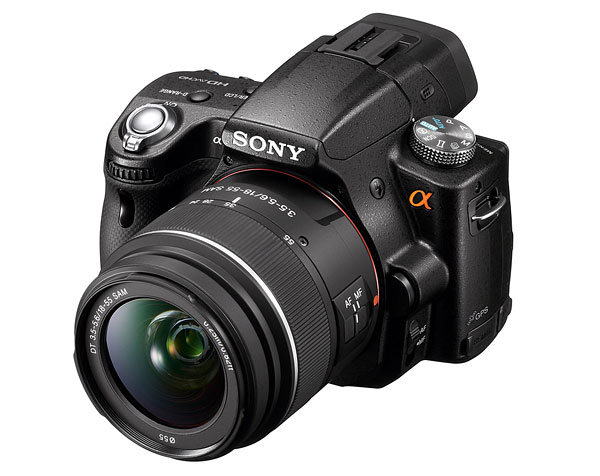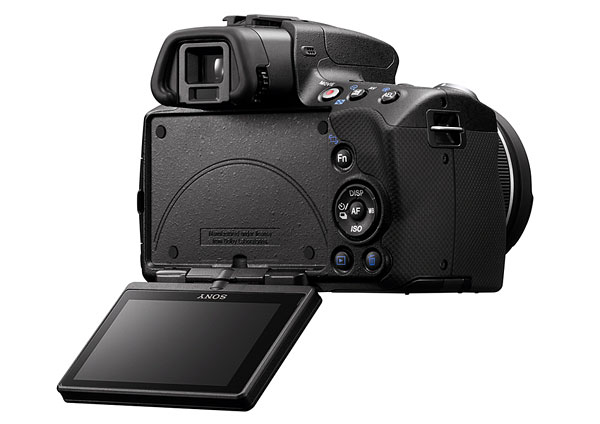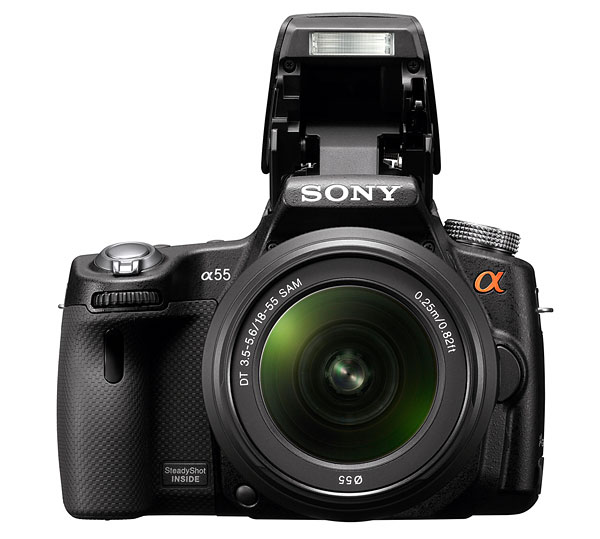 Sony Alpha SLT-A33 Translucent Mirror Technology DSLR