Sony Cybershot DSC-H50 Camera Experience
Sony Cybershot DSC-H50 rear controls, tilting LCD display, and pop-up flash

I've used half a dozen or so cameras in the past year, from pocket-sized point-and-shoots to medium-sized compact digital cameras to the world's smallest digital SLR. The Sony DSC-H50 falls squarely in the middle, in more ways than one. It's a compact digital camera with a modest price tag, several outstanding features and some mediocre qualities. I loved the huge zoom range, especially when I was shooting in wide open spaces like Monument Valley or from canyon overlooks high above ancient Native cliff dwellings. Sometimes I regretted not having a wider-angle lens. When you're standing under a waterfall and trying to capture its grandeur, there's a big difference between the H50′s 31mm wide-angle and the traditional 28mm wide-angle standard.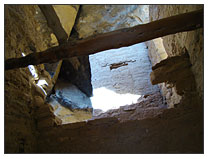 The camera also hits middle ground with its user interface – both the physical design and the electronic menus. They're neither great nor terrible – they're just average. The LCD is pretty great, though. I love the large size, vivid colors, sharpness and tilting function. One picture I probably wouldn't have gotten without the tilting LCD was through the small window of a cliff dwelling, looking up at the 700-plus-year-old interior walls and log rafters (see right).
The DSC-H50′s exposure modes are nothing to write home about, although it is nice to have the full range of options, from Easy mode to manual. I generally shot using Automatic or one of the scene modes, like Landscape or Fireworks, and my photographs were usually well-exposed. Intelligent Scene Recognition is a useful function, and the continuous shooting/bracket button is easy to use and handy to have.
I was frustrated by the camera's auto review function, or lack thereof. When I take a picture, I like to see it on the LCD for at least a few seconds, if not longer. Some cameras allow you to choose how long the last picture taken should remain on the screen, but not this one. The only choice is on or off, and on is virtually useless. Although the DSC-H50′s settings menu says, "Review images 2 sec. after shooting," mine displayed them for no more than half a second. I wasted a lot of time hitting the playback button to see what I'd just taken.
The H50′s exposure metering and auto focus worked very well, especially when I was shooting challenging subjects like neon signs, ice sculptures and luminaria at night (see below). However, the metering mode button on the top of the camera never seemed to work. Every time I pressed it, the LCD displayed a scary exclamation point and an error message: "Metering mode operations are not available." Eventually I figured out you can only select the metering mode when Face Detection is off and you're using one of the manual exposure modes. There are two metering options – spot and Multi-Pattern, which evaluates the whole scene and sets exposure accordingly. Since I prefer using auto and scene modes where the metering mode can't be selected, I aim the camera at whatever I want to meter off of, depress and hold the shutter button halfway to meter and focus, then recompose.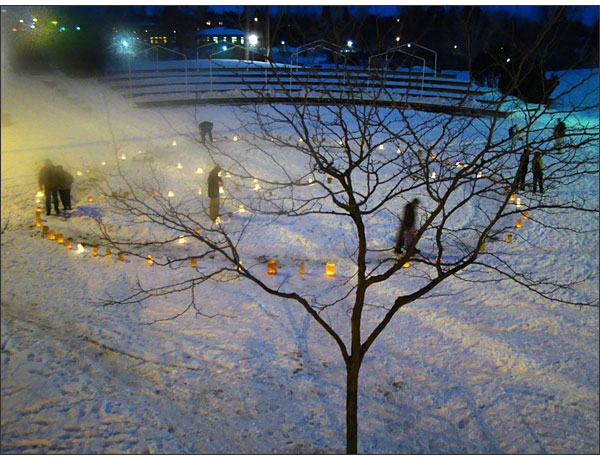 I enjoyed shooting video with the DSC-H50. It allowed me to share the experience of watching the Bellagio Fountains in Las Vegas and a Native American flute player near the Grand Canyon with friends via YouTube. Although I'm no expert on audio and video, I thought the quality of both was quite good for a small camera. I also really liked being able to zoom in and out while shooting video, something not every digital camera will allow you to do.
next page – Sony Cybershot DSC-H50 Image Quality >>