Conclusion
There is a lot to love about the Sony Cybershot H50: the awesome zoom range; the compact size and weight; the rich, colorful pictures; the big, tilting LCD; and the incredibly helpful remote control. These are all strong selling points. But I don't love the way this camera fits in my hand, its confusing menu interface or its near lack of an auto review. And as far as I'm concerned, the miniature optical viewfinder, Smile Shutter and Night Shot switch are just a waste of space.
Would I buy this camera? If the bottom line is getting great pictures on a modest budget, then yes, I'd probably buy it. Despite having no prior experience with the DSC-H50, I took it on a weeklong trip through the Southwest and came home with good photographs of every place I visited. I had a few minor challenges with the camera, but all things considered, it got the job done.
In a perfect world, though, the camera I'd really like to buy would combine the DSC-H50′s lens, LCD, remote control, image quality, size, weight and price tag with a more ergonomically comfortable body and a cleaner menu interface. But I'm not sure if that camera actually exists.
Who Should Buy The Sony Cybershot DSC-H50
This camera is a good fit for:
Photographers who shoot a lot of distant subjects, like travel landscapes or wildlife.
Intermediate photographers and beginners who want a camera they can grow with.
Families with photographers of different skill levels.
Anyone who does a lot of family photos or self-portraits.
This camera might not be the best choice for:
Advanced and professional photographers who require top-notch image quality.
Sports and action photographers who need a good optical viewfinder.
Those who are left-handed or lack hand dexterity.
- end -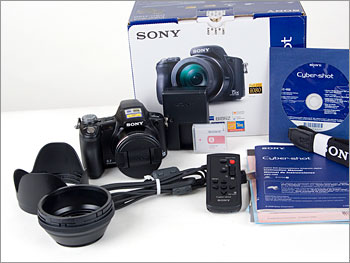 Contents of the Sony Cybershot DSC-H50 Box

Sony Cybershot DSC-H50 digital camera
NP-BG1 rechargeable battery
BC-CSG battery charger
Flower Lens Hood
Lens Adaptor Ring
Lens cap with strap
A/V and USB multi-connector cables
Shoulder strap
Remote Commander
Software CD-ROM
More Sony Cybershot H50 Resources:
Sony Cybershot DSC-H50 Announcement >>
Compare Prices For Sony Cybershot DSC-H50 >>
Sony Cybershot DSC-H50 User Reviews >>
Write a Sony Cybershot DSC-H50 Review >>
Sony Cybershot DSC-H50 Camera Specs >>
Sony Cybershot DSC-H50 Sample Gallery >>
Sony Web site >>
Download Sony Cybershot DSC-H50 Camera Manual >>
All Digital Camera Pro Reviews >>
Digital Camera Buyer's Guide >>
All Digital Camera Sample Images >>
All photos copyright Patia Stephens and/or PhotographyREVIEW.com.
Read Patia's blog and see more of her photos at www.PatiaStephens.com
next page – Sony Cybershot DSC-H50 Camera Menus >>