Sigma's new 18-35mm f/1.8 DC HSM Art lens (27-52.5mm equiv.) raises the bar for APS-C sensor digital SLR zoom lenses. It's the world's first standard zoom with a fast, constant f/1.8 aperture. That's over a stop faster (more than twice the light) than previous fast-aperture standard zooms, which typically have a maximum aperture of f/2.8. The 18-55mm kit lenses that generally come with entry-level APS-C sensor DSLRs are even slower, with f/3.5-5.6 variable apertures. The Sigma 18-35mm f/1.8 zoom's super-bright f/1.8 maximum aperture makes it a great choice for low light shooting and shallow depth-of-field photography.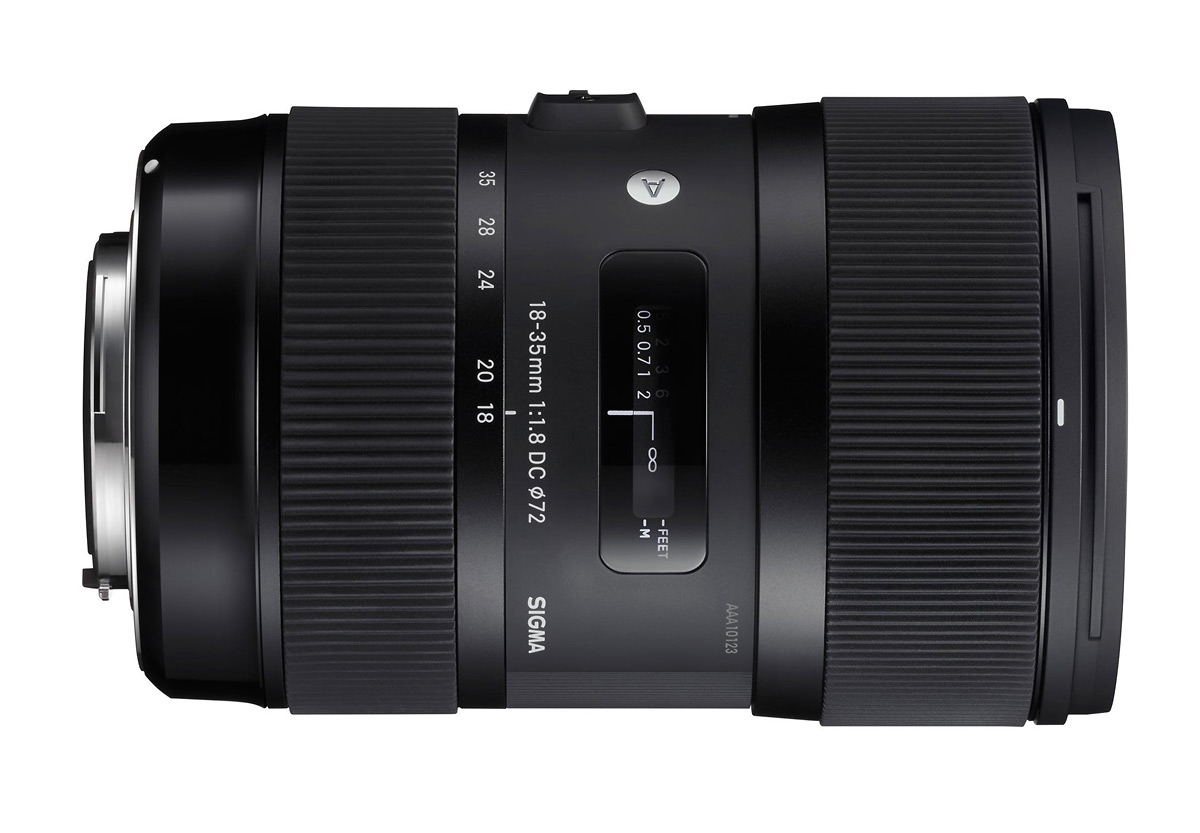 Update: Our hands-on review of the Sigma 18-35mm f/1.8 zoom is complete. Read the review.
Sigma 18-35mm F1.8 DC HSM Art Lens Key Features And Specs:
35mm focal length equivalent: 27-52.5mm
Aperture range: f/1.8 to f/16
Minimum focus distance: 8cm / 11 ininches
Aperture construction: 9 rounded blades
Lens Construction: 17 elements in 12 groups
Hyper Sonic (HSM) auto focus motor
Filter size: 72mm
Compatible with Sigma USB lens dock
Available for Sigma, Canon and Nikon APS-C sensor DSLRs
Sigma has always made great high-end lenses. But last fall they really upped their game with the introduction of the Global Vision program. There are three Global Vision lens lines – Art, Sports and Contemporary. The new Global Vision lenses have a sleeker design and more robust build as well as improved quality control. You can learn more about the Global Vision program in the Sigma 35mm f/1.4 DG HSM announcement, published late last year.
Like other lenses in their new Global Vision line, the Sigma 18-35mm f/1.8 DC HSM zoom is a no-compromise zoom. The extra cost of that fast, constant aperture is increased size and weight. The new 18-35mm f/1.8 measures 3.1 x 4.8 inches (78mm x 121.0mm) and weighs well over a pound-and-a-half (28.6 ounces / 810.8g). That's longer and heavier than both the Canon and Nikon 17-55mm f/2.8 crop-sensor zoom lenses; and significantly larger and over three times the weight of the average 18-55mm kit lens. However, for photographers who want better low light performance and bokeh (out-of-focus image quality), the new Sigma 18-35mm f/1.8 DC HSM will be worth the size and weight penalty. Even though it's part of the Art lens line, which Sigma says, "delivers high-level artistic expression through sophisticated and abundant expressive power;" I see the 18-35mm f/1.8 DC HSM zoom as a great choice for photojournalism, sports and travel photography – basically, any kind of photography where you can use great low light performance and maximum depth-of-field control. I'd use it to shoot almost everything, including sports.
The Sigma 18-35mm f/1.8 DC HSM is an internal focusing lens with a molded aspherical glass element, Special Low Dispersion (SLD) glass, and Super Multi-Layer Coating for excellent image quality from corner to corner. It uses Sigma's Hyper Sonic Motor (HSM) for fast, accurate, quiet auto focus performance. The aperture has nine rounded blades for the best possible bokeh. The 18-35mm f/1.8 DC HSM is also compatible with Sigma's new USB lens dock, which makes it easy to adjust focusing parameters and update firmware at home, on your computer.
The Sigma 18-35mm f/1.8 DC HSM Art zoom lens will be available early in July (2013). It should sell for US $799 – significantly less than f/2.8 standard zooms from the big camera makers. I've already talked to Sigma about getting one to test so keep your eyes open for that review. I'm looking forward to comparing this lens to my own Canon EF-S 17-55mm f/2.8 zoom.
Sigma 18-35mm F1.8 DC HSM Lens Review >>

Related Content:
All Sigma Lens User Reviews
All Sigma News And Articles
All Lens News And Articles
Sigma Web Site