Apparently, this is lens announcement week. Hot on the heels of Canon's 35mm f/2 IS lens intro, Sigma is announcing the availability of a new 35mm f/1.4 wide-angle prime lens. The Sigma 35mm F1.4 DG HSM is from Sigma's new Global Vision lens line, which they launched in September at the Photokina tradeshow in Germany. Global Vision restructures the company's lens line into three new categories, Contemporary, Art and Sports; and introduces new quality control measures to establish "a higher expectation for the quality of the lenses." The 35mm F1.4 DG HSM lens is the first Global Vision lens to be available.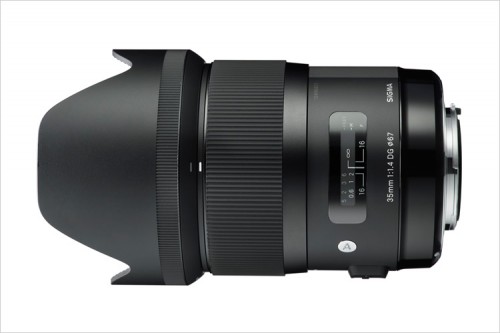 Sigma introduced one new lens from each of the three Global Vision categories at Photokina: the 17-70mm F2.8-4 DC OS MACRO ( Contemporary), 120-300mm F2.8 DG OS HSM (Sports) and the 35mm F1.4 DG HSM (Art). Sigma says the new 35mm F1.4 DG HSM lens is "designed for photographers who want to achieve creative, dramatic effects in their photographs." But fast-aperture 35mm primes are also traditionally used by photojournalists, street, travel and documentary photographers who need a semi-wide lens that can be used in all kinds of conditions. A 35mm lens is also comparable to the 50mm focal length when mounted on an APS-C sensor camera. So APS-C DSLR owners who like the 50mm angle-of-view will also be interested in the new 35mm f/1.4 lens.
The Sigma 35mm F1.4 DG HSM includes one FLD element (comparable to fluorite glass) and four SLD (Special Low Dispersion) elements to control chromatic aberration, as well as Super Multi-Layer Coatings to minimize flare. The large f/1.4 aperture makes it a great lens for low light or artistic depth-of-field control. It uses a rounded 9-blade aperture for smooth out-of-focus image quality (bokeh). It has a floating inner focus system, which Sigma says is better for close-up photos; and Sigma's HSM auto focus motor (Hyper Sonic Motor) "ensures high speed, accurate and quiet AF."
The new Global Vision lenses have a cleaner, more refined look than previous Sigma lenses. The 35mm F1.4 DG HSM lens is constructed of Thermally Stable Composite (TSC), which Sigma says, "increases overall functionality, lifespan, and quality of the lens." Sigma is proud that all of their lenses are still made at their factory in Aizu, Japan. Having all of their production in one facility helps ensure better quality control. Every single new Global Vision lens, including the 35mm F1.4 DG HSM lenses, will be tested at the factory with Sigma's own MTF measuring system, which uses a Foveon sensor to "pick up previously undetectable high-frequency details for quality control inspections."
The new Sigma 35mm F1.4 DG HSM lens will be available in Canon, Nikon (D), Sony (D), Pentax and Sigma mounts. The suggested retail price is US $899. I checked a couple of big online dealers and it's available for pre-order now with a projected arrival date of November 15th (2012).
Official Sigma 35mm F1.4 DG HSM Product Page >>
Sigma Global Vision Page >>

Related Content:
All Sigma Lens User Reviews
Discuss Sigma Lenses (DSLR forum)
All Sigma News And Articles
All Lens News And Articles
Sigma Web Site