Apple announced the iPhone 4S today. There's been a lot of grumbling on the Internet about how the 4S isn't much of an upgrade but I don't agree at all. Although the number "5″ isn't in the name and it looks like an iPhone 4, the guts of the new iPhone have been given a pretty nice overhaul – especially the camera, which has a better image quality, better optics and better processing. The iPhone 4S camera has an 8-megapixel backside-illuminated CMOS sensor, a new 5-element lens with a fast f/2.4 aperture and the new dual-core A5 CPU delivers 1080p full HD video and shortens shot-to-shot time to only 0.5 seconds. Looks pretty damn good to me – especially compared to my ancient iPhone 3.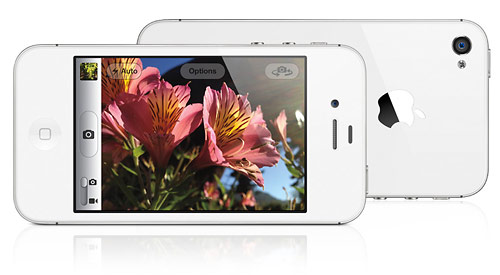 For reference, here's a table comparing the iPhone 4S and iPhone 4 camera features and specs:
| | | |
| --- | --- | --- |
| | iPhone 4S Camera | iPhone 4 Camera |
| Sensor | 8-megapixel backlit CMOS | 5-megapixel backlit CMOS |
| Processor | Dual-core A5 CPU | A4 CPU |
| Video | 1080p full HD at 30 FPS | 720p full HD at 30 FPS |
| Lens | f/2.4 aperture | f/2.8 aperture |
| Auto focus | Tap to focus | Tap to focus |
| Face detection | Yes | No |
| Flash | LED flash | LED flash |
| Image Stabilization | For video | None |
| HDR | Built-in HDR capture | HDR capture with third-party apps |
| GPS | Image and video geotagging | Image and video geotagging |

According to Apple, the new iPhone 4S camera has 60% more resolution, captures 73% more light and has a 33% faster capture rate. Those are significant numbers. More light and more speed are key measures of a better camera. The iPhone 4S can take 3x as many photos in the same amount of time and get useable photos in lower light than the iPhone 4. The new lens has 5 separate elements and a brighter f/2.4 aperture. It's not something that people usually consider but the tiny little lenses on camera phones are one of their weak links so the new lens, which Apple says is engineered for sharper photos, is a welcome improvement. Reading between the lines it also looks like Apple has refined the exposure programming and image processing for more detail and better photos in a wider range of lighting conditions.
So is the new iPhone 4S a point-and-shoot camera killer? I don't think so. Camera phones – no matter how good – aren't a replacement for a good point-and-shoot camera. One of the main differences between a "real" camera and a camera phone is the size of the sensor. I'm not talking about megapixels here – it's the actual physical dimensions of the sensor that count. In order to keep your iPhone (or any other camera phone) pocket-sized, a very small sensor is used. A smaller sensor means smaller pixels and smaller pixels mean more noise. Point-and-shoot cameras also have bigger lenses with optical zoom and adjustable apertures. The bigger optical elements have better resolving power and an adjustable aperture offers more creative depth-of-field control. The bottom line is, a current, comparably spec'd point-and-shoot camera should deliver noticeably better image quality than the iPhone 4S. And I haven't even gotten into camera controls…
Although the iPhone 4S camera is a big improvement over the iPhone 4, I don't see it, or any other camera phone, replacing a good point-and-shoot camera. Especially since the Eye-Fi Mobile X2 wireless SD card now allows me to transfer photos from my camera to my iPhone and then post them to Twitter and Facebook, regardless of where I am. Yeah, that means I have to carry my phone and my camera. But that's a small price to pay for the quality and control of the pocket superzoom cameras I'm using these days.
Even if it's not a point-and-shoot camera killer the iPhone 4S looks pretty sweet to me. There's no doubt it's going to produce better photos than the iPhone 4 and definitely better than my iPhone 3.The question isn't whether it will replace my point-and-shoot or not. I'm a photographer first and I admit to being a bit of a camera snob. The real question is, how often will I use it instead of the point-and-shoot and will I regret using it instead of a real camera? I'm looking forward to finding out.