I'm pleased to inform you that Think Tank Photo has a new line of sling-style camera packs. And in keeping with the pack's city-friendly design and Think Tank's penchant for punny product names, the new line is named "TurnStyle." To be honest, I've never been very interested in sling packs. I guess I'm just a backpack purist. However, I've been on crutches for over a month now and I have to admit, sling packs are looking pretty damn good. Being able to get to my camera and other gear without having to take off and set down my bag is critical right now – and a sling bag makes that a reality.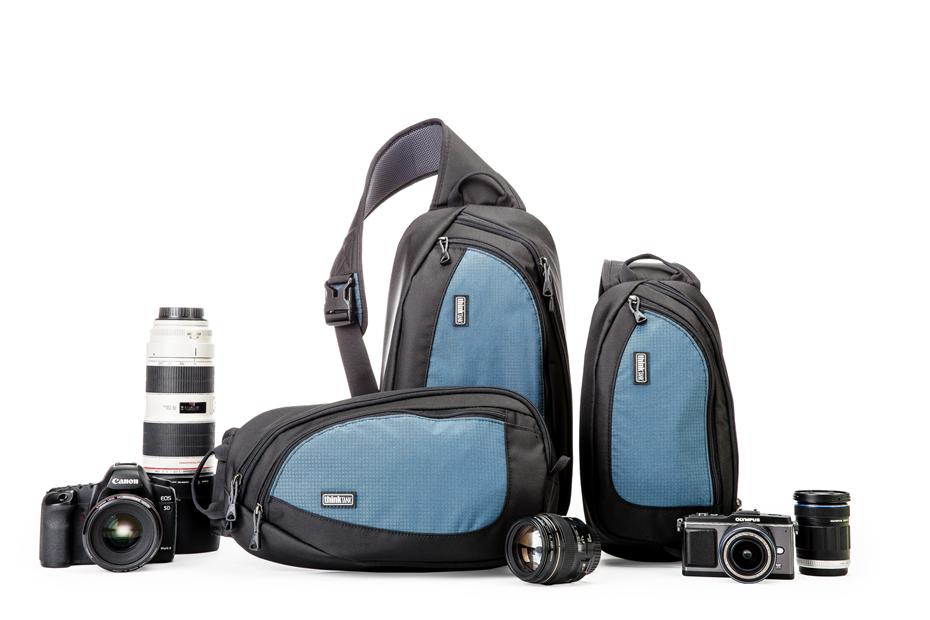 Think Tank says their new TurnStyle packs offer lightweight, comfortable easy access to camera gear. They're made with durable "Poly Ballistic" nylon that's been treated for water-resistance and each bag includes a seam-sealed waterproof rain cover for when it gets really wet. As with any serious camera bag, the TurnStyle packs have customizable foam dividers so you can organize your camera and lenses however you want. They also included a separate zippered pocket for tablets and another "organizer pocket" for small items like batteries, chargers, memory cards, cables, etc. For even more versatility, the TurnStyle bags can be worn as either a sling pack or a waist pack.
The TurnStyle packs aren't just for gimps like me, they're also a good fit for city shooters and travelers who are concerned about thieves grabbing their camera bag off the ground and running away. The TurnStyle packs will also work well for cyclists, hikers, and climbers who want quick access to their camera gear without having to take off a pack. Check out the video below to see them in action:
The Think Tank TurnStyle packs come in three sizes (5, 10 and 20) to accommodate anything from a compact mirrorless camera kit to a pro DSLR and accessories. The largest bag, the TurnStyle 20, can fit a pro DSLR like the Nikon D800 or Canon EOS 5D Mark III mounted up with a 70-200mm f/2.8 zoom lens, and an extra lens or flash. I just wish Think Tank had made this announcement a month ago so I could have been using one.
The TurnStyle packs are available now on the Think Tank Photo Web site. All three sizes sell for under US $100, so they're not just functional, they're a great value, too.
Related Content:
All Think Tank Photo User Reviews
All Camera Bag User Reviews
All Camera Case News & Articles
Think Tank Photo Web Site