I take a lot of pictures outdoors in nasty weather and rugged environments so I pay close attention to outdoor-friendly digital cameras. 2009 was the first year that anyone besides Pentax and Olympus introduced waterproof digital cameras and I got excited and wrote the 2009 PMA waterproof camera report. Since last spring, the "rugged" point-and-shoot category has really exploded, with almost everyone making a waterproof, shockproof pocket camera of some sort. The 2010 PMA tradeshow saw three new companies – Samsung, Casio and Sony – introduce outdoor-friendly waterproof, and shockproof point-and-shoots. This year, HD video also appeared on many waterproof digital cameras for the first time. In 2009, only the Panasonic Lumix TS1 offered 720p HD video. Olympus, Samsung, Sony, Fujifilm, Panasonic and Pentax all offer waterproof cameras with HD video now.

For me, the most interesting new waterproof cameras are the Fujifilm FinePix XP10, the Pentax Optio W90, the Olympus Stylus Tough-8010 and the Sony Cybershot TX5, all of which are shockproof and freezeproof as well as waterproof. In the "other" category, there's also the Liquid Images dive mask with a built-in waterproof digital camera and Kodak's Playsport waterproof, pocket-sized HD video camera. I should also mention that Olympus finally let go of the xD memory format and their latest Stylus Tough waterproof cameras now use SD memory cards. So if you were hesitant about buying an Olympus waterproof point-and-shoot because of the xD memory cards, there's no need to hold back anymore.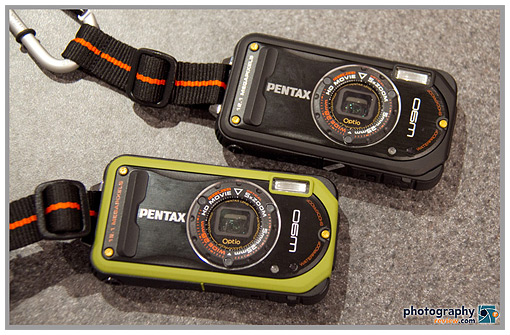 Pentax was the first camera company to introduce a serious waterproof digital camera, the Optio WP, which I reviewed in 2005 (Pentax Optio WP Pro Review). I've lost track of how many waterproof cameras Pentax has put out now, but suffice to say, the new Optio W90 is one in a long, long line. I think they really outdid themselves with this one. It is, by far, the best looking outdoor camera Pentax has made and it's got everything you could ask for in an outdoor camera – it's waterproof to 20 feet and shockproof for up to 4-foot drops. Of particular interest are the triple macro LED lights around the lens, 720p HD video, built-in Eye-Fi Wi-Fi capability and an optional waterproof remote control.
Pentax Optio W90 Hands-On & Video >>
Pentax Optio W90 Announcement >>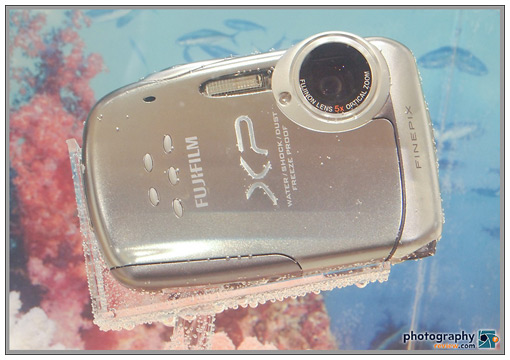 I'm really pleased Fujifilm stepped it up with their second waterproof camera, the FinePix XP10. The FinePix Z33WP Fujifilm introduced last year was a simple waterproof point-and-shoot designed more for style than performance. The new Fujifilm FinePix XP10 is more of a serious outdoor camera. Fujifilm calls it "Four-Proof," meaning it's waterproof (10 feet), shockproof (3 foot drops) and freezeproof (14 degrees Fahrenheit). Camera aesthetics aren't usually important to me, but the XP10′s stainless steel body is really solid and very handsome – the product images in the original press release really don't do the camera justice. I especially like the industrial look of the raw steel model.
Fujifilm FinePix XP10 Announcement >>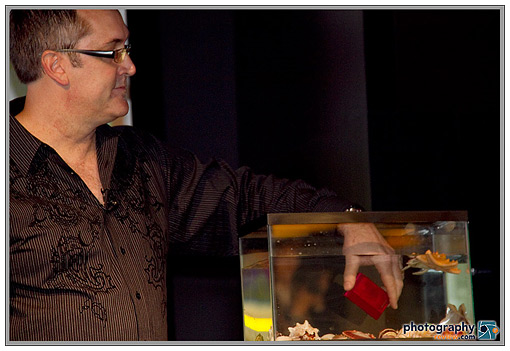 Sony's new CMOS-sensor, touchscreen display Cybershot TX5 is part of their pocket-sized T-Series – not where I would have expected them to debut their first waterproof camera. However, the T-Series cameras already have an internal zoom lens design, a requirement for waterproof cameras and it makes sense for Sony to capitalize on that design. Sony claims the TX5 is "the world's thinnest and smallest certified waterproof" point-and-shoot camera available now." It's certainly thin, but I don't know about "smallest." The word "certified" might be the critical part of that sentence. As far as outdoor cred goes, the TX5 is waterproof to ten feet and it can take drops of about five feet. I believe the TX5 is the only waterproof point-and-shoot with a touchscreen display or a CMOS sensor, which Sony says delivers better low light image quality. The camera captures still images at 10 frames per second and has Sony's cool Sweep Panorama mode, which allows you to essentially wave the camera around and have panorama photos assembled in-camera. And of course, it has 720p video, too. This is an exciting new camera for Sony and I'm really interested in checking it out.
Sony Cybershot TX5 Announcement >>
I've had the most experience with the Olympus waterproof and shockproof point-and-shoots. I reviewed their first, the Stylus 720 SW, back in 2006 and I've had one along for bike rides and powder days ever since. The camera I've used the most, the Olympus Stylus 1030 SW has been dropped, muddied, taken to the waterpark and used for many powder day ice beard photos. It's been my go-to point-and-shoot for a couple of years and I've come to really trust the Olympus waterproof shockproof cameras. So I'm anxious to get my hands on their latest and greatest – the Stylus Tough-8010. It has more zoom, 720p video, real image stabilization, auto focus tracking, it's drop-proof (shockproof) from 6 feet, waterproof to 30 feet and it can take 220 pounds of crushing force (see Olympus Stylus Tough-8010 Torture test video, above) if I fall on it – which I will. One of the things I like most about the Olympus Stylus Tough cameras is they fit in my pocket easily. Some other "rugged" cameras are too big to actually fit in a normal-sized pocket.
Olympus Stylus Tough-8010 Hands-On Preview >>
Olympus Stylus Tough-8010 Announcement >>
Waterproof cameras have a come a long way since Pentax introduced the OptioWP in 2005. It was a 5-megapixel camera, waterproof to 5 feet with a maximum sensitivity of ISO 400 and a 3x 38-114mm (equivalent) zoom lens. The new "rugged" cameras can withstand drops of 3 to 6 feet (shockproof), have 10+ megapixel sensors, optical image stabilization, HD video, true wide-angle lenses, usable sensitivity to ISO 400 or 800 and we're starting to see HD video now, as well. Waterproof, shockproof point-and-shoots are more than just novelty cameras now. There's a huge selection compared to a few years ago when there were just a couple of models from Pentax and Olympus. Personally, I can't live without one. For mountain biking and skiing I won't accept anything less than waterproof and shockproof. I've got my fingers crossed that the new waterproof cameras announced this year at PMA and CES have noticeably improved image quality and performance and I'm looking forward to better quality video, too. I'm currently packing the new Casio Exilim EX-G1 on my bike and the skis so keep your eyes open for photos and a review on that camera.
Nikon is now the only major camera maker that hasn't introduced a waterproof camera. You know we love you, Nikon, and you don't want to miss the party! There's still room for one more in the hot tub!
New Waterproof Digital Cameras At The 2010 PMA Tradeshow:
Casio Exilim EX-G1
Fujifilm FinePix XP10
Kodak Playsport
Olympus Stylus Tough-8010
Olympus Stylus Tough-6020
Olympus Stylus Tough-3000
Panasonic Lumix TS2
Pentax Optio W90
Samsung AQ100
Sony Cybershot TX5
Note: Some of these cameras were introduced before the 2010 PMA tradeshow but they were new since the PMA 2009.

Related Content:
Outdoor And Waterproof Digital Cameras Guide
Digital Cameras Forum
Digital Cameras User Review Categories
All Waterproof Digital Camera News & Articles