The annual CES consumer electronics tradeshow took place in Las Vegas, last weekend (Jan 6-9, 2011). Besides huge 3D TV sets, game consoles, optimistic "iPad killer" tablets and smart phones, there were also a whole bunch of new cameras. I didn't attend CES as I was at the Snowcial social networking and tech conference in Tahoe. But I've been following the announcements closely and I even had a couple of Olympus cameras to play with before they were announced at the show. I've spent the past few days digesting all the camera and photography news from CES and I've reconstituted what I've read into some tasty CES photo stew. Read on for the all new camera deliciousness…


If you were hoping for a Canon EOS 5D Mark II or Nikon D700 digital SLR replacement at CES, you were bound to be disappointed. Those cameras – if they are in fact in development – will probably be announced in September at the 2011 PMA tradeshow. CES is all about point-and-shoot cameras and other consumer photography products. The main themes at this year's show were more megapixels (it's always more megapixels – whether we want them or not), improved video (full HD), pocket superzoom cameras, new waterproof point-and-shoots, 3D capture, in-camera GPS (for tagging and searching) and pocket-sized HD camcorders. No new digital SLRs were announced but there were some new superzoom "bridge" cameras and a couple of new EVIL (Electronic Viewfinder Interchangeable Lens) cameras, the Olympus E-PL2 and the Samsung NX11.
2011 CES Camera Favorites
My favorite new camera from CES this year is, hands-down, the Olympus XZ-1 premium compact camera. Olympus sent me a pre-production camera a couple of weeks before it was announced so I was able to play with it a bit and write a hands-on introductory article with a video. The XZ-1 is designed to appeal to serious and professional photographers who want a high-quality compact camera with all the bells and whistles. What really sets it apart from the Canon PowerShot G12 and Panasonic Lumix LX5 is the dreamy f/1.8 Zuiko zoom lens. For a hands-on preview of the Olympus XZ-1, check out my sneak peek article and video: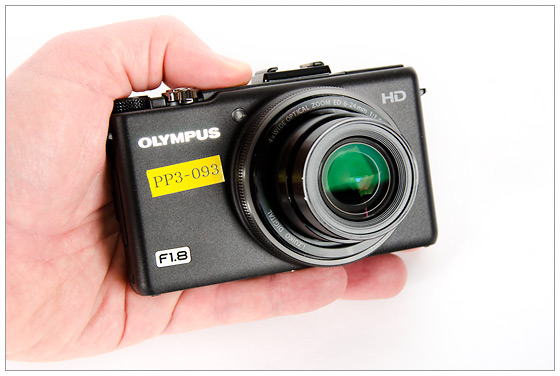 I'm also excited about Samsung's new WB700 pocket superzoom. It's got an 18x optical zoom range and a great feature set. You can read more about it in the pocket superzoom portion of this article. Fujifilm's new HS20 EXR superzoom "bridge" camera and their two new EXR sensor pocket superzooms look good, too. The Casio TRYX wins my unofficial most creative camera design award. It has a "variable frame design" that allows the body to be swiveled and rotated so you can hang it and prop it up without a tripod. It even has a self-timer with a motion sensor.