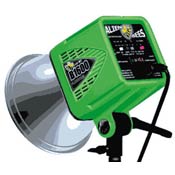 Alien Bees monolights have long been the secret weapon of photographers with tight budgets who want good, inexpensive studio lights. Paul Kepron's review is well-written and to the point. He sums up the basics of the Alien Bees very well: compact, light, powerful and a lot of light for your money.
Do you own Alien Bees strobes or other studio lights? Reviews by community members are the foundation of PhotographyREVIEW.com. You don't have to be an expert – everyone's opinion counts. Between now and July 31, 2010, writing a review qualifies you to win a Gold Level membership in F-Stop Gear's Friends With Benefits Program (review contest page).
---
Featured Review:
AlienBees B800 Studio Flash
by Paul Kepron (Expert)
Price Paid: $409.00 from Paul C. Buff Inc.
Review Date: June 17, 2010
Used product for: Less than 1 month

Overall Rating: 5 of 5
Value Rating: 5 of 5

Summary:
I can't see how any body can have anything bad to say about AlienBees Flash Units. These units are fantastic. Made of high-impact Lexon polycarbonate (think bullet-proof glass) Alien Bees units are tough, light, compact and powerful self-contained AC powered studio flash units. Plug them into a three prong power outlet or a Vagabond II power pack and you're set to go.
One of the cool things about Alien Bees is that they use a standard 150 watt bulb for a modeling light. If your modeling light burns out, just go to your local hardware store, pick up a 150 watt bulb and you're set.
The back control panel on Alien Bees is so simple a child could use it. If you have used an on camera flash set to its manual mode, you can use an Alien Bees. Like your camera flash, when set to manual, Alien Bees can be set from Full power down to 1/32nd of its total power, in whole f-stop increments, using a slide fader control that shows marked f-stop increments. This control allows simple and fast adjustments to the units output, and makes using the unit as a studio flash or a fill flash easy.
Perhaps the coolest thing with Alien Bees is that they come with a built-in slave tripper, so when using multiple units you only need to connect one unit to your camera. The other units will fire at the same time via their built-in slave trippers. If you don't have a sync cord, no problem, the slave will fire the unit whenever it detects light from another flash. Have a pop-up flash on your camera? You got it, you can use it to trip the slave. This allows you to use your camera's flash as a main flash and the Bee as a fill or vis-versa, and tripping a units slave from 50+ feet away, like it says in the Alien Bees Operation Manual, really works.
Do I like my Alien Bees? No, I love them!
Strengths:
Tough, light, compact and powerful and they won't empty your bank account. If using more than one unit you can buy different colors and color code your different flsh outputs. A great idea if you are using multiple units.
Weaknesses:
None yet, except when people see them they consider them to be toys because of their compact size.
Related Content:
All AlienBees User Reviews
All Flash & Lighting User Reviews
Studio & Lighting Forum
More Studio & Lighting News And Articles
AlienBees Web Site