Canon's newest prosumer digital SLR, the EOS 40D, is more than an updated EOS 30D; it is a ground breaking advanced amateur camera. Released in September 2007, the EOS 40D sports a similar chassis to the 20D and 30D; the 40D is a lightweight, feature-packed, digital SLR with Canon's new DIGIC III Image Processor, EOS Integrated Cleaning System, 10.1-megapixel CMOS sensor, 6.5 frame-per-second capability, high precision auto focus, and new 3-inch LCD screen.
Price: $1299 US
Want to buy a Canon EOS 40D?
Compare prices and shop For Canon EOS 40D >>


Pros
10.1-megapixel CMOS sensor
Extensive noise reduction technology for better images at high ISO
6.5 frames-per-second up to 75 consecutive JPEGS or 17 consecutive RAW Images
New auto focus system with 9 cross-type sensors
World's first diagonal high-precision cross-type auto focus
EOS Integrated Cleaning System
Large 3.0-inch LCD monitor
Live View function with new options for reduced shutter-lag and quiet operation
Highlight Tone Priority for in-camera image control
sRAW format

Cons
Minimal weather-sealing
No vertical shutter button
Flash sync speed limited to 1/250th second

Introduction
The Canon EOS 40D was introduced a few months after Canon's flagship EOS-1D Mark III and some features on the 40D similar or equal to those of the 1D MKIII. I was excited to get my hands on the 40D and really tax it to see what it's got.
This is a real world EOS 40D review. It reflects usability, functionality, and speed of the 40D in relation to everyday photography assignments. I primarily shoot extreme action sports in harsh conditions and bad images or inferior equipment mean little or no income. I usually shoot with a Canon EOS-1D Mark IIN and I expected the EOS 40D to deliver great image quality, better auto focus speed than the EOS 30D, and improved high ISO performance in a smaller, lighter, more portable package. I took the 40D to beaches along the coast of Santa Cruz, to mountain bike dirt jumps in the hills, and to the studio for portrait work. I put the 40D through the rungs to see if it could hold up to the rigors of action sports photography and produce the highest quality images.


Features
Canon EOS 40D Key Features
10.1-megapixel CMOS sensor
sRAW format
Extensive noise reduction technology for better quality images at high ISO
6.5 frames-per-second with new DIGIC III Image Processor allowing up to 75 consecutive JPEGS or 17 consecutive RAW Images
New AF system with 9 cross-type sensors
World's first diagonal high-precision cross-type AF at center point with f2.8 or faster lenses
EOS Integrated Cleaning System
Large 3.0-inch LCD Monitor
Live View Function with new options for reduced shutter time lag and quiet operation
Highlight Tone Priority for in-camera image control
Canon's large CMOS sensor captures images with extraordinary clarity, tonal range, and offers 10.1 megapixels of resolution (3888 x 2592 pixels). The APS-C-sized sensor has a 1.6x crop factor and the same 3:2 ratio as 35mm film cameras. The 40D's CMOS sensor uses technology similar to that of the EOS-1D Mark III. New manufacturing techniques mean each pixel is more sensitive and there's less wasted area between pixels.
Canon has introduced a RAW format called sRAW, which produces a file with ¼ the number of pixels of a normal RAW file. The sRAW format offers the post-processing flexibility of a RAW file with the convenience of a smaller file size. Photographers shooting for the Web or other applications where maximum resolution isn't important will appreciate the flexibility the new sRAW format offers.14-bit analogue to digital (A/D) conversion means fine transitions from light to dark tones, a significant drop in noise, and a 16-bit TIFF file in software or devices that support 16-bit files (Adobe Photoshop, for instance). The EOS 40D has a wide sensitivity range of ISO 100 to 3200, selectable in 1/3-stop increments. New on-chip noise reduction helps minimize digital noise and improve high-ISO performance. The photographic results are bigger, sharper, cleaner images, right out of the camera. Also new is Canon's Highlight Tone priority Priority function for in-camera image control. During my testing, the Highlight Tone Priority function saved highlights in images overexposed as much as two stops.
The 40D has the quietest shutter I've ever used. Those who've used previous Canon SLRs will immediately notice how quiet the new shutter is compared to the previous mirror "slap" sound. This will make wedding photographers and others who worry about noisy shutters happy.
The Canon EOS 40D has a brand new, improved auto focus system. It features 9 cross-type AF points. The center point is with the world's first diagonal high-precision cross-type AF sensor and works with f/2.8 or faster lenses. The new AF system coupled with the 6.5 frames-per-second capture rate puts the new EOS 40D ahead of the pack compared to other advanced amateur and prosumer digital SLR bodies.
The Live View function enables viewing your subjects directly on the 40D's large 3-inch LCD display. It's easy to magnify any part of the scene 5x or 10x for precise manual focus. Pressing the AF ON button pauses the Live View mode and gives instant access to auto focus. Live View returns as soon as the AF ON button is released. Users can even choose a grid overlay, perfect for keeping the horizon level or other lines straight. Live View can be used remotely through a computer via the EOS 40D's USB connection. It can also be used wirelessly or via Ethernet with the Wireless File Transmitter WFT-E3A attached.
The 40D's rugged magnesium alloy chassis is rugged, durable, and remarkably light. Canon rates the camera's operating temperature range to be 32-104°F/0-40°C. While the 40D doesn't have the weather resistance of the EOS-1D series bodies, it can be used in all types of light weather. The 40D claims improved weather sealing over the 30D, particularly around the card and battery doors. I hope one day all Canon bodies will have weather sealing on par with EOS-1D bodies.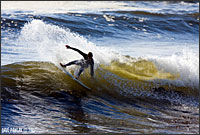 Highlight Tone Priority Custom Function hold highlight detail, even in contrasty lighting conditions. It's beneficial for nearly any type of picture, from mid-day shots at the surf spot to portraits in sunlight – anywhere you're in danger of losing highlight information. The best part about the Highlight Tone Priority feature is there's no impact on the camera's shooting speed or burst rate when it's engaged. It takes full advantage of the EOS 40D's new 14-bit analog to digital conversion, which captures 16,384 distinct tones from darkest to lightest in each color channel.
Camera Menus
| | | |
| --- | --- | --- |
| Canon EOS 40D playback mode | | Canon EOS 40D playback with all info |
| Canon EOS 40D playback with RGB histogram mode | | Canon EOS 40D Image Quality menu |
| Canon EOS 40D Shooting 1 menu | | Canon EOS 40D Picture Styles menu |
| Canon EOS 40D general camera settings display | | Canon EOS 40D current exposure settings display |
| Canon EOS 40D during AF point selection | | Canon EOS 40D AF & Drive mode options |
Canon 10D, 20D, and 30D users will feel right at home when handling the EOS 40D. The size, shape, and overall layout of the 40D are very similar to its predecessors. Noticeably different are the 3-inch LCD screen and the "AF ON" button. As I am primarily a sports photographer, I program the rear Custom Function button to activate the camera's auto focus (CF4-3 on the 30D and 1DMKII/N). I immediately noticed the 40D came set up that way, right out of the box. Holding the 40D and depressing the "AF ON" button will engage the auto focus just like I programmed the * Custom Function button to do on my 30D and EOS-1D Mark IIN. And that frees up the Custom Function button for other programmable options. And if you prefer to activate the auto focus with the shutter release button, have no fear – Canon left that alone. The EOS 40D comes set up to make both types of auto focus users happy.
The EOS 40D's 3-inch LCD screen offers a large, impressive image display. Like most LCD displays, in bright sun you must turn the screen brightness near maximum to see images. The 40D offers the photographer the ability to zoom in on captured images 5x or 10x at the AF point. For best results, always use the histogram display to check exposure and make all final judgments about sharpness and exposure on the computer.
The 40D also features a built in pop-up flash. The flash puts out a good amount of power, with a guide number of 13 m / 43 ft at ISO 100. It will handle most point-and-shoot flash photography situations well. Amateur, semi-pro, and professional photographers who need more light should look into separate, more powerful flash equipment. The EOS 40D, like Canon's flagship EOS-1D Mark III, uses Canon's ETTL II flash metering and can take full advantage of Canon's new 580EX II hot shoe mount flash.
The EOS 40D's build quality is on par with other Canon products. The chassis is constructed from lightweight and rigid magnesium-alloy that has a solid, substantial fee and fits well in your hands. The improved shutter unit is designed to respond in an instant, with a top shutter speed of 1/8000 sec, and tested to a 100,000-cycle shutter life.
Canon EOS 40D main controls

Camera Experience
Canon listened to its audience. The EOS 40D lived up to all of my expectations and then some. Initially I was concerned that the 40D would be like a 30D with Live View and a 3-inch LCD. But after powering it up for the first time, I discovered it was much more camera than I had expected. Whether using the body in one of the semi-auto modes (P, Av, or Tv) or fully manual, the Canon 40D is one of the easiest camera bodies I've ever used. The 10.1-megapixel CMOS sensor kicks out images of the highest quality, the AF is faster than my previous 30D, the large 3-inch LCD is great for reviewing images, the 6.5 frames-per-second capture rate makes quality image sequences possible, and battery life is very impressive. Every time the camera is turned off, Canon's EOS Integrated Cleaning System kicks in and vibrates dust loose from the sensor helping to keep spots out of your final images.
The camera's ergonomics are ever so slightly different from past models. The exterior of the 40D seems to have some grip to it rather than the hard plastic feeling the 30D had. The 40D fits in my hands perfectly.
For me, the 40D immediately excelled in portrait or studio type settings . Almost immediately I noticed how quiet it is compared to previous models and my EOS-1D Mark IIN. The quieter shutter put subjects at ease and will be much better for wedding photography. The viewfinder and newly included visible ISO setting were very helpful to me when quickly changing and checking settings. The 40D is able to trigger strobes using a PC cord from the body or radio triggers like Pocket Wizards from the hot shoe. The focus point array and dedicated AF-ON button allowed me to quickly find focus on the subject without much trouble.
While I feel the 40D is great as a portrait or studio camera, it held its own shooting sports, too. Photographers who like to shoot sequences will appreciate the faster frame rate and improved auto focus. The 40D's buffer can shoot up to 17 RAW images or 75 JPEGS before filling.
The camera's flash sync speed is limited to 1/250th of a second, which is standard for current pro-level DSLRs. However, I often use flash for sports photography and can't forget the 1/500th sync speed of Canon's original EOS-1D. While 1/250th of a second sync speed is pretty much industry standard, I still find myself wanting more. Every so often, 1/250th is still not fast enough to completely stop action for a nice crisp image. With Canon hot shoe flashes that support high-speed sync, you can still shoot at shutter speeds faster that 1/250th of a second. However, the flash distance is limited at higher shutter speeds.
The Canon EOS 40D's auto focus engagement was fast and accurate. I did have some out-of-focus frames, but that's most likely operator error. I found the 40D's AF system was not easily tricked. That was not the case with my 30D. During surf sessions, water spray used to cause the AF system on my 30D to fail, resulting in numerous out-of-focus images. The 40D did not give me the same missed focus problems. The improved AF was a huge relief when I reviewed images after the EOS 40D surf shoot.
The 40D offers three customizable Camera User Settings, identified as C1, C2, and C3 on the Mode Dial. The Camera User Settings allow the photographer to store all current settings to any of the three Mode Dial positions. That means: every menu option, every Custom Function setting, ISO sensitivity, exposure mode, exposure compensation, image size, image quality, white balance settings, and more are saved. This was very useful when I wanted to quickly change from a studio setup to my dirt jumping settings, or to my surf settings. The camera recalled all the important settings I'd saved with the turn of a dial.
While I thoroughly enjoyed using the Canon 40D, there were some things I didn't like. Compared to the EOS-1D bodies, there is a noticeable delay between pressing the shutter button and the moment the picture is actually taken. While this was annoying and unsettling at first, I was able to adjust and overcome this slight setback. I was also unhappy that the Live View feature could only be used with manual focus. Live View also seems to make the camera hotter. Heat is one of the main causes of noise so it's possible there could be some degradation in image quality when using Live View at high ISO settings.
Image Quality
The Canon EOS 40D's image quality is a vast improvement over Canon's previous 10, 20, and 30D cameras. Improved high ISO performance and highlight control are just a couple of the major improvements contributing to the overall image quality of the 40D. The 40D's sensitivity range of ISO 100 to 3200 gives the photographer the ability to get good results in all types and levels of light. Noise levels at high ISO settings are better than my old EOS 30D and even better than my EOS-1D Mark IIN. In fact, ISO 800 and 1600 files from the 40D were so good I did not use any noise reduction software before submitting images to clients. While ISO 1600 to 3200 is usable, I do not recommend using that range all of the time. My best results were between ISO 100 and 800.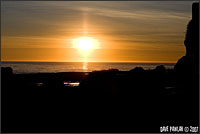 The EOS 40D has a user selectable Highlight Tone Priority mode, which is supposed to help prevent blowing out the highlights in very bright areas of the image. According to Canon…"Highlight Tone Priority mode gives wedding and landscape photographers the option to boost dynamic range for highlights when shooting above ISO 200 reproducing more tonal detail from wedding dresses, clouds and other light colored objects…" I found the highlight Tone Priority mode helped save highlights in images that were up to two stops overexposed. Noise in the shadow areas may (probably will) increase and the ISO range is adjusted to 200 – 3200. So there is a compromise to be made.
The camera's light meter, especially spot metering, seemed to be right on. The exposures indicated in the camera were within 1/3 of a stop of the exposures indicated by my handheld Sekonic L-358 light meter. I was very impressed with the 40D's ability to meter difficult lighting situations. Strong backlighting, flash photography, and scenes with a wide range of light values were all exposed and rendered well. Being a long-time Canon user and former EOS 30D owner, making good exposures with the 40D was nothing new. Using the camera's light meter, some experience, and a little know-how produced predictable and pleasing images.
Click on thumbnails to view sample photos.

Conclusion
When I got my hands on the 40D I was looking forward to the features it inherited from the Rebel XTI (EOS 400D) and the EOS-1D Mark III. Features like Live View are aimed at studio photographers; the 6.5 FPS frame rate, improved auto focus, and high ISO performance help with action sports photography and photojournalism; while the layout, usability, and ergonomics will be especially appreciated by amateur and first-time DSLR users. Many professional photographers will also appreciate the 40D's features and performance.
The 40D fits well in Canon's current digital SLR lineup, filling that gap between the Digital Rebel XTi / 400D and the EOS-1D Mark III. The size, ergonomics, build quality, and usability are all on par with what Canon users want. While the 40D is regarded as a "prosumer" model, I know of several professionals using it for work. This Canon EOS 40D is a versatile work tool and performed equally well for sports and studio photography.
So, at the end of this long review you're probably if you should you buy a Canon EOS 40D? In short, YES! While there are a few features I dislike about this camera, they are minimal in comparison to the camera's impressive features and performance.
Who Should Buy It
With a reasonably low price tag, features comparable to other advanced amateur / prosumer DSLRs, and good all-around performance, the EOS 40D will appeal to a wide variety of photographers. Those looking for the latest, greatest, technologically advanced digital SLR should definitely consider the Canon EOS 40D. I especially think photographers who shoot sports as well as studio work or portraiture will appreciate what the 40D has to offer. I think the EOS 40D is a good option for both first time digital SLR owners and working professionals.
- end -
Contents of the Canon EOS 40D Box

Canon EOS 40D Body
Eyecup
Wide Neck Strap
Video Cable
USB Interface Cable
Battery Pack
Battery Charger
"Great Photography is Easy" Booklet and "Do More with Macro" Booklet
EOS Digital Solution Disc
Software Instruction Manual

Other Resources:
Shop For Canon EOS 40D >>
Canon EOS 40D User Reviews >>
Write a Canon EOS 40D Review >>
Canon EOS 40D Camera Specs >>
Canon EOS 40D Sample Gallery >>
Canon Web site >>
Canon EOS 40D Camera Manual >>
All Digital Camera Pro Reviews >>
Digital Camera Buyer's Guide >>
All Digital Camera Sample Images >>
BLS439 Profile >>