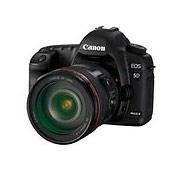 Reviews by community members are the foundation of PhotographyREVIEW.com. Share your experience with other photographers by writing reviews for all your camera gear. You don't have to be an expert – everyone's opinion counts.
---
Featured Review:
Canon EOS 5D Mark II Digital SLR Camera
by gahspidy (Intermediate)
Price Paid: $2700.00 from www.nextag.com
Review Date: September 27, 2009
Used product for: 1 to 3 months
Overall Rating:
4 of 5
Value Rating:
5 of 5

Summary:
I have a Rebel Xti, 5D, and now the 5D mk2. The reason I bought the 5Dmk2 is that I shoot dance photography which is mostly in low light conditions and so the improved high iso quality and slightly faster FPS of the mk2 is what I was really after. The huge increase in resolution was welcome but more importantly the increased DR (Dynamic range) Overall, we have a camera with all around better image quality.
I have not used the HD video capabilities with this camera, and honestly really have no interest in that aspect of it at this point.
This camera is a lot more than just an improved version of the older model. It really is basically an entire new camera from the bottom up.
Obviously the sensor is different and much improved but we also have a new and more durable shutter, new and more powerful processor, new and improved battery and battery management, larger LCD screen, automatic sensor cleaning (which is something we missed on the original 5D) seemingly better build quality, and a host of new features in layout ,function and control.. Oh, and yes the HD video capability and live screen LCD.
First, the IQ (image quality) is fantastic and noticeably improved over the already capable and fantastic original 5D. I was able to shoot a flower in hard sunlight (just for the heck of it) and was shocked to look at it later on the computer to see that nothing blew out and the sensor handled the tough contrasty condition. There was no out of gamut color blow out, highlights were intact as well as detail in shadow areas. I was impressed. I am afraid now though that I may be tempted more often to shoot in poor conditions. . .not a good practice.
The resolution enables amazing detail within detail. Oddly enough though, it seems that capturing a sharp image seems to be more of a challenge. It is thought that perhaps because the resolution goes so deep, that focus must be dead locked in or details will appear a bit soft. So, do not expect to buy this camera and be amazed that everything is so sharp! Quite the opposite, you really have to think about your technique and make sure everything is right to ensure the potential of the resolution and IQ.
High iso quality is amazing. I tried 1600, 3200 and 6400 and while 6400 certainly has evident noise and lower IQ it is surely usable and welcome to have there if needed. 1600, and 3200 is very impressive.
What I like very much about this mk2 is the fact that I do not have to look at the digital display on the top of the camera ( which is now slightly larger than the previous model) to make adjustsments to ISO, WB, focus and drive, as well as other settings. I always found it difficult to see what WB icon I was setting in that little display. Especially in a dark room or theater it was so difficult to see even with the little backlight that is has. Now, everything can be viewe and set and adjusted form the large LCD screen at back. Simply press your funtion button on the back and the display will pop up large and clear on the lcd. then you can scroll through the various setting and make whatever adjustments you need, quick and easy. This was something I missed when I went from my Rebel Xti to the 5D. Everything was easy to adjust from the lcd screen and now so it is again with the mk2.
Also, the iso is now seen in the viewfinder as well and by simply pressing the iso button easily with the index finger I can make adjustments to iso while stilll looking through the viewfinder.
Here is another huge plus – I can now make all adjustments on my 580EXll speedlite from the menu on the cameras LCD. Even in a complete wireless setup, which is what I use at times. The digital display of the speedlite was sometimes a challenge to navigate through. Selecting funtions and making the setting changes could be quite a task especially in a darker room. So now having all the speedlite funtions shown on the large lcd in clear display with the ease of the dials and toggles of the camera, making setting changes is a breeze. This is great. I can even go into custom functions as well as being able to adjust the power of the slaves in a wireless set up. Everything can be done on the back of the camera. Perfect.
Another thing to mention, due to the extremly high resolution, RAW file sizes are huge. Approx 25-30Mb depending on setting and conditions. It may be that we don't need such large files for a particular assignment/task but would still like to shoot RAW to have the full IQ potential there for post processing .Canon has made it possible to shoot in one of three different RAW settings. RAW, RAW1 and RAW2. RAW is full 21 MP, RAW1 is approx 10MP and RAW2 is approx 6MP. All yielding the same great IQ but just reduced resolution and file size. Very useful and a welcome feature.
FPS (frame per second) has increased by almost one to now nearly 4fps which is nice, but also amazing considering the huge files this processor must work with at that speed. I was amazed to fire off 11-15 bursts at this speed in full resolution. There is an indicator in the viewfinder that tells you the available bursts to be had at any given moment. Once you have reached the limit, there is a few seconds pause during which no shots can be fired as the processor is busy writing the data to the card. You would absolutely want to use a memory card of very high read/write capabilities to handle the load the processor will be giving over to it. I have been using the Sandisk Exteme lll and lV cards with no problems.
There are a host of other little features that are mixed in now with the custom fuctions such as "highlight tone priority" which puts emphasis on the highlights and tries to avoid blowing them out during exposure, but at the same time you will have less detail in the shadow areas to work with. . ."Auto lighting optimizer" which aids in getting your subject exposed correctly, "peripheral illumination correction" which adjusts for the light fall-off at the edges of the frame especially with wider angle lenses. "Long exposure noise reduction" and "high ISO noise reduction". All these functions seem to work fine, but I prefer to do all my post processing later in LightRoom/Photoshop. Basically, thats what these features are, post processing. I have them off most all the time. "Long exposure noise reduction" I might switch on if using a long exposure on a tripod for a night scene, etc.
Well, so far I love the mk2 and welcome all the little changes in layout and funtion that I missed with the 5D.
There are some other neat little features packed in here such as having the camera automatically switch ISO for you according to conditions, etc. Too many other little things to get into her, but all in all this is a fine piece of work especially considering the price.
Strengths:
Image quality, resolution, features and functions, HD video, live view screen, large LCD screen, battery and battery management system, heavy duty shutter mechanism, powerful and fast processor with 14 bit analog to digital conversion, price. . .
Weaknesses:
I still wish Canon would place a mirror lock function switch on the back or side of the camera so as not to have to scroll through custom functions menus to get to it.
Not quite a pro grade body so be careful about bumping it around and avoid shooting in the rain unless you protect it.
Similar Products Used:
Canon elan 7 35mm film slr, Canon Rebel XTi, Canon 5D
Customer Service:
None needed