Canon EOS 5D Mark III Camera Experience

When I reviewed the Canon EOS 5D Mark II back in 2009 (Canon EOS 5D Mark II Pro Review) I was amazed at the image quality. But I'm primarily a sports photographer and the slow burst rate and inadequate auto focus made it a poor choice for shooting action. It was perfect for wedding, product and landscape photographers but it wasn't right for me. The 5D Mark III has a lot of features and a dense spec sheet and it's going to be a lot of things to a lot of people. But since I'm primarily a sports photographer and action was the 5D Mark II's Achilles Heel, I'm going to focus this review on the Mark III's action photography performance. I didn't just use the Mark III for sports, though. I also shot a wedding, the Monterey Bay Aquarium, some landscapes and travel photos, and a lot of low light stuff. There should be something for everyone in this review.
At first glance, most people probably won't see any difference between the new Canon EOS 5D Mark III and the 5D Mark II. The bodies are basically the same size, built around a sturdy magnesium alloy chassis, with most of the controls in the same places. However, look a little closer and you start to notice the differences; a lot of them inherited from the EOS 7D. In fact, the 5D Mark III looks and feels a whole lot like a 7D. One thing you can't see is the improved weather-proofing. It's not as good as the EOS-1D X but it has been improved compared to the 5D Mark II. You also can't see the new DIGIC 5+ processor, which Canon says is 17 times faster than the 5D Mark II's DIGIC 4 processor. Most of the Mark III's performance improvements and a few new features are due to the DIGIC 5+ processor. However, the sensor has an improved 8-channel readout that makes it able to dump data faster and that's how Canon got the Mark III's burst rate up to a sports-worthy 6 frames per second.
Canon EOS 5D Mark III

Canon EOS 5D Mark II

Most of the control and body changes are on the back of the camera, the most obvious being the new 3.2-inch 1.04-million-dot LCD display and the live view / movie switch just right of the viewfinder (see photo grid, below). There are also some new buttons on the back of the camera (compared to the 5D Mark II). Once again, a lot of the changes come from the EOS 7D and 7D and 60D users will, for the most part, feel right at home with the 5D Mark III. The new 5D gets a "Q" Quick Control button, located just below the Multi-Controller joystick on the right side of the LCD. If you haven't seen the Q button before, they're standard on all makes of digital SLR now (with different names, of course) and offer access via the LCD to basic camera functions like exposure, white balance, ISO, metering, shooting mode, etc. There's a new "Creative Photo" button on top of buttons on the left side of the LCD. It replaces the old Picture Style button and adds multiple exposure and HDR controls as well as a new Comparative Playback feature that lets you compare two images next to each other. Below the Creative Photo button there's a new "Rating" button that allows you to rate a photo from one to five while it's still in the camera. And yes, those ratings do show up in Adobe Lightroom.
On top of the camera, the Mark III now has a locking mode dial with a button in the middle you have to push before changing modes. There's an M/Fn button next to the shutter release that serves double duty as a programmable function button as well as selecting the auto focus area mode once within the AF point selection menu. The default for the Function button is flash exposure lock (FEL) but it can also be programmed to access other functions like one-touch RAW / JPEG control, AE lock and the electronic level. I programmed it to pull up the electronic level since I seem to always tilt about 1 degree to the right when I'm shooting landscape photos.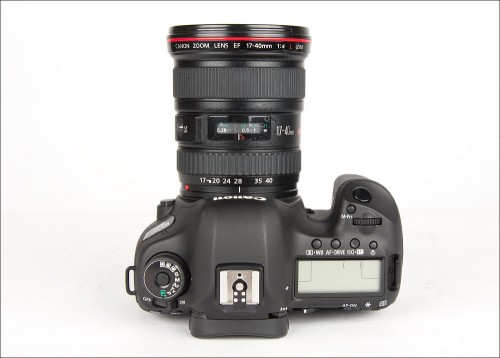 There was only one control change that gave me trouble – that was moving the zoom button from the top right of the camera to the middle left (see photo grid, above). It probably wouldn't have mattered much if I hadn't owned Canon DSLRs for years. But I'm totally programmed to use my right thumb to zoom and check for focus. That made for a lot of fumbling while chimping in the field. On the other hand, Canon made up for the button relocation by making it possible to program the zoom ratio. I set it for 100% so I only had to push once to check focus, as opposed to the repeated jabbing you have to do with most cameras to view photos at full size.
Action Photography
Ok, now it's time move on to the meat of this review – action photography! In my opinion, the new auto focus system and faster burst rate are the most important improvements in the 5D Mark III. They are more than just incremental improvements and make the 5D Mark III into truly different camera than the Mark II.
Every year I shoot the Sea Otter Classic bike festival in Monterey for our company's bicycle sites, Mtbr.com and RoadbikeReview.com. Sea Otter, as it's commonly called, is the spring opener for the bike season in North America, and unofficially, for the rest of the world. Some of the fastest mountain bike racers in world show up to race at Sea Otter so it was the perfect place to find out if the 5D Mark III could cut it as a serious action camera.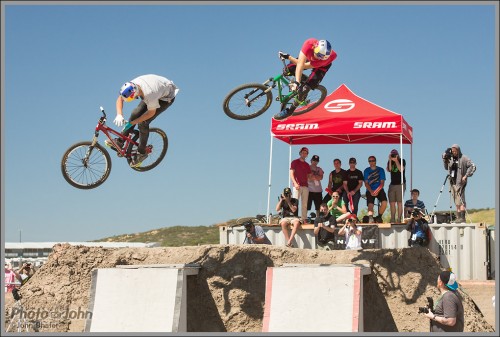 The area where the 5D had the most room for improvement was sports photography. In my opinion, a serious sports camera should shoot at least 5 frames per second. To that end, Canon increased the burst rate from a pokey 3.9 FPS on the 5D Mark II, to a solid 6 FPS for the Mark III. You don't absolutely need a fast burst rate for good sports photos, but it doesn't hurt. Canon also graced the Mark III with the same core auto focus system as their flagship DSLR, the EOS-1D X (Canon EOS-1D X Intro). The Mark III has the exact same 61-point auto focus array as the 1D X, with 41 cross-type points and 20 "high-precision" cross points. It also has Canon's latest AI-Servo III continuous AF software, flexible AF point selection options (e.g. Spot, Single Point, Zone, Expanded, etc.) and a new dedicated auto focus tab in the menu for better auto focus fine-tuning. In comparison, the 5D Mark II basically had the same auto focus system as a Canon APS-C DSLR, with a measly 9 AF points and very poor continuous auto focus. As far as action photography goes, if you were shooting with a 5D Mark II, you might as well have been shooting with a Rebel. The main difference between the 5D's AF and the 1D X auto focus is the Mark III has one DIGIC 5+ processor and the 1D X has two DIGIC 5+ processors and a DIGIC 4 processor. That extra processing power will make the 1D X a lot faster and more accurate. That said, I've played with a pre-production 1D X and the 5D Mark III's AI Servo continuous auto focus has the same silky smooth feel, with little or no hunting unless you're in near darkness.
So what does all that technical gibberish mean when you're behind the camera with a pro mountain bike racer coming straight at you at 40 miles an hour? It means keeper photos, my friends – what the kids call, "bangers." I don't have quantitative tests to prove this, but based on my experience shooting world class downhill racing at Sea Otter, I think the 5D Mark III's continuous auto focus is as good, and maybe even better than the EOS-1D Mark IV. I shot three mountain bike competitions while I was in California and the 6 FPS burst and AI Servo auto focus did not let me down. As long as I didn't drop the focus point off my subject, no matter how fast they were going I got razor sharp photos with the 5D Mark III. And although 6 FPS is slow compared to the 10 or 11 FPS burst rates of the flagship Nikon and Canon DSLRs, it's certainly fast enough to capture most action and it served me well for mountain bike photos.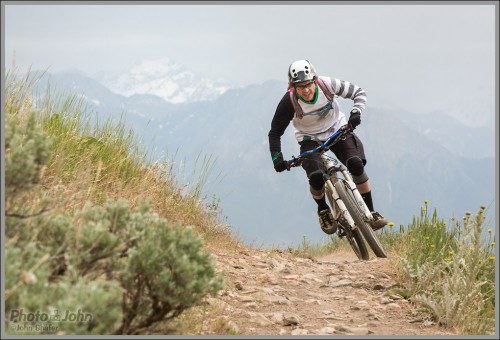 Video
This review is primarily about the 5D Mark III as a still camera but the 5D has been so important to video that it would be irresponsible to ignore the video features and performance completely. So – Canon made some nice additions and improvements to the 5D Mark III's movie mode. The most noticeable is the addition of the Live view / Movie switch (same as on the 7D and 60D), which makes setting up and recording more straightforward the less-than-intuitive Mark II, where the Set button turned on Live View. The new audio features – built-in audio levels control and a headphone jack for monitoring sound – also offer obvious benefits. I am by no means a video expert. But the more video I do, the more I realize how important audio is. So the new audio features are very welcome additions.
Since I didn't shoot any video with the 5D Mark III I can't speak directly about the quality. Canon did make some changes, though. The Mark III video is supposed to have considerably less moiré than previous Canon digital SLRs and the DIGIC 5+ processing delivers about two stops of improvement in noise reduction for both video and JPEG images. I shot RAW and JPEG studio tests. The in-camera noise reduction is quite obvious when you compare the RAW and JPEG files and according to Canon the same should be true for video. For more versatility, Canon gave the 5D Mark III two video compression options – interframe (All-I) and intraframe (IPB). All-I compresses each frame separately and offers the best possible quality and easy editing. The IPB option compresses the video more so you can save more video on your memory cards and record longer. The 4 GB video clip restriction from previous Canon HD DSLRs has also been removed. With the 5D Mark III you can record nonstop for up to 59 minutes and 59 seconds.
The one thing the 5D Mark III video doesn't have is continuous auto focus. Maybe that's not such a big deal to video pros but to hacks like me who shoot unboxing videos and friends crashing mountain bikes, continuous auto focus for video would be huge. Nikon and Sony DSLRs have had it for a while now and all compact system cameras have it. Canon finally added movie mode continuous AF in their brand new consumer-level EOS Rebel T4i / 650D (Canon EOS Rebel T4i / 650D Intro). However, the T4i's movie mode continuous AF didn't impress me when I played with it in the store. To be fair, the Nikon video auto focus isn't very good either. Only the Sony Alpha SLT cameras have movie mode auto focus that can really keep up with fast subjects like a moving car, a cyclist or a skier. The T4i is just the beginning of movie mode continuous AF for Canon, though. It wasn't announced as a feature but I can't help but wonder if part of the reason the EOS 1D X has been delayed so long is Canon wants to release it with continuous auto focus for video.