Rumors about the Canon EOS 7D have been bouncing around the Web for quite a while. The speculation can stop now – the announcement has been made. Surveying the features, specs and build, the new EOS 7D is sort of cross between the EOS 50D, 5D and EOS-1D lines. It has an 18-megapixel APS-C CMOS sensor with expanded sensitivity to ISO 12,800. It's faster than its predecessor, the EOS 50D, with an 8 frames per second capture rate. And yes – it captures video – full 1080p HD at 24, 25 or 30 frames per second.

The official press release says the new EOS 7D, "redefines the highly competitive mid-range DSLR product category," and is "a brand new product that stands on its own with new features never before seen in any Canon camera." In fact, it looks like Canon took some features from each of their digital SLR lines to build the 7D. The body is similar in size and form to the 5D Mark II, the APS-C sensor size comes from the 50D, and the speed and durability appear to be closest to the EOS-1D Mark III.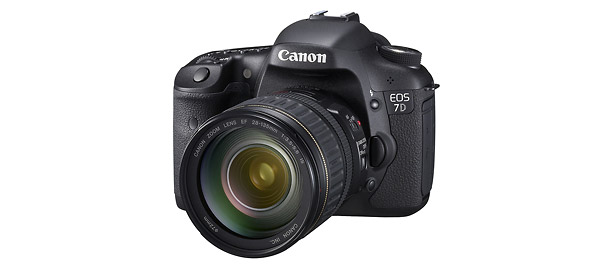 Canon EOS 7D key features:
18-megapixel CMOS sensor
Dual DIGIC 4 processors
Sensitivity from ISO 100 to 6400, expandable to ISO 12,800
8 frames per second capture rate
1080p HD video at 24, 25 or 30 frames per second / 720p at 50 or 60 frames per second
Complete manual exposure control for video
Brand new 19-point auto focus system
Three new auto focus area modes (Spot AF, AF Point Expansion, Zone AF)
New, 63-zone Canon iFCL Metering System (Intelligent Focus, Color, Luminance)
Dual Axis Electronic Level
3-inch 920k LCD display
100% viewfinder
Pop-up flash with built-in off-camera flash control
Line-in for optional stereo microphone
150k-cycle shutter assembly
Wireless connectivity with optional new WFT-E5A wireless file transmitter (WFT)
Geotagging with compatible Bluetooth GPS devices
This really does look like an impressive camera – a class-definer, even. I am disappointed that it doesn't have a tilt-swivel LCD and I will wait to pass judgment on the image quality. The EOS 50D looked great on paper, but I didn't feel the image quality lived up to the hype. I am definitely excited to see what appears to be real pro-level video features in a camera that costs less than $2000. Like most photographers, I buy DSLRs for the still shooting performance. But I am doing more and more video – because the cameras make good video possible. Having a camera that can do both really well is a win in my book – although I do think any serious video camera should have a tilt-swivel LCD display.
As an outdoor action sports photographer, the new auto focus system is the most exciting part of the new EOS 7D for me. The EOS 40D, 50D and 5D Mk II focus fine with most subjects. But for tracking fast action, they aren't quite up to par. Whenever I shot racing with the 40D or 50D, I'd wish I were shooting with the 1D. I'd love to see EOS-1D AF performance in a camera that costs less than $4000. Maybe this is the one. All 19 AF points are the most accurate cross-type and compatible with lenses as slow as f/5.6. The center point is even more responsive with a diagonal sensor for f/2.8 lenses. The three new selectable AF area modes are also interesting and hopefully they'll make it easier to focus on tricky subjects. The 7D also has a new AF point layout that Canon claims offers more even coverage of the shooting area.
This feature could be easy to miss, but it's huge. Canon has been the holdout manufacturer as far as wireless off-camera flash control goes. The only options Canon photographers had for off-camera flash control were Canon's expensive infrared system or even more expensive radio slave systems. Over the past few years every other camera maker introduced built-in wireless flash control on cameras with pop-up flashes. So it's good that to see that the 7D finally offers off-camera flash control – especially with the growing popularity of "Strobist" style lighting.
The new Canon EOS 7D digital SLR body will be available at the end of September for $1699 US. It will also be available as a kit, with the Canon EF 28-135mm f/3.5-5.6 IS zoom lens, for $1899. Damn you Canon – I might have to buy this one…




Related Content:
All Canon Reviews
All Digital SLR Reviews
Canon Cameras Forum
Digital SLR Forum
All Canon Camera News And Articles
Canon Cameras Web Site