Fujifilm calls their new FinePix HS10 digital camera a "True Photographers' Camera." The FinePix HS10 is the first compact digital camera from Fujifilm to use a CMOS imaging sensor. Fujifilm says the 10-megapixel "BSI" backside-illuminated CMOS sensor is 200% more sensitive than standard CMOS sensors, offering, "stunning richly detailed low noise images". The HS10 has an SLR-style "bridge" camera design with a full range of controls and a huge, image-stabilized 30x wide-angle zoom lens (24-720mm equivalent) with manual zoom ring. It can capture 1080i HD video with stereo sound and has a tilting 3-inch LCD display. It can even capture 10 frames per second at the maximum 10-megapixel resolution. That's high-end digital SLR territory there, son!


There are a ton of cool features included in the HS10. Some of the more interesting ones are Super High Speed Movie capture for up to 1000 frames per second video; Motion Panorama mode, which allows you to swing the camera around and assemble a panoramic image in-camera; Motion Remover Mode combines multiple images and removes anything moving for one clean, still image. Here's one for the action sports photographers – Multi-Motion Capture Mode combines multiple images into one multi-frame action sequence – like a snowboarder going off a jump – something that we used to have to do manually with Photoshop.
At least on paper, it looks like Fujifilm has created a camera that offers DSLR performance in a compact superzoom body and at a compact camera price. I'm sure the image quality is very good, too – for a compact camera. I wouldn't expect actual DSLR image quality from the HS10, though. The press release didn't list the actual size of the CMOS sensor, but it's doubtful that it's as big as an actual digital SLR sensor – and size does matter. At least when it comes to images quality…
The Fujifilm FinePix HS10 will be available in March 2010 at a suggested retail price of $499.95.

Related Content:
All Fujifilm User Reviews
All Digital Camera User Reviews
More Fujifilm News & Articles
2010 PMA News & Articles
Digital Cameras Forum
Fujifilm Web Site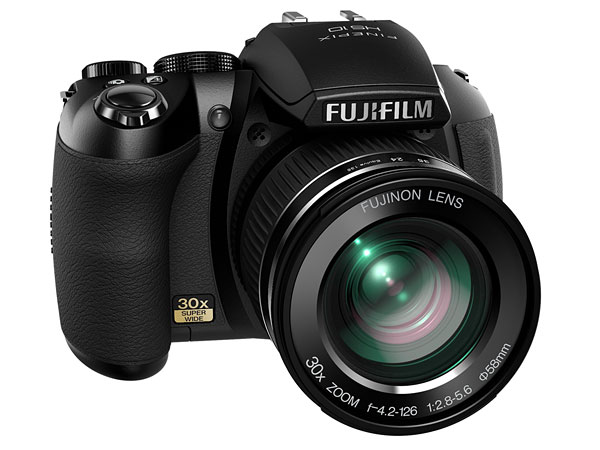 next page – Fujifilm FinePix HS10 Press Release >>