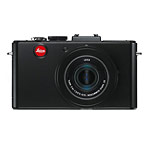 Thanks to PhotographyREVIEW.com member Chris Kilham for posting our first Leica D-Lux 5 digital camera review. The D-Lux 5 is Leica's red-dot version of the Panasonic Lumix LX5 premium compact digital camera. In both cases it's a 10-megapixel camera with a 3.8x Leica zoom lens, HD video and RAW capability. So why would anyone pay $799 for the Leica version when they could get the Panasonic LX5 for $400 less? That's a damn good question and part of the reason I chose this as a Featured User Review. Something Leica doesn't advertise well is that the D-Lux 5 uses different JPEG processing from the Panasonic. It compresses the files less and delivers images with more natural color and smoother tonal blends. Leica also offers a much better warranty than Panasonic. For some photographers, the D-Lux 5 is worth the extra money. Regardless, there's more to the Leica D-Lux 5 than that sexy red dot.
Ok, I release you to read Chris Kilham's Leica D-Lux 5 review now. And if anyone reading this has a Leica D-Lux 5 or the Panasonic Lumix LX5, please write your own review. Every review counts and your reviews are the foundation of this site.
---
Featured Review: Leica D-Lux 5
by Chris Kilham (Expert)
Price Paid:
Review Date: December 12, 2010
Used product for: 1 to 3 months

Overall Rating: 5 of 5
Value Rating: 5 of 5

Summary:
With the D Lux 5, Leica has finally succeeded in producing a very fine and affordable small-sized camera. They must have gotten tired of being the left-behinds as Cann, Sony and other camera makers surpassed them year after year. I have shot for six years with A Sony DSC V-3, an astonishing workhorse of a camera with the best Zeiss lens Sony ever put into a point and shoot. And I waited until I found a camera that could surpass this one. The Leica D Lux 5 is it.




Related Content:
All Leica Camera User Reviews
All Digital Camera User Reviews
Digital Cameras Forum
More Leica News & Articles
Leica Web Site