Nikon 1 System J1 Conclusion

One more time – if image quality is your number one criterion for judging a camera, you'd best look elsewhere. Not to say the Nikon 1 image quality is bad – it's not. Most of the other compact system cameras are better, though. Action is the number one priority for the Nikon 1 system. If you want a compact, interchangeable lens camera with revolutionary (that's right – revolutionary) auto focus performance and speed, then the Nikon J1 and V1 are your only real choices. I was blown away by the action photography and video performance of the Nikon J1. It rivals, and even exceeds the auto focus and burst capabilities of Nikon's $5000 D3s professional digital SLR. And for action video, the J1 – or better yet – the Nikon V1 paired with the 10-100mm Nikkor power zoom lens can't be beat. I expect to see that kit showing up in the backpacks of lots of professional action sports videographers in the next year.
I heartily recommend the J1 to families who want to take pictures and videos of their active kids and pets. I also recommend it to action sports photographers who want a small, capable camera they can throw in their hydration pack when they don't want to carry the full DSLR rig. I've already been recommending the Nikon J1 and V1 to mountain biker friends who ask about a camera to carry on their bike. Right now there's nothing that can compete for a compact, high-performance action sports camera kit.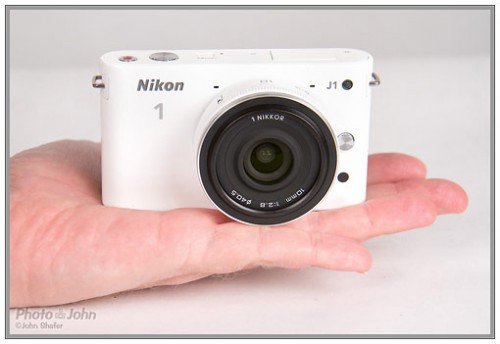 - end -
All photos copyright John Shafer and/or PhotographyREVIEW.com.
Back To Nikon 1 System J1 Review Intro >>


Nikon 1 System J1 Review Navigation
More Nikon 1 System Resources:
Nikon J1 User Reviews
Nikon V1 User Reviews
Write a Nikon J1 Review
Write a Nikon V1 Review
Nikon J1 Sample Gallery
All Nikon Camera User Reviews
All Compact System Cameras User Reviews
EVIL & Micro Four Thirds Cameras Forum
Nikon Cameras Forum
More Nikon Camera News And Articles
More Compact System Camera News And Articles
Official Nikon 1 System Web Page
All Digital Camera Pro Reviews
All Digital Camera Studio Sample Photos