Nikon 1 System J1 Camera Experience

Shortly after they announced their new mirrorless camera system, Nikon sent me the J1 for review. I got a two lens kit, which included the standard 10-30mm kit lens as well as a 30-110mm telephoto zoom. The J1′s CX sensor has a 2.7x crop factor so those lenses give you about a 27-300mm range. I also got the 10mm f/2.8 prime lens (27mm equiv.), which makes the J1 about as small as a big point-and-shoot camera. I'll talk more about the lenses in the image quality section of the review. But for now, I'll just say that they're not my favorite thing about the Nikon 1 system. Nikon has big plans for their new compact system cameras, though. There's a 10-100mm VR power zoom lens (27-270mm equiv.), which I got to try out at the PhotoPlus Expo in October. Nikon also had a large glass case with models of planned System 1 lenses and accessories in their PhotoPlus booth. What I had for review is just the beginning and hopefully there will be lots of great lens options in the near future. Nikon is known for their excellent lenses, after all.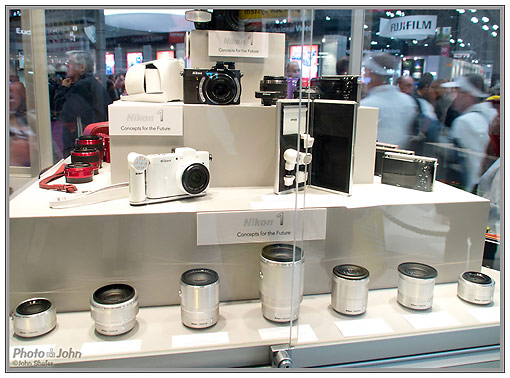 I'm not as obsessed with image quality as some photographers. That said, I was still a bit skeptical of the smaller CX-format sensor. But as a sports photographer who relies on continuous auto focus performance, I was very interested in Nikon's new hybrid auto focus system. For me, trading some image quality for packability and excellent auto focus performance in the backcountry makes perfect sense. I regularly find myself miles away from the nearest road shooting mountain bikers, snowboarders and skiers. Any edge I can get in terms of burst speed and auto focus performance really counts with the stuff I shoot. The bottom line is, if you can't get your subject in focus, it doesn't matter how good the image quality is.
The first thing I did with the J1 once it arrived was take it out to shoot a cyclocross race. For those of you who don't know, cyclocross was invented in Europe by bicycle roadracers so they could continue training through the winter. The races are mostly on dirt with lots of mud, "runups" and barriers that force the racers off their bikes so their feet won't freeze. And it's fast – really fast. It's one of the toughest action subjects I shoot so it was perfect for testing the Nikon 1 system's hybrid auto focus. I kept my expectations low since no compact system camera I'd tested had sports-worthy continuous auto focus. In fact, cyclocross would challenge most digital SLRs in continuous auto focus mode. The first sequence I shot was at the end of a long straight, with riders coming at me very quickly. When I got home and downloaded the photos I was amazed to find that the rider I kept the focus point on was in focus every frame until he got to about 20 feet from me. Combine the J1′s 10 frames per second burst rate (the maximum 30 FPS burst is only available with the focus locked) and surprising continuous auto focus and I was getting the kind of performance I normally only expect from a $5000 pro digital SLR.
Although the auto focus performance is excellent, without an eyelevel viewfinder, my panning photos didn't come out very well. It's nearly impossible to pan accurately using just a rear LCD display. You can do it, just not very consistently. For that reason, I would recommend spending the extra money on the V1 if you're serious about sports shooting. You'll get sharper, more accurate still photos and steadier video clips with smoother pans. Add the optional SB-N5 flash unit and the V1 is also compatible with Nikon's Creative Lighting System, opening up all kinds of creative off-camera flash wizardry.
Shooting action with the J1 is great. But it's the video performance that impresses me the most with the Nikon 1 system cameras. In my experience, there isn't another camera – DSLRs included – that has the same kind of auto focus performance in movie mode. Nikon's DSLR video continuous auto focus doesn't come close; Canon and Pentax digital SLRs don't have continuous AF in movie mode; and the Olympus and the Panasonic Micro Four Thirds camera continuous AF is about the same as Nikon's DSLRs. The Sony Alpha SLT digital SLRs, with their transparent mirror technology, have the only truly useable movie mode continuous auto focus – until now. I didn't do a back-to-back test but my impression is that the Nikon 1 hybrid auto focus outperforms even the Sony SLT cameras. Check out my Nikon J1 intro video below for some action video samples, including a cyclocross clip, a snowboard clip and a short video of a very excited doggy in the snow.
Nikon also has a 10-100mm (27-270mm equivalent) power zoom for the J1 and V1. It's not available yet but I got to play with it on the V1 at the PhotoPlus tradeshow in New York in October [photo]. There's a zoom lever on the lens barrel and the zoom action is damped as you begin and end your zoom, smoothing out your video. The power zoom lens' VR image stabilization is also excellent. If outdoor action sports video was my main gig, I'd be really, really interested in the Nikon V1. The V1′s electronic viewfinder (EVF) provides a third point-of-contact for the camera making for smoother handheld video and steadier still shooting. Add the power zoom lens and you've got a very serious compact video rig with better action video capability than any HD DSLR currently on the market. If you shoot mountain bike, ski or snowboard video, you should have one of these in your backpack.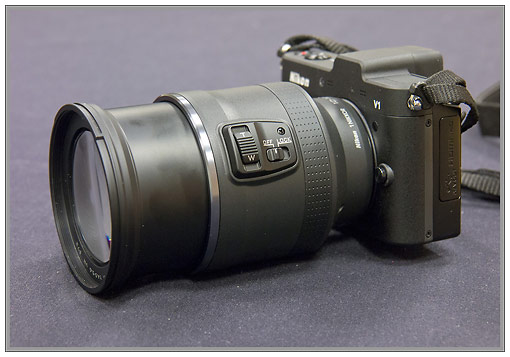 Now that I've delivered the good news, let me backtrack a bit. I've been using such a wide variety of cameras for so long now that I'm used to just pulling them out of the box, charging the battery and getting to work. But the Nikon J1 had me stumped. I knew it made manual exposure controls, I just could not figure out how to change the shooting mode or access the shutter speed and aperture controls. The mode dial doesn't have aperture priority, program, shutter priority or manual and the other external buttons and dials didn't help me, either. Finally, shamefully, I had to resort to looking at the camera manual. To be fair, once I found what I needed in the manual, it was all good. But my point is – I use a lot of cameras and for the J1 to have me completely lost is pretty impressive. I think there's a lot of room for improvement with the Nikon J1 camera controls – especially if they want to sell these cameras to serious photographers who also own digital SLRs.
Besides cyclocross, I also took the J1 along on a wedding day, a doggy shoot, a mountain bike ride and a few days of early season skiing. After that first day of cyclocross shooting, the auto focus continued to impress me. I can't help but wonder how the hybrid auto focus technology is going to trickle up and improve the Nikon digital SLRs. Canon has been the HD DSLR video leader since they introduced the EOS 5D Mark II. But if Nikon adds the hybrid auto focus system to their digital SLRs they'll have a major advantage for action sports videographers and anyone else who values spontaneity and flexibility while shooting video.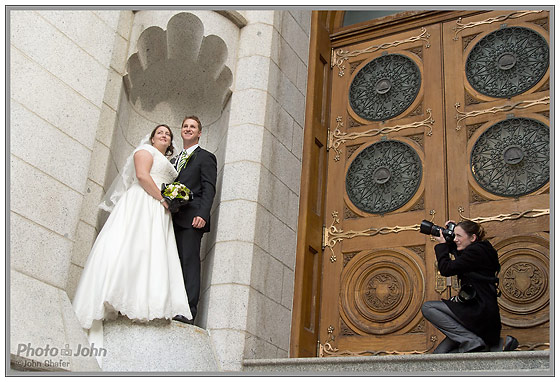 Next – Nikon 1 System J1 Image Quality >>


Nikon 1 System J1 Review Navigation