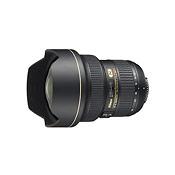 This is our first user review for the Nikon AF-S Nikkor 14-24mm f/2.8G zoom lens – a great super-wide option for serious Nikon shooters who own FX format (full frame) DSLRs. Axle has a written a very good review, too. I think he addresses pretty much every concern Nikon owners who are looking at this lens might have. If you own this lens, please write your own review! Reviews by community members are the foundation of PhotographyREVIEW.com. You don't have to be an expert – everyone's opinion counts.
---
Featured Review: Nikon AF-S Nikkor 14-24mm f/2.8G ED
by Axle (Expert)
Price Paid: $1700.00 from Henry's
Review Date: May 11, 2010
Used product for: 3 Months to 1 year
Overall Rating:
5 of 5
Value Rating:
5 of 5
Summary:
The ultimate in ultra-wide for Nikons, the AF-S Nikkor 14-24mm 1:2.8G is the perfect addition to any kit. As a full frame lens it will be perfect on your D3, D700, or most modern Film SLRs from Nikon (it works perfectly on my F80). Even on your DX cameras, this lens is perfect (21-36mm equivalent) and the quality coming out of this lens blows away anything from Sigma and Tameron.
First off, this is a specialized lens that will put a huge dent in your pocket book, if you shoot landscapes or architecture it will be a perfect addition to your bag. Portrait and event shooters really don't need this lens, your 17-55/24-70 lens will do just fine.
As an f/2.8 lens this sucker is fast, and sharp all the way open to f/2.8, and with the rounded diaphragm, the bokeh is smooth and clean. Also being weather sealed, this sucker can be taken out in any condition, I've had it out in abandoned buildings, and rain and snow, cold weather, and this thing takes it all. The only thing you really have to look out for is the front lens element, being curved you cannot put a protective filter on it, so whenever you're not using it, put the cap back on (that's another issue, the cap is weird, it slips on, it stays in place, but could easy slip off, and then you need to order a new one from Nikon $$$).
Despite all this, was this lens worth the investment, even with a D300, yes, oh yes. I'll sacrifice the angle of view for the quality that comes with using this lens.
Strengths:
- Sharp at any aperture, right open to f/2.8
- Sealed, can be used in downpour without any problems.
- Comparable even with older film based SLRs (F4 and up)
Weaknesses:
- G, no manual aperture control
- Front element is curved, preventing the application of a protective filter
- Weird slip on lens cap
Similar Products Used:
Tamron 11-18mm DiII
Sigma 10-20mm HSM
Customer Service:
Non Required.
Related Content:
All Nikon User Reviews
All Nikon Zoom Lens User Reviews
All Lens User Reviews
Nikon Review Page
Nikon Cameras Forum
Digital SLR Forum
All Featured User Reviews
All Nikon News & Articles
Nikon Cameras Web Site