Ladies and gentlemen, please welcome the new Nikkor AF-S 28-300mm f/3.5-5.6G ED VR zoom lens. That's right folks – a 10x superzoom Nikkor lens for your full-frame Nikon digital SLR! Now Nikon FX DSLR and 35mm SLR owners have their own version of the popular, one-size-fits-all, Nikkor 18-200mm VR zoom lens. Travel photographers, event photographers and photojournalists rejoice!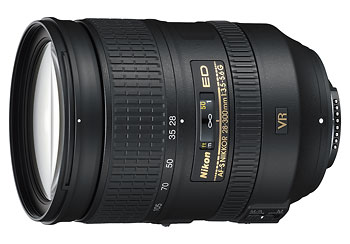 Update: Earlier this year, Nikon sent me a D4 and 28-300mm VR zoom for review. Since the 28-300mm was all I had, I used it for everything. And I loved it. It's reasonably light and compact (for a pro-quality 28-300mm zoom lens) and the image quality and auto focus performance are excellent! The only time I wanted a different lens was when I wanted a larger aperture for more light or for better depth-of-field control. I'm not going to try to insert a whole lens review here, though. I'll just let you look at the photos I took with the D4 and 18-300mm VR zoom and you can judge for yourself:
Nikkor AF-S 28-300mm f/3.5-5.6G ED VR Lens Gallery >>
I know some of you will put your noses in the air and pretend this new lens isn't important. But I urge you to give it a chance. True, there's no chance it will be able to compete with the AF-S 70-200 f/2.8 VR II lens on the image quality and auto focus fronts. But it's not supposed to. The AF-S 28-300mm VR zoom is the lens that can do it all when you have to travel light. Image quality is important but it's not always the most important. Changing lenses can slow you down and carrying multiple lenses isn't always possible. I've used and own all kinds of awesome glass but you know what my most-used lens is? It's an 18-200mm image-stabilized lens (on an APS-C sensor DSLR). That's because it can do almost anything I need and it's easy for me to carry in the backcountry on my mountain bike or skis.
The new Nikkor is only a little bigger than the 18-200mm VR II DX lens and considerably smaller than the 70-200mm f/2.8 VR II zoom – very impressive for an FX lens. It's especially impressive if you compare it to the Canon 28-300mm f/3.5-5.6L IS zoom lens. Both lenses have comparable specs but at 4.5 inches long and 3.75 inches across, the Nikon lens is about 2/3 the length – and nearly half the weight of the massive 3.7-pound Canon lens. While I think the Canon 28-300mm IS lens is wonderful, there's no way I'm taking it on my mountain bike. But there's definitely a place in my pack for the light, compact Nikon 28-300.
A superzoom isn't always the right lens for the job. But if you're a travel photographer, a photojournalist or an event photographer, a 10x wide-to-telephoto is a wonderful thing to have. And I'm really pleased to see Nikon come out with one for the FX-bodied big boys. In fact, I think every serious photographer should have one in their bag.
The new Nikkor AF-S 28-300mm f/3.5-5.6G ED VR zoom lens will be available in September at a suggested retail price of US $1299.95.
Nikon 28-300mm f/3.5-5.6G ED VR Photo Gallery >>
Nikon 28-300mm f/3.5-5.6G ED VR Zoom Lens Gallery >>
Related Content:
All Nikon User Reviews
All Nikon Zoom Lens User Reviews
All Lens User Reviews
Nikon Review Page
Nikon Cameras Forum
Digital SLR Forum
All Nikon News & Articles
Nikon Web Site