It's been a little over two years since Nikon introduced the D7000 – probably one of their most successful digital SLRs, ever. So the bar is set high for its replacement, the Nikon D7100. Yes, that's right, it's official – consider the Nikon D7100 announced. Actually, the D7000 will remain in Nikon's DX camera lineup (Nikon D7000 Pro Review) and the D7100 is being added as a new higher-level option – the current DX-format flagship camera, if you will. The specs on the D7100 are pretty astounding – especially when you consider it will sell for just $1199.95 (body only). At core of the camera is an EXPEED 3 processing engine optimized for the D7100, and a new 24-megapixel DX sensor with no low pass filter. Yup, Nikon dispensed with the low pass filter on the D7100 to squeeze the absolute maximum detail and sharpness from the sensor. The D7100 gets the same 51-point auto focus array as the D4, with 15 cross-type sensors and f/8 lens compatibility at the center point. There's also a new 1.3x Crop Mode, which effectives doubles the focal length of your lens, expands the auto focus array to the edges of the frame, and increases the burst rate and video frame rate.
Update: Our Nikon D7100 Pro Review is live! It was written by professional sports photographer Rob Norbutt, with a special emphasis on low light and auto focus performance:

Nikon D7100 Key Features & Specs:
24.1-megapixel DX-format (APS-C) CMOS sensor
EXPEED 3 image processing
51-point AF system with 15 cross-type sensors
2,016-pixel RGB metering sensor with Scene Recognition System
Sensitivity: ISO 100 to 6400, expandable to ISO 25,600 (Hi-2)
New 1.3x Crop Mode
6 FPS high-speed burst at full resolution
7 FPS in new 1.3x Crop Mode
3.2-inch 1.2-million-dot RGBW LCD display
New, "i" button provides quick access to key functions in Live View
1080p full HD video with built-in stereo microphone and headphone jack
Full HD video at 60i in 1.3x Crop Mode
Uncompressed HDMI output video
Full time auto focus in video mode
Dual SD card slots – UHS-1 and SDXC compatibility
New viewfinder with 100% coverage and new OLED info display
Shutter assembly rated for 150k actuations
Magnesium alloy top and back plates
Weatherproofing equivalent to the D300S
I'm sure the D7100 is going to be popular with all kinds of photographers, just as the D7000 has been. However, with the 51-point auto focus system and the new 1.3x Crop Mode, it should be especially popular with wildlife and sports photographers. The main benefit of the 1.3x Crop Mode, in my opinion, is the full-frame auto focus array coverage. That means you can select auto focus points all the way to the edge, or let the subject tracking system track anywhere in the whole frame. And f/8 compatibility means you get full AF functionality, even with tele-converters – great news for motor sports and bird photographers who need all the reach they can get. Since the 1.3x Crop Mode doubles the reach of your lens, really incredible focal lengths become possible with a very compact and lightweight kit. For instance, with the AF-S 70-300mm VR zoom lens, a 1.4x tele-converter and the 1.3x Crop Mode, you'd get an effective focal length of 840mm – that's very, very nice. Using the 1.3x Crop Mode does reduce resolution to 15.4 megapixels, but that's still a very respectable resolution – perfectly useable for print, even. A nice side effect of the reduced resolution in the 1.3x Crop Mode is it increases the max burst rate from 6 FPS to 7 FPS – another reason for sports photographers to like the D7100.
The Nikon D7000 introduced a lot of still photographers to DSLR video. The D7100 adds a bunch of new video features, including some that are very important to video pros and serous filmmakers. One of the most obvious updates is a dedicated video recording button on top of the camera, next to the shutter release button. There's a built-in stereo microphone now, in front of the flash hot shoe, and Nikon added a headphone jack for audio monitoring. For better composing, focusing and monitoring, the LCD display has been increased to 3.2 inches and it's now a RBW display with white pixels for added brightness. Nikon also added a new "i" button at the bottom left of the LCD display. The "I" button opens a quick function menu overlay on top of the display making it easier to access regularly used functions without having to leave live view. The D7100 has uncompressed HDMI video output as well as simultaneous live view, if you're running a video monitor and using an external video recording device. Most interesting though – at least I think it is – is the ability to record at full HD at 60i in the 1.3x Crop Mode. And since continuous auto focus works in live view with Nikon DSLRs, you can have subject tracking across the full frame for video in the 1.3x Crop Mode. In my experience, the continuous auto focus performance in live view is pretty mediocre – but still, it's pretty cool that subject tracking across the full frame is possible while recording video – and for some subjects it will work very well.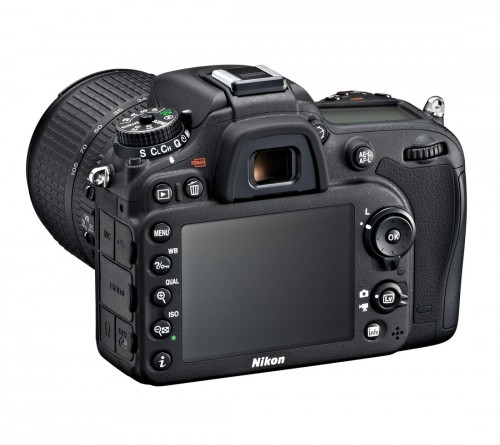 Nikon is introducing a couple of new accessories with the D7100 – a new MB-D15 battery grip, and the WR-1 radio transceiver. The WR-1 transceiver fits into the camera's flash hot shoe and can control up to 20 D7100 cameras remotely, including exposure settings, timed release, intervalometer settings, etc. It's a very powerful remote and the possibilities sort of boggle my mind. Filmmakers, wildlife photographers and professional sports photographers are the most likely WR-1 users. But anyone who wants to control multiple cameras from one location will appreciate what it can do.
Personally, I'm most excited about the D7100's improved auto focus and the new 1.3x Crop Mode. As a sports photographer, those two features have the most to offer me. I'm still skeptical of 24-megapixel APS-C sensors so I'm going to have to wait and see how the D7100's image quality is. However, Nikon does say that this is a "new" sensor and I think it's interesting that they left the low-pass filter off. They've also been refining the 24-megapixel DX sensors for a while now – they first used one with the D3200, introduced last spring. So I'm curious to see how the image quality is. Still, even if it's good, I think 24 megapixels is overkill for most folks and a lower resolution sensor would have been even better. I'm willing to be proved wrong, though.
The Nikon D7100 is scheduled to be available in March, 2013 for US $1199.95 for just the body. I think that's a hell of a deal for all the performance Nikon has packed into this baby. It will also be available in a kit with the AF-S DX 18-105mm f/3.5-5.6 VR zoom lens for the $1599.95.
Nikon D7100 Pro Review >>
Nikon D7100 Press Release >>
Related Content:
Nikon Digital SLR User Reviews
All Nikon User Reviews
All Digital SLR User Reviews
Nikon Cameras Forum
Digital SLR Forum
Digital Video Forum
More Nikon News And Articles
Nikon Web Site