Last week at the Mobile World Conference (MWC) in Barcelona, Spain, Nokia introduced the 808 PureView smartphone. Why am I writing about a smartphone on a photography Web site? Well, the title of this article should answer that question. In a bold digital imaging strategy, the new Nokia 808 PureView phone has a 41-megapixel imaging sensor for photos and video. It's a 1/1.2-inch sensor – physically larger than those in even the best point-and-shoot digital cameras like the Olympus XZ-1, Fujifilm X10 or Canon PowerShot S100. Besides a big sensor with lots of pixels, it also has a 26mm (equivalent) f/2.4 Carl Zeiss lens, a 4-inch AMOLED display, sensitivity from ISO 50 to 1600 and Nokia's PureView technology, which uses oversampling to produce really incredible image quality from all those pixels.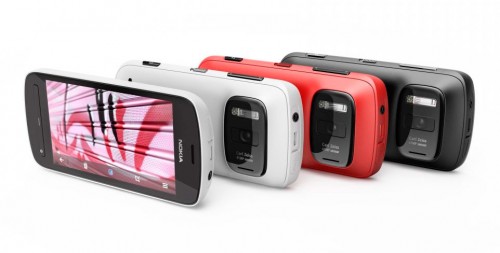 Some of you are probably thinking that a 41-megapixel camera phone is a ridiculous idea. That's what I thought when I first read about it. Experienced photographers and camera journalists will tell you more pixels aren't necessarily a good thing. Higher "pixel density" on a sensor usually means reduced image quality. The more pixels you cram onto a tiny sensor, the less light reaches each pixel and the data collected isn't as good. And who wants to deal with 41-megapixel images on a camera phone, anyway?
In the case of the Nokia 808 PureView smartphone, it's probably best we set aside our preconceived ideas about how a digital camera should work. Nokia's PureView pixel oversampling technology is out-of-the-box thinking and has a lot of potential for both camera phones and traditional digital cameras. Although the 808 has a 41-megapixel sensor that can capture a 38-megapixel image, in auto mode it takes 5-megapixel pictures combining the data from 7 pixels into one "superpixel." This is sort of reverse HDR, if you will. In the Engadget video below, the Nokia rep says the combined data from one of these superpixels is comparable to that of a 7-micron pixel. That's larger than the 6.5-micron pixels in Canon's just-announced EOS 5D Mark III full frame digital SLR. In other words, that's a big "effective" pixel. That's not to say the Nokia 808 PureView smartphone is going to have better image quality than a professional digital SLR like the 5D Mark III. The sensor is just one piece of the camera equation. But the pixel size comparison does help put things in perspective.
So what are the real world benefits of Nokia's PureView technology? If you watched the video above you already saw some of them. The Nokia 808 has 3x lossless zoom and seemingly miraculous low light image quality – check out the Brazilian Carnival sample in the video if you haven't already. A corollary to the low light performance is the ability to freeze action in all kinds of conditions by using higher ISO settings to increase the shutter speed. The 808 also has full HD video with 4x lossless zoom at 1080p and 6x lossless zoom at 720p. Normally, zoom is handled by optics, i.e., a zoom lens. But most smartphones have fixed lenses so they use digital zoom, which uses software to enlarge the image and fill in the missing pixels. That's called "interpolation. The Nokia 808, on the other hand, can use the full 41-megapixel sensor to zoom in without having to interpolate to reach the desired zoom ratio. Don't be fooled, though. This isn't the same as using an actual zoom lens. Technically, what Nokia is doing is cropping the image or video. With a real zoom lens, the optical qualities of the image change as you zoom. At longer, telephoto zoom ratios (zoomed in), you have shallower depth-of-field and space is compressed making objects in the foreground appear closer to the background. At wide zoom ratios, you can have almost unlimited depth-of-field (everything is in focus) and your subject can appear disproportionately large compared to the background. With the Nokia 808's digital zoom (and other camera phones), your optical characteristics will remain the same no matter how much you zoom. That's not a knock on the Nokia because it's pretty much status quo with smartphone cameras. I just want to make sure that people know what differentiates even the best camera phone from a camera with a real zoom lens. Even though the Nokia 808 has the "highest performance Carl Zeiss optics to date," it can't replicate the optical effects of even an inexpensive point-and-shoot camera with a 3x optical zoom lens.
Smartphones aren't my usual territory but I think the Nokia 808 PureView phone is worth paying attention to. It changes the rules in regards to how good digital image quality is achieved and I won't be surprised if we see similar systems introduced by other smartphone manufacturers and even traditional camera makers. Based on the 808 high-res sample photos Nokia is showing off (download high-res photos zip file), other manufacturers would be foolish to ignore the PureView strategy. It may not be the traditional approach to digital imaging. But you can't argue with the results.
Official Nokia 808 PureView Web Page >>
More Nokia 808 PureView Videos: