Olympus E-620 – Control Layout Changes
Because of the LCD hinge, there's no room for the four dedicated buttons that are on the left rear of the E-520. The ISO, white balance, metering mode and AF buttons have been moved to the four-way directional keypad, which had no dedicated functions on the E-520. This is nice design – nothing is lost and the space on the back of the camera is used more efficiently. The four-way directional keypad and some of the other buttons now also have backlighting. The lighted buttons are one of those features that seems so obvious you wonder why it wasn't done a long time ago. The buttons on the back of the E-620 are a little smaller than other Olympus DSLRs but I didn't find that a problem when I was shooting. Maybe people with really big fingers will have trouble accurately pressing the small buttons. But they worked fine for me.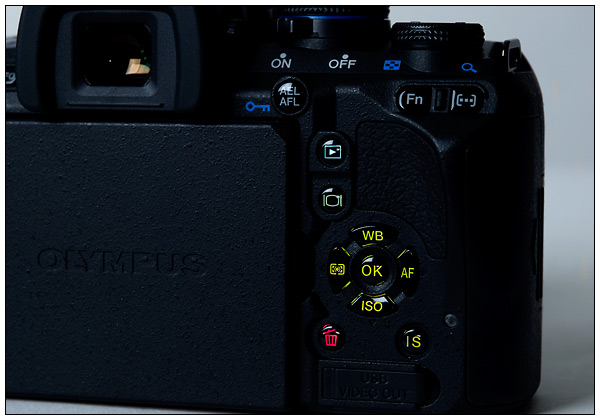 Olympus E-620 – New Creative Tools
As the second camera in the Olympus Creative Series, one of the most important features on the new E-620 is the Art Filters. The Art Filters were introduced with the recent E-30 DSLR and are significantly listed on the mode dial alongside the scene modes (see below). Along with the Art Filters, the E-620 also offers Multi Exposure and Multi Aspect shooting. The E-620 has the same six Art Filters as the E-30: Grainy Film, Light Tone, Pin Hole, Pop Art, Soft Focus and Pale & Light. But it is more limited in the Multi Exposure and Multi Aspect shooting options. You'll find more detail on the Art Filters as well as sample images in my Olympus E-30 First Impressions article.

next page – Olympus E-620 – Performance And Sensor >>