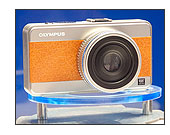 Olympus didn't introduce their hoped-for Micro Four Thirds camera at PMA this year, although they did have a concept camera behind glass in their booth. This is the same camera they showed behind glass at Photokina, last year. There's not much to learn from looking at the Olympus Micro Four Thirds concept camera except that it doesn't have an EVF (electronic viewfinder) or even an optical viewfinder. It's definitely a different concept from the Panasonic Lumix G cameras – now a pair with the introduction yesterday of the high-def video hybrid Lumix GH1. With its clean retro styling, the Olympus concept camera is more reminiscent of a classic rangefinder than an EVF superzoom or DSLR. It looks like Olympus plans for their first Micro Four Thirds camera to compete with the Canon PowerShot G10 and Panasonic Lumix LX3 instead of with the Lumix G-Series or digital SLRs.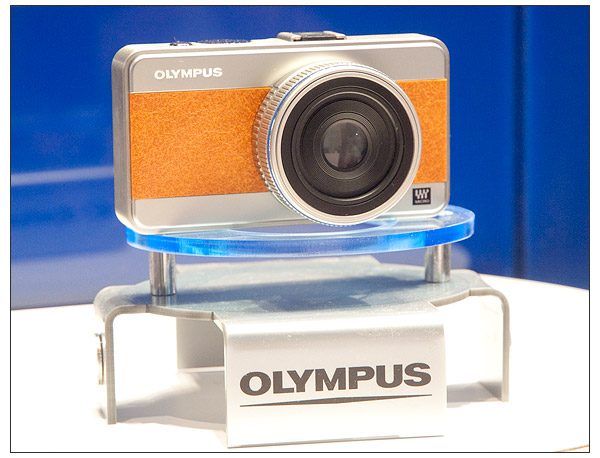 I have to admit, I'm disappointed Olympus hasn't introduced a Micro Four Thirds camera yet. To be fair, Olympus is the only camera manufacturer to introduce a new digital SLR at PMA this year – the 12-megapixel E-620. So it's not like they've been slacking. But I am very much looking forward to an Olympus Micro Four Thirds camera. The Micro Four Thirds format offers a significant alternative to both high-end compact cameras and digital SLRs and has something to offer both the casual digital photographer and the working pro. The Panasonic Lumix G1 has had a lot of positive press and the Lumix GH1 announced yesterday is the belle of the ball at PMA this year. It's unfortunate that Olympus isn't able to grab some of that attention with their own Micro Four Thirds camera.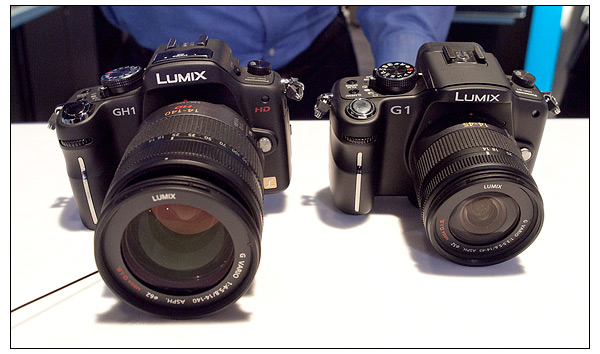 Why should we care about an Olympus Micro Four Thirds camera? For one, having a second Micro Four Thirds camera line will validate the new format. Panasonic has certainly given Micro Four Thirds a solid start. But as good as the G1 is and the GH1 is likely to be, Panasonic is a consumer electronics company and they've been designing cameras for consumers, not pros. Olympus has a long history of innovation. They made their first camera in 1936 and they've been making lenses even longer than that. The Olympus Zuiko Digital lenses are among the best and it would be wonderful to have that optical quality available in a compact Micro Four Thirds camera. Panasonic's MEGA O.I.S. optical image stabilization works great. But in-camera image stabilization like Olympus has been using in their DSLRs offers the potential for even smaller and lighter lenses. I don't know why Olympus is taking so long to bring a Micro Four Thirds camera to market. But I am very much looking forward to seeing what they finally come up with and I hope it will be worth the wait.
Related Content:
2009 PMA Tradeshow Coverage
Olympus Digital SLR Reviews
Panasonic Lumix DMC-GH1 Article
Micro Four Thirds Standard Announcement
Olympus And Four Thirds Forum
Olympus Web Site
Official Micro Four Thirds Standard Web Page