Olympus has announced a firmware update for their E-P1, E-P2 and E-PL1 Micro Four Thirds format Pen digital cameras. The Olympus Pen cameras offer the image quality and flexibility of a digital SLR in a smaller, lighter package. The new firmware improves auto focus performance for still and video on all three Pen cameras as well as making it possible to view the menu on the rear LCD of the E-P2 and E-PL1 when the EVF electronic viewfinder is being used.

I think the Micro Four Thirds format is a great alternative to digital SLRs. With digital SLR image quality and interchangeable lenses, the Micro Four Thirds cameras are an even better choice for people considering high-end compact cameras like the Canon G11 and Panasonic LX3. At $599 (US) with a lens, the Olympus E-PL1 is an especially attractive camera.
One of the main criticisms photographers have had for the Olympus Pen cameras is the relatively slow auto focus speed compared to digital SLRs and Panasonic's Lumix Micro Four Thirds cameras. In early February, Olympus announced two new lenses designed for better auto focus performance and silent focusing in movie mode, the M. Zuiko Digital ED 9-18mm f/4.0-5.6 and M. Zuiko Digital ED 14-150mm f/4.0-5.6 (Olympus 9-18mm and 14-150mm Lens Article). I got to try an early pre-production version of the 9-18mm lens (18-36mm equivalent) and the auto focus was much quicker than other lenses I've used on the Pen cameras. Hopefully the firmware upgrade and the two new lenses will make a noticeable auto focus improvement.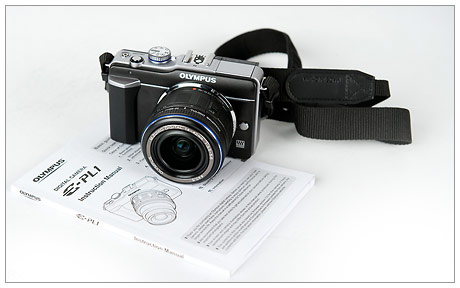 The new Olympus Pen digital camera firmware will be available on April 22nd. The M. Zuiko Digital ED 9-18mm f/4.0-5.6 zoom lens will be available in May and the M. Zuiko Digital ED 14-150mm f/4.0-5.6 zoom lens will be available in June. Watch for more information on the lenses as I aim to get them for testing as soon as possible. I'm really enjoying using the E-PL1 for video and hope that the new firmware and lenses make it possible to reliably use the continuous auto focus tracking for movies.
Olympus Pen Firmware Update Web Page >>
Olympus E-P1, E-P2 and E-PL1 Firmware Update Press Release >>
Related Content:
Olympus Zoom Lens Reviews
All Olympus User Reviews
Olympus Cameras & Four Thirds Forum
Digital SLRs Forum
More Olympus Camera News And Articles
More Micro Four Thirds Camera News And Articles
Olympus Digital Cameras Web Site