The Olympus Tough TG-1 iHS rugged, waterproof point-and-shoot, in my opinion, is the best waterproof camera ever. Olympus calls it "lifeproof,"and that's why it's been my constant companion this winter while I'm out playing in the snow. It's easily accessible in a pouch on the shoulder strap of my pack and I don't have to worry about it freezing or getting covered with snow. And the backlit CMOS sensor, iHS technology and f/2.0 lens deliver the best image quality I've seen yet from a waterproof camera (check out my Olympus TG-1 video to learn more). So I was very interested when I saw an updated version was being introduced this week at the CES tradeshow. What could they have done to make the Olympus Stylus Tough TG-2 iHS better than the TG-1? At first glance it looks like main difference between the TG-2 and TG-1 is better waterproofing (from 40 feet to 50 feet). Since I'm not a diver and the deepest I ever take a camera is about five feet under in a swimming pool, I was a little disappointed. But while comparing the TG-1 and TG-2 specs pages side-by-side I noticed a very important detail I'd missed in the press release – Olympus added an aperture priority manual shooting mode to the TG-2. Hallelujah – this is huge! With aperture priority, photographers can now really take advantage of the TG-2's fast f/2.0 aperture for shallow depth-of-field portraits as well as using it to control shutter speed to freeze action.

Olympus Stylus Tough TG-2 iHS Key Features And Specs:
12-megapixel 1/2.3-inch backlit CMOS sensor
4x 25-100mm f/2.0-4.9 (equivalent) optical zoom, plus 8x Super-resolution Zoom (digital)
Converter ring allows use of waterproof fisheye and telephoto converter lenses
TruePic VI image processing
New – aperture priority shooting mode
1920 x 1080 full HD video
New – 120 and 240 FPS high-speed video settings
New – Multi-Motion Movie IS image stabilization
New – Microscopic Macro function increases magnification to 14x
3-inch 610k-dot OLED display
Sensitivity: ISO 100 to 6400
Waterproof to 50 feet / 15m
Shockproof from 6.8 feet / 2.1m
Crushproof to 220 pounds / 100 kilograms
Freezeproof to 14 degrees Fahrenheit / 10 C
5 frames-per-second high-speed burst at full resolution and 15 or 60 FPS at 3-megapixels
Built-in GPS with electronic compass and manometer / altimeter
Although the aperture priority exposure control is arguably the most important update on the Olympus TG-2, there are other additions worth mentioning. Besides the increased waterproof rating, the shockproofing has also been improved so the TG-2 can handle drops of up to 6.8 feet / 2.1m (about 2.5 inches more than the TG-1). The crushproof and freezeproof ratings remain the same, at 220LBF (100KGF) and 14°F (-10°C), respectively. You can now record high-speed video with the TG-2 at 120 and 240 frames per second (I assume at reduced resolution) and Olympus improved the image stabilization for video with Multi-Motion Movie IS, which reduces camera shake caused by walking or breathing. For macro shooters, the minimum focusing distance in normal focusing mode has been reduced to a very close 3.9 inches (0.1m). That means you no longer have to change focus modes for most close-up photos. Olympus also added a new Microscopic Macro feature that increases magnification from the standard 4x optical to 14x with no reduction in image quality. I'd take the image quality claim with a grain of salt but if it works even halfway decently it will be pretty cool for super close-up photos of insects and other tiny stuff – maybe even snowflakes!
I'm really excited about the new TG-2 now that I know it has aperture priority mode. I wish it also had shutter priority, but aperture priority will get the job done, no problem. That added manual control will make a big difference in low light, for portrait photos, and shooting action. It changes the TG-2 from a point-and-shoot to something a professional can use for controlled photos. Now, if only Olympus would make a really high-end rugged compact with a full set of PASM exposure controls, a bigger sensor and RAW shooting. Please?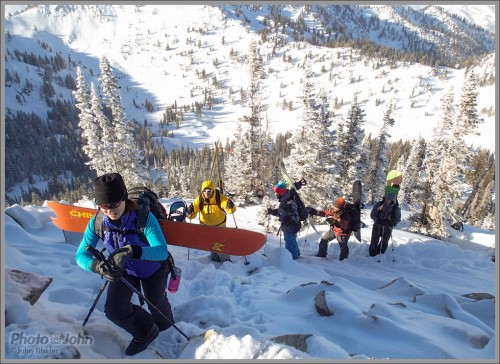 Photo taken with the Olympus TG-1, which has the same sensor & lens as the new TG-2.
See All Olympus TG-1 Photos >>
The Olympus Stylus Tough TG-2 iHS will be available in March – just in time for spring snow storms and the beginning of the cycling season! The suggested retail price for the TG-2 is US $379.99. If you don't care about the improved waterproofing or aperture priority mode, check prices for the TG-1 as they should be dropping. With the same sensor and lens, the TG-1 and TG-2 are, for the most part, the same camera. But the new aperture priority shooting mode on the TG-2 will make a very big difference for my mountain bike and ski photos.
Olympus Stylus Tough TG-2 iHS Press Release >>
Outdoor & Waterproof Camera Guide >>
Related Content:
All Olympus Digital Camera Reviews
Olympus Digital Cameras Forum
General Digital Cameras Forum
All Olympus News
Olympus Web Site