Compact System Camera Recommendations:
Compact system cameras offer digital SLR features, control and performance – including interchangeable lenses – in a camera closer to the size of a high-end point-and-shoot. They're great for travelers, families, businesses and backpackers who want the performance of a digital SLR without the extra size and weight. All the big camera companies make mirrorless camera systems now. My favorites are the Olympus Micro Four Thirds cameras and Sony's NEX system. For photographers who appreciate traditional manual controls, a retro rangefinder feel but still want digital SLR performance, Fujifilm's X-Pro1 is the current mirrorless dream camera. Mountain bikers, snowboarders, skateboarders and families who want a really small camera that's great for action and video will appreciate the Nikon 1 System J2's tiny body (Nikon 1 J2 intro), great auto focus, fast burst rate and excellent HD video. The NEX-6 is Sony's latest mirrorless camera. It's compact with great controls and has a built-in electronic viewfinder – a very nice feature that's especially useful for shooting video. Buy the kit with Sony's 16-50mm power zoom lens for smooth HD video zooming.
Photo-John's Favorite: Olympus OM-D E-M5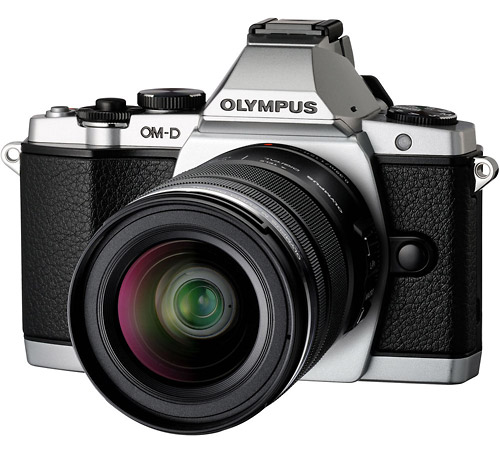 Even though I love Sony's NEX cameras, Olympus makes my favorite mirrorless cameras. Olympus's smaller Four Thirds sensor and built-in sensor-shift image stabilization allows them to make smaller lenses and that keeps the whole system smaller. The Micro Four Thirds lens mount also offers the most lens options. My favorite compact system camera is the Olympus OM-D E-M5 (above). It's as close as you can you can get to a miniature DSLR – it even looks like a traditional 35mm film camera! The Olympus OM-D E-M5 is weatherproof, it has a built-in electronic viewfinder and full HD video, it can shoot as fast as 9 frames per second, it has the best image stabilization in the business, and it's got a beautiful tilting OLED touchscreen display. I've wanted to buy one ever since Olympus demanded I return the per-production test camera they sent me when it was announced. If the OM-D's $1000 price tag (body only) is too steep for your wallet, check out the Olympus E-PM2 Pen camera. It has the same excellent sensor as the OM-D E-M5 in a smaller, simpler body for just $550 (body only). If video is important to you, then I recommend buying the OM-D E-M5 kit that includes the Olympus 12-50mm power zoom lens. It's a great all-purpose zoom lens and the power zoom makes it easy to do smooth zooms while recording HD video.
Follow the links below to learn more about my compact system camera picks for this Holiday Season:
Olympus E-PM2 ($599 with kit lens)
Sony NEX 6 ($849 body only)
Nikon 1 J2 ($549 with kit lens)
Fujifilm X-Pro1 ($1699 body only)
Olympus OM-D E-M5 ($999 body only)
If you've got your own favorite camera or just think I left something out, please share your thoughts in the comments section below.
next – Digital SLRs >>