Point-and-Shoot Camera Recommendations:
Point-and-shoots are the cheese and crackers of the camera world – everyone enjoys them, they take care of business between meals and some of them are quite tasty. They're also (usually) more affordable and less intimidating than big interchangeable lens cameras. If you're in the market for a point-and-shoot camera, here are five to take a look at, including a rugged waterproof, shockproof camera for outdoorsy types (Olympus TG-1 iHS) and a ridiculous (but awesome) $3000 point-and-shoot camera (Sony RX1) with a full frame DSLR sensor and fixed 35mm f/2.0 Carl Zeiss lens. If can't drop three grand on a point-and-shoot and want something a little more practical (it has a zoom lens and it fits in your pocket) – Sony's RX100 is the best high-end compact on the market right now. For travelers and others who want it all in one camera, the Fujifilm X-S1 superzoom superzoom has almost everything you'd find in a digital SLR, including manual controls and RAW shooting. Its most important feature is a 26x 24-624mm (equivalent) zoom lens – something you won't get with a digital SLR. If you know someone who is planning an African safari, the Fujifilm X-S1 is the camera to buy.
Photo-John's Favorite: Canon PowerShot SX260 HS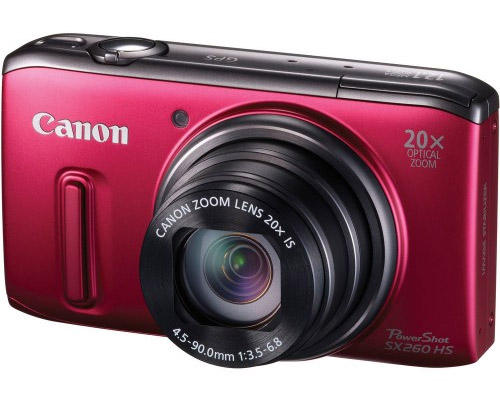 My personal favorite, and the most practical and affordable camera of the bunch, is the Canon PowerShot SX260 HS. I own the predecessor to this camera and I love it because of its pocketable versatility. The SX260 HS has a 20x optical zoom and a great feature set, including manual controls and full HD video – but it fits in a pants pocket so you can take it everywhere. Put an Eye-Fi card (Eye-Fi wireless SD card review) in the camera and you can even wirelessly transfer your photos from the camera to your Smart Phone and post them to Instagram, Facebook or whatever social networking site you like. I rarely leave the house without my pocket superzoom!
Follow the links below to learn more about my favorite point-and-shoot cameras for this Holiday Season:
Sony RX100 ($649)
Sony RX1 ($2799)
Olympus TG-1 iHS ($399)
Fujifilm X-S1 ($699)
Canon PowerShot SX260 HS ($299)
If all of these point-and-shoots are too rich for your current funding situation, check out our affordable point-and-shoot camera guide to see five great cameras that sell for less than $200.
If you've got your own favorite camera or just think I left something out, please share your thoughts in the comments section below.
next – Compact System Cameras >>