Digital SLR Recommendations:
Digital SLRs are the kings of digital camera world. They come in a wide variety of sizes and prices range from about $500 to over $7000. I've chosen a variety of cameras here, from the most expensive to the most affordable. And they're all great. In fact, you can't buy a bad DSLR anymore. No matter what you buy you're going to get great auto focus and excellent image quality – even in low light. Sony is the most innovative camera company at the moment so I recommend Sony DSLRs to anyone who's investing in their first DSLR for the long term. They also make the best DSLRs for HD video. The Sony Alpha SLT-A77 offers the best price-to-performance ratio for serious photography enthusiasts – whether they be still photographers or aspiring video makers. With a 36-megapixel sensor, Nikon's D800 is the dream camera for serious landscape photographers who want to capture every tiny detail. The Pentax K-30 is a great, affordable DSLR for all kinds of outdoor photographers. It's weatherproof with tons of features and the image quality is excellent compared to other cameras in its class. You also get more for your money with the Pentax compared to the competition. I reviewed the Nikon D3100 last year and it's my favorite entry-level digital SLR. It's very affordable but it has everything you need, including the ability to use all of Nikon's great lenses.
Photo-John's Favorite: Canon EOS-1D X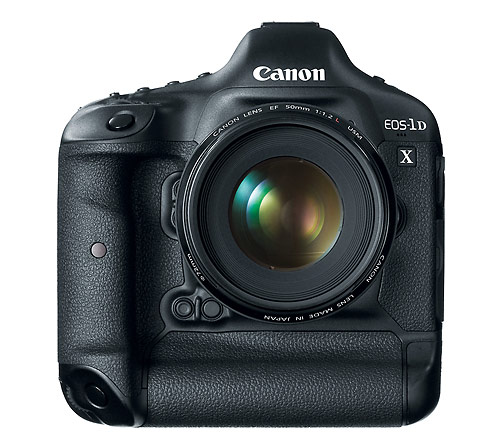 My favorite DSLR right now is the Canon EOS-1D X – the most expensive of the bunch. Honestly, I can't even afford it. But I'm primarily an outdoor action sports photographer and the EOS-1D X is the Ferrari of digital SLRs so how can I not love it? It can take pictures in almost complete darkness, it's pretty much indestructable, it can shoot bursts at up to 14 frames per second, and the auto focus system is unstoppable. If you can afford the $6800 price tag (body only) and you need a camera to shoot pro basketball, World Cup soccer, the Tour de France, Formula 1 auto racing or even out-of-control toddlers, it does not get any better than the Canon EOS-1D X. Now you know what to get me for Christmas.
Follow the links below to learn more about my digital SLR recommendations for this Holiday Season:
Pentax K-30 ($749 body only)
Nikon D3100 ($649 body only)
Sony Alpha SLT-A77 ($1099 body only)
Nikon D800 ($2999 body only)
Canon EOS-1D X ($6800 body only)
If you've got your own favorite camera or just think I left something out, please share your thoughts in the comments section below.