The Samsung Galaxy Camera is one of the more interesting cameras to be introduced in 2012. It's basically a point-and-shoot superzoom with nearly full mobile capabilities. The only thing it can't do is make a phone call. It's got a full Android mobile OS so you can install your favorite Android apps like Instagram, Facebook, Twitter, etc. And it's got 4G connectivity (via ATT in the US) so you can share your photos wherever and whenever. But unlike other mobile devices, the Samsung Galaxy Camera is as much camera as it is Smart Phone (without the phone). It has a 21x optical zoom lens with optical image stabilization, a dedicated shutter release, a zoom lever and a 1/2.3-inch sensor. I was pleased to get my hands on one so I could see how it compared to both my Samsung Galaxy S III Smart Phone and the pocket superzoom cameras I like so much (Pocket Superzoom Camera Guide). Of course, one of the main measures of a good camera is image quality. And we've got that covered here. Scroll down and you'll find Samsung Galaxy Camera studio test photos taken at all sensitivity settings, from ISO 100 to ISO 3200.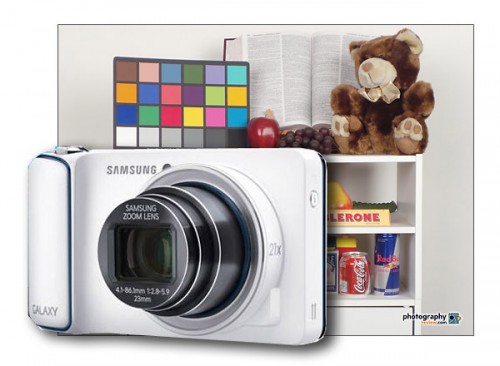 To be honest, image quality is not the Samsung Galaxy Camera's strongpoint. Not when you compare it to other point-and-shoot superzoom cameras, anyway. Check the sample photos below and see for yourself. I've gotten used to point-and-shoot camera image quality being solid to ISO 800 and some can even handle ISO 1600 pretty well now. But the Samsung Galaxy Camera is really at its limit at ISO 400. Higher than that and everything just turns to mush. This is disappointing, although the fact that it's currently the only true camera available with an Android operating system and 4G connectivity still sets it apart from everything else. But if you're looking for camera quality in a mobile device, I don't think it's here quite yet. Kudos to Samsung for leading the way, though.
Here's the tech info on the Samsung Galaxy Camera studio sample photos. They were all taken at maximum quality in aperture priority mode (yeah – the Galaxy Camera has PASM modes) at f/6.6 with white balance on the tungsten preset. The graybar, text and logo were added in Photoshop and the images were then resaved as maximum quality JPEGs. No adjustments of any kind were made and no sharpening or noise reduction were used. What you see is what you get.
Warning: these files are big – be patient while they download.

Samsung Galaxy Camera Intro Article >>
All Digital Camera Sample Photos >>
Related Content:
All Samsung Camera User Reviews
Digital Cameras Forum
All Samsung Camera News & Articles
Samsung Digital Cameras Web Site