Samsung Launches the Value Packed PL20 and ES80 Compact Cameras
Samsung innovations put the fun and simplicity into taking and sharing photos


SEOUL, Korea – February 7, 2011 – Samsung Electronics Co., Ltd, a global leader in digital media and digital convergence technologies, today announced two new compact cameras, the PL20 and ES80 -stylish point-and-shoot cameras which will bring fun and great quality photography to everyone. The cameras make clear, sharp images accessible to all users, through a combination of high-quality features and cutting edge innovation, all at an affordable price.
The PL20 packs a 14-megapixel sensor, a 27mm wide angle and a 5x optical zoom, plus HD movie recording, into a simple to use and stylish device. It also removes the need for the ongoing purchase of AA batteries with a unique Li-ion rechargeable battery to keep the fun lasting longer.
The ES80 provides another smart point-and-shoot option for consumers who seek affordability and value in their camera technology. The camera offers easy-to-use features such as an internal charging system which helps to ensure that power isn't lost at that crucial photo moment. The ES80 also boasts 12-megapixel resolution and a 5x optical zoom to make taking great quality images effortlessly simple.
Both the PL20 and the ES80 come in four vibrant colors – Silver, Tomato Red, Pink and Black – meaning there's a model to suit every taste.
"The PL20 and ES80 are fantastic point-and-shoot cameras, designed to create a fun and easy photography experience which can be enjoyed by everyone," said Mr. Hyunho Chung, executive vice president and head of the Digital Imaging Business, Samsung Electronics. "Together they make taking great pictures simple and fun for any photographer, and are driven by our desire to add value for users while retaining an affordable price. The PL20 and ES80 are further evidence of Samsung's commitment to meeting the needs of each and every photographer out there, regardless of their level of expertise or their budget."
Smart Auto selection
Both cameras include Samsung's innovative Smart Auto feature, with multiple modes for automatically selecting the best setting for the photographer's chosen theme, and automatically adjusting that mode to match with the surroundings in which you're shooting. So no matter if you're taking pictures during the day or at night, in portrait or landscape, the cameras produce beautiful photos.
HD Movie and Special Effects on the move
The PL20′s ability to record 720p HD quality movies at 24 frames per second means even if you leave your camcorder at home, the PL20 can fill the gaps easily, and with a high quality result. The PL20 also includes Samsung's Smart Filter technology – artistic filters in modes such as 'fish-eye', 'miniature' and 'sketch' – so you can add special effects to your pictures in an instant.
Powerful Portrait technology
The ES80 packs a number of additional features into the affordable model. Face Detection automatically detects and recognizes up to 10 different faces at the same time, guaranteeing that your favorite faces will be focused, even when taking a group picture. Beauty Shot adjusts brightness and face tone, and Smile and Blink detection mean that if your eyes are closed during shooting, the camera will automatically shoot another shot for you. The Self Portrait feature automatically focuses on your face and emits a guiding sound, so you know when it's ready to shoot with you in the frame for great shots!
About Samsung Electronics Co., Ltd.
Samsung Electronics Co., Ltd. is a global leader in semiconductor, telecommunication, digital media and digital convergence technologies with 2009 consolidated sales of US$116.8 billion. Employing approximately 174,000 people in 193 offices across 66 countries, the company consists of eight independently operated business units: Visual Display, Mobile Communications, Telecommunication Systems, Digital Appliances, IT Solutions, Digital Imaging, Semiconductor and LCD. Recognized as one of the fastest growing global brands, Samsung Electronics is a leading producer of digital TVs, memory chips, mobile phones and TFT-LCDs. For more information, please visit www.samsung.com.
Related Content:
All Samsung User Reviews
All Digital Camera User Reviews
Digital Cameras Forum
Samsung News, Reviews & Articles
Samsung Web Site
Samsung PL20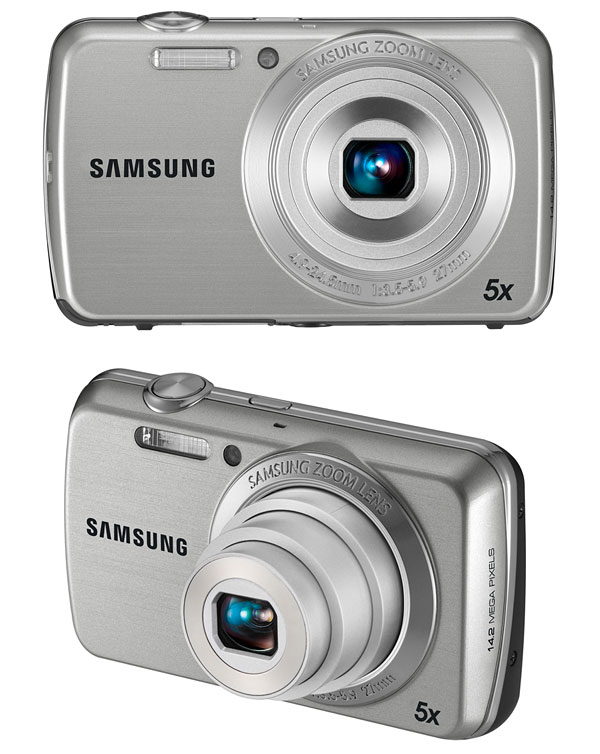 Samsung ES80