Canon PowerShot SX50 HS 30x Pocket Superzoom Camera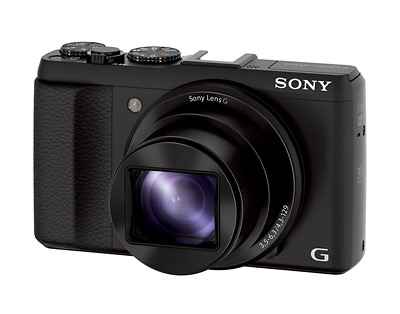 The Sony Cybershot HX50V sets itself apart from the rest of the pocket superzoom pack with a massive 30x optical zoom lens. It also has PASM manual shooting modes, a dedicated exposure compensation dial, and built-in Wi-Fi – all in a camera that you can comfortably carry in a shirt or pants pocket. It even has an accessory shoe for a flash, electronic viewfinder or stereo mic (for video). Yes, it's more expensive and a little bigger than the other pocket superzooms, but the extra features and excellent performance will be worth it to photographers who want everything in a camera they can carry all the time.
Why is it better than a Smart Phone?
Once again – optics. The HX50V's 30x image-stabilized optical zoom lets you get close in a way that's impossible if you just "zoom with your feet." Manual controls and the ability to add an external flash or viewfinder also make the HX50V a lot more camera than any current Smart Phone can ever be. And built-in Wi-Fi means you're only a couple seconds away from having that bald eagle close-up on your phone so you can upload it to Facebook.
Learn More About the Sony Cybershot HX50V >>
MSRP: $450
20.4-megapixel 1/2.3-inch "Exmor R" backlit CMOS sensor
30x 24-720mm (equivalent) f/3.5-6.3 Sony G optical zoom
1920 x 1080 60p full HD AVCHD video
Sensitivity: ISO 80-3200 with ISO 4000 to 12,800 Extended Mode
Built-in Wi-Fi with free mobile app for iOS and Android
3-inch 921k-dot LCD display
Shooting modes: PASM manual with Intelligent Auto and scene modes
10 FPS full-resolution high-speed burst
Accessory shoe for flash, electronic viewfinder or stereo microphone
next camera – Panasonic Lumix LF1 >>