Sony Cybershot RX1 Full-Frame Compact Camera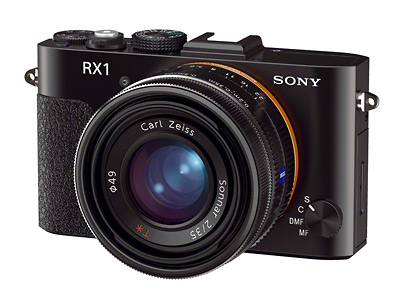 The undisputed king of the compact cameras, the Sony RX1 has no equal. Sony made zero compromises when they designed the RX1: they gave it the same 24-megapixel full-frame CMOS sensor that's in their top-of-the-line A99 DSLR; and a top-shelf 35mm f/2.0 Carl Zeiss prime lens. In fact, because the RX1 has a fixed lens, Sony was able to make all the tolerances tighter, so the RX1 actually has better image quality than the A99. It produces shockingly sharp images in nearly any situation. The RX1 is a little big for most pockets and it costs more than most DSLRs. But if you've got a fat wallet and want the very best, the Sony RX1 is your only choice. The only camera that compares is a Leica M Digital with a 35mm f/2.0 Summicron lens – and that will set you back over $10,000. Kinda makes the $2800 RX1 look like a steal, huh?
Why is it better than a Smart Phone?
The RX1 isn't just better than your camera phone, it's better than most cameras – period. The huge full-frame sensor and f/2.0 lens means you can take pictures in the dark and still get great image quality. The RX1 costs a fortune and it's definitely not for everyone – but there's no doubt it can take better pictures than any Smart Phone.
MSRP: $2800
24.3-megapixel full-frame CMOS sensor
35mm f/2.0 Carl Zeiss lens
1920 x 1080 60p full HDAVCHD video
Sensitivity: 100 to 25,600
3-inch 1,229k-dot LCD display
Shooting modes: PASM manual, auto, and scene modes
RAW shooting
5 FPS high-speed burst
Pop-up flash
Accessory shoe for flash, electronic viewfinder or stero mic