Canon PowerShot SX50 HS Superzoom Camera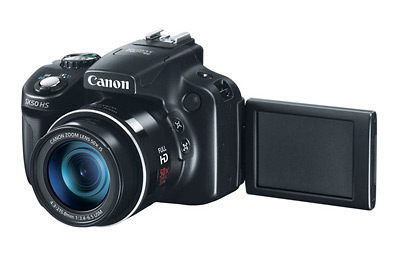 The Canon PowerShot SX50 HS is what's commonly called a superzoom or bridge camera. When you look at everything it does, it isn't even fair to call it a point-and-shoot – and you're never going to stuff it in the pocket of your jeans. On the other hand, you'd normally have to spend thousands of dollars and carry a trunk of gear around to get the kind of performance the SX50 HS offers – namely, a 50x 24-1200mm (equivalent) optical zoom lens with image stabilization. This is the camera you want when you're going to a professional sports event or on an African photo safari. Even professional wildlife and motorsports photographers will be jealous of the reach you have with the SX50 HS.
Why is it better than a Smart Phone?
Ever tried to take decent wildlife, concert or stadium sports photos with a camera phone? You know how well that works. The SX50 HS's 50x 1200mm image-stabilized optical zoom lets you take pictures you couldn't even get with a monster telephoto DSLR lens – let alone that pinky fingernail-sized non-zoom on your Smart Phone.
Learn More About the Canon PowerShot SX50 HS >>
MSRP: $429
12-megapixel 1/2.3-inch backlit CMOS sensor
50x 24-1200mm f/3.4-6.5 (equivalent) optical zoom
1920 x 1080 full HD video at 24 FPS
Sensitivity: ISO 80 to 6400
Electronic eye-level viewfinder
2.8-inch 461k-dot tilt-swivel LCD display
Shooting modes: PASM manual exposure modes with Smart Auto and scene modes
13 FPS high-speed burst (10 frame limit)
next camera – Sony Cybershot HX50V >>