Olympus Stylus Tough TG-2 Rugged Waterproof Camera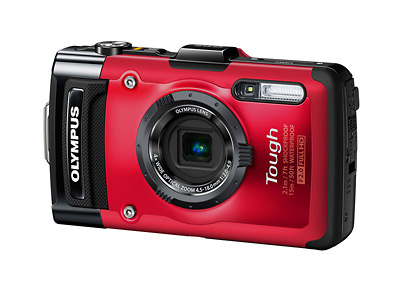 With a bright f/2.0 zoom lens and aperture priority mode for manual exposure control, the Olympus Tough TG-2 is our top pick from the currently available rugged waterproof point-and-shoot cameras. It's waterproof to 50 feet (15m), handles drops of nearly 7 feet (2.1m), freezeproof and crushproof; so you can safely take it places you'd never consider taking a digital SLR or your camera phone. It doesn't have built-in Wi-Fi but if you add an Eye-Fi SD memory card you can wirelessly transfer your raft trip or snorkeling photos and videos to your Smart Phone and then share them to Facebook and Instagram right away.
Why is it better than a Smart Phone?
Waterproof, shockproof, freezeproof, crushproof – plus a larger sensor and optical zoom. I don't think I really need to say anything else.
Learn More About the Olympus Stylus Tough TG-2 >>
MSRP: $379
12-megapixel 1/2.3-inch backlit CMOS sensor with iHS technology
4x 25-100mm f/2.0-4.9 (equivalent) optical zoom
1920 x 1080 full HD video with 120 and 240 FPS high-speed options
Sensitivity: ISO 100 to 6400
3-inch 610k-dot OLED display
Shooting modes: Programmed auto with aperture priority, Intelligent Auto and scene modes
5 FPS high-speed burst at full resolution and 15 or 60 FPS at 3-megapixels
Waterproof to 50 feet / 15m
Shockproof from 6.8 feet / 2.1m
Crushproof to 220 pounds / 100 kilograms
Freezeproof to 14 degrees Fahrenheit / 10 C
Built-in GPS
next camera – Fujifilm FinePix F900EXR >>