Canon PowerShot SD4500 IS Camera Experience

A few weeks before the SD4500 IS was announced I had a conference call with Canon about their 2010 fall compact camera announcements (G12, S95, SX130 IS, and SX30 IS). With an HS System CMOS sensor, 10x zoom lens, 1080p HD video and a super-fast burst rate, the SD4500 IS stood out as the most exciting new camera for me. In fact, it sounded like my dream pocket camera. On the official announcement day I wrote a glowing introductory article and the day the SD4500 IS showed up at my local pro shop (Pictureline) I drove right over and snatched one up.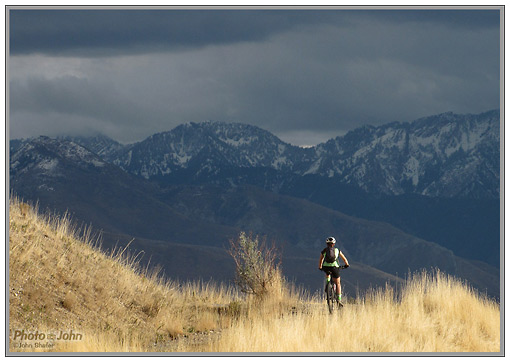 The first thing I did was make a box opening intro video about the SD4500 IS (see video on previous page). As I shot the video I made a couple of disappointing discoveries. The first was that the 10x zoom lens, which I was really excited about, has a 36-360mm range. Although the 360mm telephoto end is amazing, I would really prefer a shorter lens with a 28mm wide-angle – 36mm doesn't qualify as wide-angle for me. I want a wider lens for self-portraits and to get a dramatic, wide-angle perspective for mountain bike trail shots and landscapes. I am a bit conflicted, though. Now that I've been using it for a while, I really don't want to give up that 360mm telephoto.
Canon PowerShot SD4500 IS 10x zoom lens samples: 36mm wide (left); 360mm telephoto (right)

The second – and bigger disappointment – was the burst rate. One of the main reasons I bought the SD4500 IS was the advertised 8.5 frames-per-second burst rate. Unfortunately, digging into the camera scene modes revealed that the burst rate I was so excited about is only available in a High Speed scene mode, which decreases the resolution to a useless (for me, anyway) 2.5-megapixels. I was looking forward to having a point-and-shoot that allowed me to take high-speed ski and mountain bike photo sequences. Instead, I have just another camera with a 3 FPS burst rate – because I'm never going to use that sabotaged High Speed scene mode. Actually, 3 FPS isn't bad for a pocket camera. The real reason I'm so annoyed is the reduced resolution wasn't indicated in any of Canon's marketing material or specs. After I discovered the 2.5-megapixel High Speed scene mode I went back through the press release, published camera specs and even the camera manual – and nowhere does it say that 8.5 FPS reduces the image size. If I'd known that, I would not have bought the camera. Furthermore, there are point-and-shoot cameras that offer high-speed burst rates at full resolution. The Sony Cybershot TX5 waterproof point-and-shoot I recently reviewed (Sony Cybershot TX5 camera Pro Review) can capture 10 FPS at its full 10-megapixel resolution and Panasonic's FX700 point-and-shoot can also do 10 FPS at its full 14 megapixels. I don't know if leaving the reduced resolution out of the marketing material was an accident or not. But I can't help but wonder if I've been duped – and it's my job to look into all the details. If I can't find critical camera information like this, how can the average consumer be expected to find it?
Enough ranting – I don't want to give the impression that the SD4500 is a bad camera. Even though it turned out that the practical burst rate is 3 frames-per-second, I was able to get some decent action photos with the SD4500 IS. In good light it focuses quickly and shutter lag is minimal so timing an action photo is not a real problem. It's not the pocket sports camera I had hoped for but I was able to get some good action photos with it – especially in good light. Although it's not waterproof, I think the long zoom range might make the SD4500 IS into a very nice pocket ski photo camera. I got this fun photo of my friend Mike face planting (below) with the 3 FPS standard burst mode.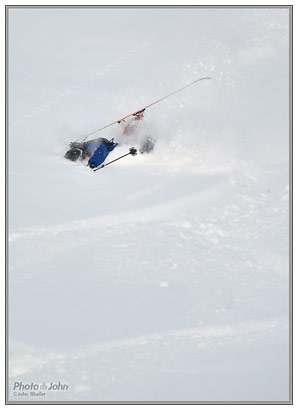 My favorite thing about the camera is the lens. The 360mm telephoto end of the zoom is awesome and Canon's excellent optical image stabilization makes it very useable. I was able to take good handheld photos at full zoom in reasonable light without any trouble. As much as I want a wider zoom, I don't know if I really want to give this lens up. It's really nice to have a 360mm telephoto in my pocket (no jokes, please).
I haven't shot a ton of video with the SD4500 yet but, for the most part, I've been very pleased. I already went over most of the video functionality in the Features & Design section of this review but it's worth mentioning a couple of things again – especially the lack of exposure compensation control in the movie mode. Personally, I would much rather have exposure compensation than the gimmicky Miniature Effect video scene mode. I am psyched about the video quality, though and I am having quite a bit of fun with the 240 FPS slow motion mode.