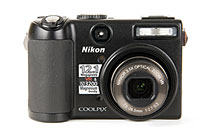 The Nikon Coolpix P5100 is a compact, 12.1-megapixel consumer digital camera with a 35-123mm (equivalent) optically stabilized zoom lens. Along with the usual features like face detection, movie recording, and high ISO capability, the P5100 offers an optical viewfinder and a flash hot shoe. Nikon accessory lenses are also available.
Want to buy a Nikon Coolpix P5100?
Compare prices and shop for a Nikon Coolpix P5100 digital camera >>

Pros

Ergonomic design and controls
Pocketable size and weight
Bright, high resolution LCD screen
Strong image quality
Usable high ISO capability
Realistic color rendition
Optical viewfinder
Flash hot shoe
Spot metering

Cons

Auto focus needs bright light
No RAW format
Card write speed is average
Slow shot-to-shot speed
No continuous shooting in scene modes
Battery life is average-to-short

Introduction
Nikon's latest flagship compact digital camera, the Coolpix P5100, reminds me of Marlon Brando's classic line from the movie, On the Waterfront: "I could've been a contender!" The P5100 teases photographers with almost everything you could ask for in a compact camera, but then leaves out the two things you'd expect from any serious camera: responsiveness and RAW format files. Why bother with features like a flash hot shoe while shortchanging basic functionality? Makes you wonder if Nikon hamstrung the P5100 to keep it from being "too good…"
On the other hand, the P5100′s many other strengths make the camera so pleasurable that it winds up getting taken everywhere. And you know what they say about the best camera being the one that's with you. So for people who don't care about RAW shooting and don't need sports-shooting responsiveness, the P5100 is a contender indeed.
Features
The Nikon P5100 has all the standard goodies: manual, auto and scene modes; Nikon's VR Vibration Reduction (image stabilization); Face-priority AF, movie recording, and in-camera editing tools like D-Lighting. The scene modes cover all general photographic situations and thankfully, Nikon doesn't overwhelm you with dozens of choices. The manual mode displays an exposure metering scale on the LCD but the control adjustments are not very precise so you can't be as exacting as you might like. However, in actual use this did not turn out to be a major issue and the P5100′s exposures were predictable and consistent, if generally a little underexposed.
A potentially useful in-camera processing feature is Nikon's D-Lighting. It brightens underexposed or backlit pictures, adjusts contrast, and can even selectively adjust portions of photos that it identifies as too dark. The D-Lighting function also adds even more edge sharpening to the image. D-Lighting is available through the menu in playback mode. The camera writes an entirely new picture file to the SD memory card when it's done so you have both the original picture and the modified image. Depending on your taste and your image, the D-Lighting effect may be too noisy, over-sharpened, or both. But it does offer an easy solution for under- and over-exposed shots. For most of these situations, I find D-Lighting to be a time-saver.
Nikon Coolpix P5100 D-Lighting – Click Photos to Compare

The P5100 has a sensitivity range of ISO 64 to 3200. The maximum high ISO of 3200 is accomplished by reducing the maximum file size from 12 MP to 5 megapixels. This makes shooting at ISO 3200 potentially useful, if a bit small by today's 10+ MP standards.
The P5100′s hotshoe is a great feature for those who own and use multiple Nikon speedlites and like the wireless functionality. While I did not have any speedlites to test with the P5100, it's safe to say that no matter how good the on-camera flash is, using a dedicated speedlite(s) will result in better flash images.
Nikon is to be applauded for including an optical viewfinder, even if it only offers about 80% coverage. For certain subjects and situations, there's no replacement for an optical viewfinder. If you've toggled off the LCD and change an exposure setting the LCD automatically turns on to display the new exposure setting just for a moment.
Nikon Coolpix P5100 optical viewfinder & flash hot shoe

A useful feature increasingly found on compact cameras is a user-customizable function button. The P5100′s programmable Fn button is next to the upper left corner of the LCD (see LCD display images, below). The Fn button can be set for quick access to regularly used controls like white balance, ISO, etc.
Digital zoom has improved so much that I don't turn it off anymore. But realistically, the image quality from digital zoom still isn't good for much more than a 4×6 inch print. On-screen viewing is fine as long as you don't pixel peep. The Statue of Liberty below was shot with the P5100′s maximum digital zoom.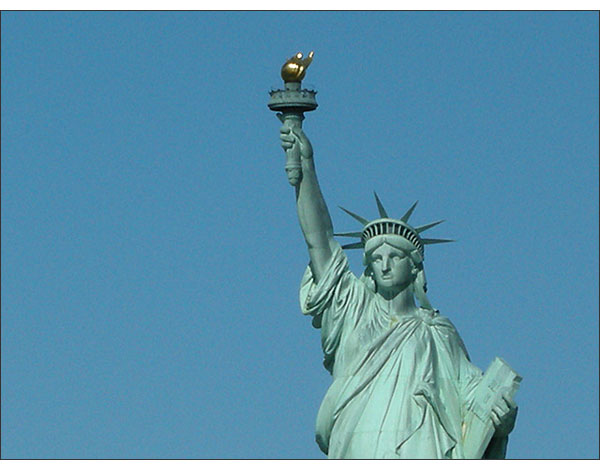 Finally, there is a "Distortion Control" feature which automatically corrects for barrel distortion when the lens is zoomed to the widest position. The P5100′s lens has some visible barrel distortion at the widest position, but it's acceptable. Then again, at 35mm, the P5100′s zoom isn't really very wide. So it's reasonable to ask why Nikon didn't just build a better zoom lens in the first place. And, although Distortion Control works as advertised, beware that when it's turned on the processing power required means no continuous shooting.
Camera Menus
| | | |
| --- | --- | --- |
| Nikon Coolpix P5100 Playback with photo information | | Nikon Coolpix P5100 Playback w. shooting data & histogram |
| Nikon Coolpix P5100 Shooting display | | Nikon Coolpix P5100 Shooting Menu |
| Nikon Coolpix P5100 Fn button menu set for ISO | | Nikon Coolpix P5100 exposure compensation display |

Design
Some folks don't mind plastic camera bodies. But there is definitely something nice about a metal case and camera controls that feel sturdy and built to last. With a magnesium front panel, the P5100′s overall build quality seems very high and that contributed to my overall appreciation of the camera – even when photo opportunities weren't so great.
The Nikon Coolpix P5100 has a tidy and compact design. The shape and control layout works very well for my hands. The body has a great grip that feels secure and stable and I had no qualms about one-handing the camera. In fact, I carried it around like that almost all of the time. The camera is so small and secure in the hand that I wish Nikon had packaged a wrist-strap for the camera along with the neck-strap. Carrying the P5100 in your coat pocket is comfortable as it's not too large or heavy. Plus the grip design and power button location means you can pull it out with one hand and turn it on, all in one motion.
I had one slight issue with one-handing the camera – sometimes my palm would press the right control dial and activate the exposure compensation control. This was not a major problem, but definitely something to be aware of while shooting. If you have larger hands, try positioning your right thumb on the rubber pad just below the right control dial and wedge the bottom of the camera into your palm. You may find that this slightly angled manner of holding the camera resolves the issue described above and allows your index finger to rest directly on the shutter button.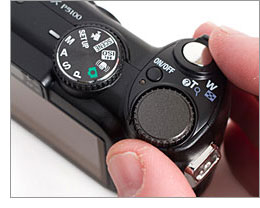 The rear buttons along the left side of the LCD all make sense and remind me of the button layout on some DSLRs. The two control dials along the top are in the right place for my thumb; I especially like the P5100′s rear thumb control wheel (Command dial) design . It's also similar to exposure controls on Nikon, Pentax, Olympus, and Sony DSLRs.)
And it's easy to see what's going on with the P5100′s 2.5-inch 230k-dot LCD monitor. It's bright and visible in sunlight, has natural color rendition, and good resolution for inspecting details. Nikon's menu tree is simple and clean, and can be set to display in either menu or icon form.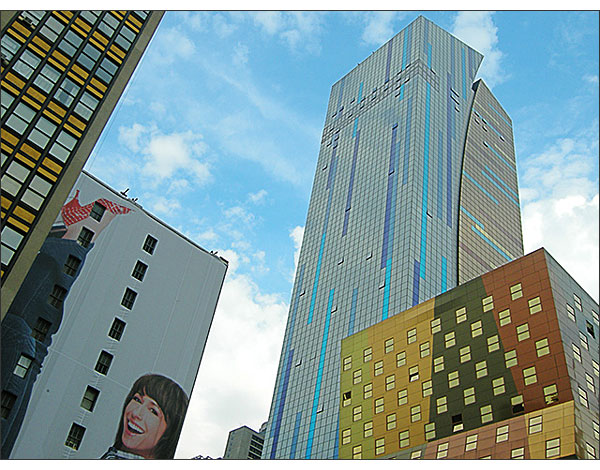 Camera Experience
After getting so many things right with the Coolpix P5100, Nikon drops the ball on two counts: no RAW format, and inconsistent auto focus performance in low light.
Photographers have long suffered from compact cameras with shutter lag. And just when it looked like this affliction was starting to pass, along comes the P5100 – full of promise, yet ultimately reminding us we (still) can't have it all.
To be fair, the P5100′s auto focus is acceptable (about average compared to comparable compact digital cameras) in good light and with subjects that have good contrast. But dim light results in more focus hunting and shooting delay than we should expect from a current digital camera. At a fancy dinner party, I had problems getting properly focused and balanced flash photos with the Night Portrait scene shooting mode. And the orange AF-assist light generally didn't score points with the guests. In the meantime, a guy with an iPhone was getting decent ambient light shots and immediately showing them off. The P5100 couldn't keep up, except to make a couple of those awful flash-in-a-cave photos that show nothing but what the flash bombs. And slow shutter, non-flash, candid photos (ambient light) good enough to save? Not a one.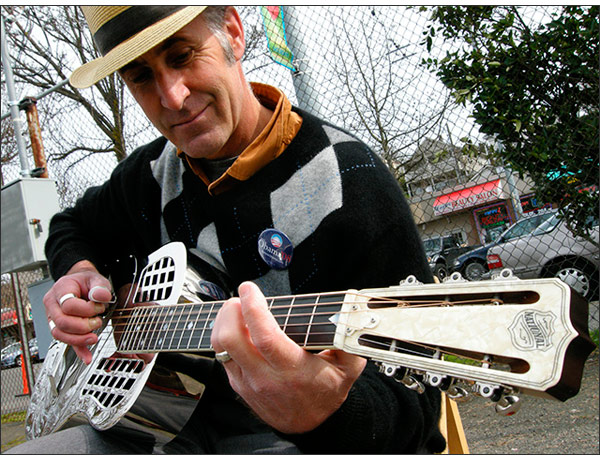 I didn't notice much performance difference between focusing center point-only versus auto AF point selection or Nikon's Face-priority AF. The auto focus took just under a second in good to moderate light, but could take much longer in dim light. Face-priority worked alright in good light, but like the P5100′s auto focus in general, was spotty in dim light. Best results are achieved by locking focus with a half-press of the shutter button before releasing the shutter. And unlike some other compact digital cameras I've used, pressing the shutter button all the way in one stroke does not increase the capture speed. And for a lot of situations, it would be useful to have the ability to lock focus for a series of shots. That would help speed up shot-to-shot time in situations where the subject distance doesn't change but continuous shooting is necessary.
The ISO 3200 setting on the Nikon P5100 follows a recent trend by manufacturers to offer this high ISO sensitivity but at half the camera's normal resolution. By cutting resolution, pixels can be doubled up on sensitivity and therefore reduce the noise in the high ISO capture. In my testing, I found ISO 1600 to be too noisy for my taste so I didn't expect much from ISO 3200. In fact, the P5100′s ISO 3200 images looked better than the full size ISO 1600 images. However the real-world issue is whether or not one would find the ISO 3200 images useful at all. Regretably, I did not, but your mileage may vary.
The P5100′s maximum shot-to-shot speed is approximately one frame per second. Given that the P5100 is a 12 MP camera and not a DSLR, buy the fastest SD memory cards you can afford or you'll wind up waiting a moment or two to shoot again or check your pictures. Not a big deal, but enough to warrant a fast card.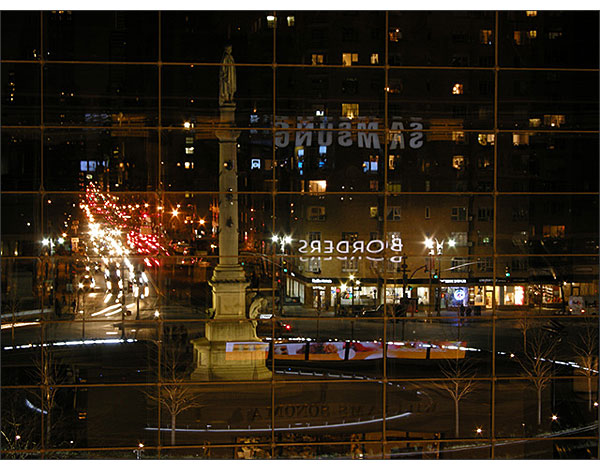 Image Quality
Back to the love: Nikon did a great job with the Coolpix P5100′s image quality. Although there is a potential trade-off between image quality and more megapixels in compact cameras, the P5100 seems to have sidestepped this issue. Generally speaking, more megapixels on smaller compact camera chips mean the light-sensitive pixels must be smaller. And smaller pixels usually mean more image noise and compromised image quality. I was not able to directly compare the P5100 with another 12 MP compact camera. But based on my own photos and sample files I've seen from other cameras, I think the P5100′s 12 MP have a lot going for them. If you want a direct comparison, check the Digital Camera Sample Photo page and compare the Nikon P5100 studio sample photos to other 12-megapixel compacts listed there.
Click on thumbnails to view sample photos.
Aided by predictable exposure metering (that tends to underexpose slightly), the Nikon P5100 produces appealing JPEGs with color that is natural and well balanced. I found the overall color palette to have pleasing saturation and contrast, although you might wish to bump both up a bit depending on your taste. Auto white balance works well indoors and out and even performs well in most mixed light environments I encountered. The tonal gradations in P5100 images are among the smoothest I've seen from a compact digital camera, and noise isn't objectionable at ISO 800 and below. Shadow detail and fine detail resolution are very good. Considering that you can spot meter for really tricky exposures, I think the P5100 makes the idea of not shooting RAW almost acceptable. Almost, but not quite – for those willing to do the extra work required, RAW shooting offers more flexible and precise exposure and sharpness processing and has the potential to deliver better image quality.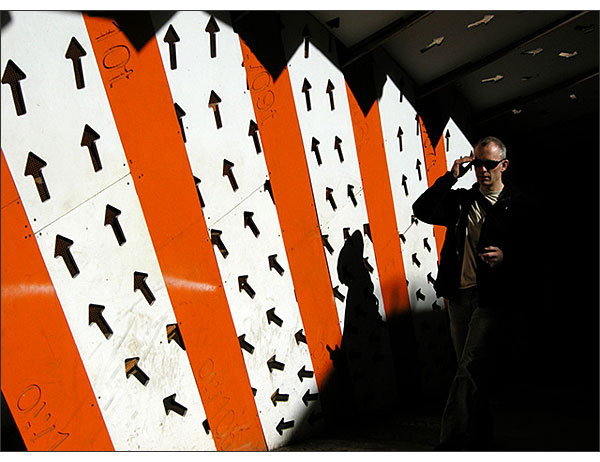 Conclusion
An evaluation of the Nikon P5100 quickly boils down to one's expectations and photographic needs. In certain conditions, the Nikon P5100 offers an attractive set of features and delivers strong performance that largely doesn't disappoint. But when the P5100 does disappoint, it really lets you down (i.e., you miss the shot). Nonetheless its ergonomics, compact size, and image quality make it worth considering for those who won't miss RAW and who don't need speed.
Despite the camera's shortcomings, I enjoyed testing the P5100 and didn't want to return it. I wish it had faster, more consistent, lockable auto focus. If it had that, the image quality is strong enough that I could live without RAW. I would even pay a little more too… The P5100 is good, but it could have been so much more – it could have been a champ.
Who Should Buy It
I recommend that any casual snapshooter consider the Nikon P5100, keeping in mind the caveats described above. Landscape photographers, travel shooters, and families will find a lot to like in the P5100′s pocketable package. Soccer moms, other sports shooters and anyone wanting a more responsive camera with more frames-per-second and faster shot-to-shot speed should consider other cameras. Wildlife and nature shooters who need more reach should investigate the many long-telephoto superzoom digital cameras available.
- end -
Contents of the Nikon Coolpix P5100 Box

Nikon Coolpix P5100 Digital Camera
UC-E6 USB Cable
EG-CP14 Audio Video Cable
EN-EL5 Rechargeable Li-ion Battery
MH-61 Battery Charger
AN-CP16 Strap
Software Suite CD-ROM
Other Resources:
Nikon Review Page >>
Shop For Nikon Coolpix P5100 >>
Nikon Coolpix P5100 User Reviews >>
Write a Nikon Coolpix P5100 Review >>
Nikon Coolpix P5100 Camera Specs >>
Nikon Coolpix P5100 Sample Gallery >>
Nikon Web site >>
Nikon Coolpix P5100 Camera Manual >>
All Digital Camera Pro Reviews >>
Digital Camera Buyer's Guide >>
All Digital Camera Sample Images >>
LRY Profile >>