Nikon Coolpix S9500 Review: Experience
The Nikon Coolpix S9500 is small and lightweight enough to easily fit in a pocket or purse. It looks nice (if unremarkable), fits comfortably in the hand and has fairly intuitive controls and user interface.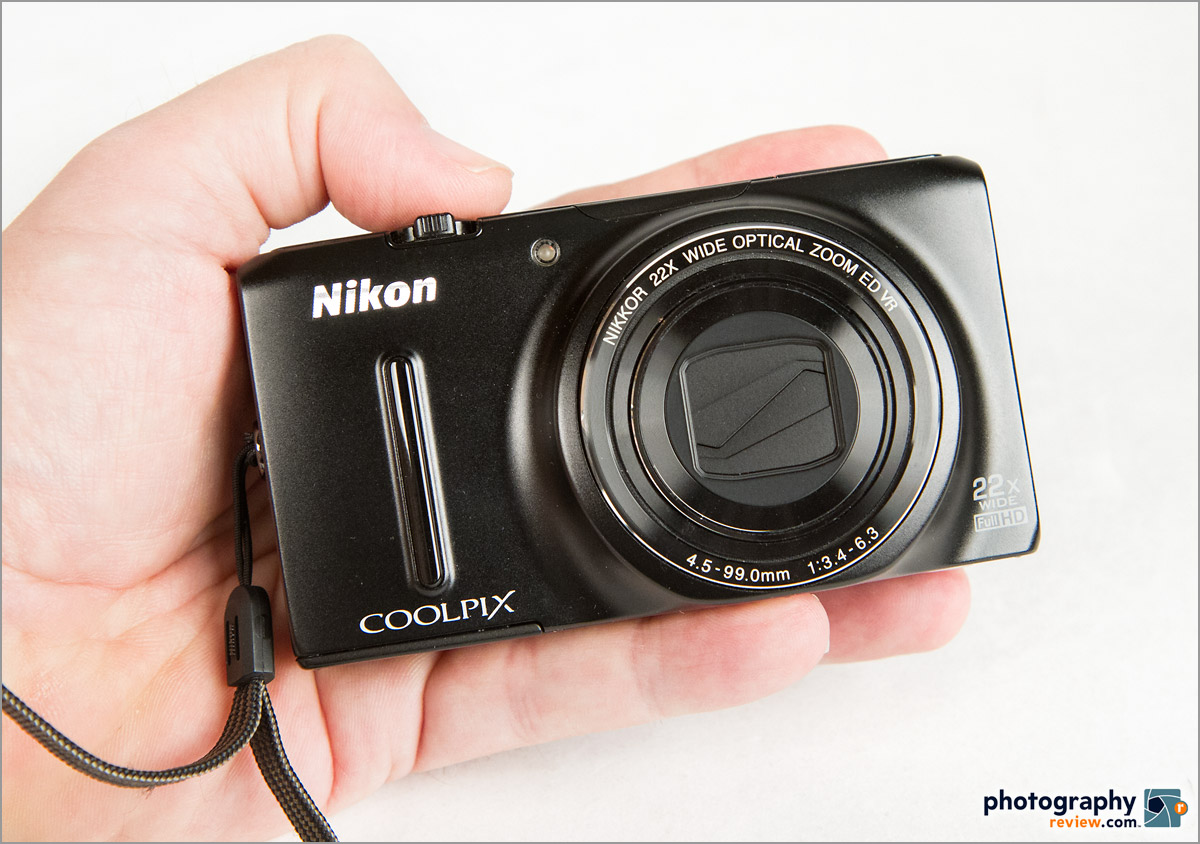 Nikon's Pocket-Sized Coolpix S9500 Superzoom Camera
To start, charging the camera took a little effort: The charger for the proprietary lithium-ion battery comes with a long cable that goes in the upper A/V Out compartment; however, it also will fit in the lower HDMI port, which is confusing. Even when correctly plugged in, the flashing green charging light does not always come on and often requires several tries. The camera also does not seem to hold a charge very long or give ample warning when it is low – it unexpectedly died on me twice.
The controls – on/off button, shutter button/zoom control, mode dial and rotary multi-selector – are similar to other cameras and reasonably intuitive. The on/off button is a little hard to depress, which is both good and bad: It's sometimes hard to turn the camera on or off, but this also means it won't happen accidentally. It could be a problem for someone with limited hand strength or dexterity, though. Similarly, the text and icons on the mode dial and other functions are tiny and difficult to see even with perfect vision.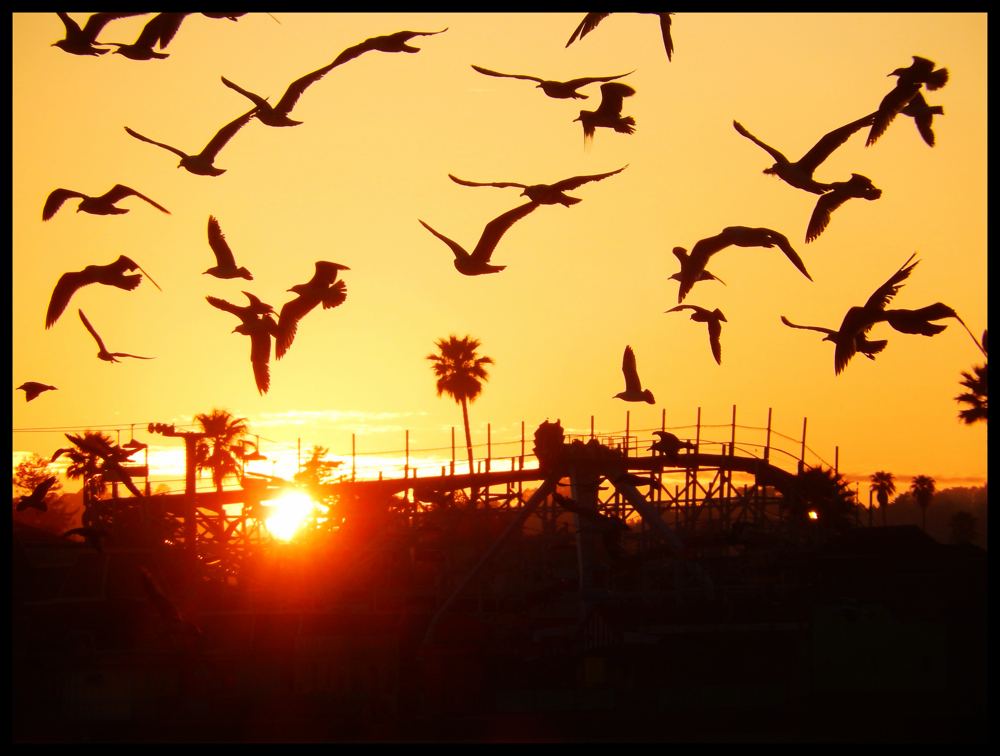 Nikon Coolpix S9500 – Santa Cruz Beach Boardwalk Sunset
The S9500's mode dial has the standard Auto mode, plus a special Effects mode, Scene mode, Scene auto selector, and four preset scene modes: Night Landscape, Night Portrait, Backlighting and Smart Portrait. The Effects mode allows you to choose from a variety of special effects (using the Menu button), including soft, sepia, high key and low key. Similarly, Scene mode offers 17 scenes to choose from, ranging from Portrait and Landscape to Sports, Party and Fireworks. I mostly used the Scene auto selector mode – indicated by the word Scene with a heart shape – which senses and automatically selects the best mode for the scene, such as macro or landscape. It seemed to work well, although it offers little manual control.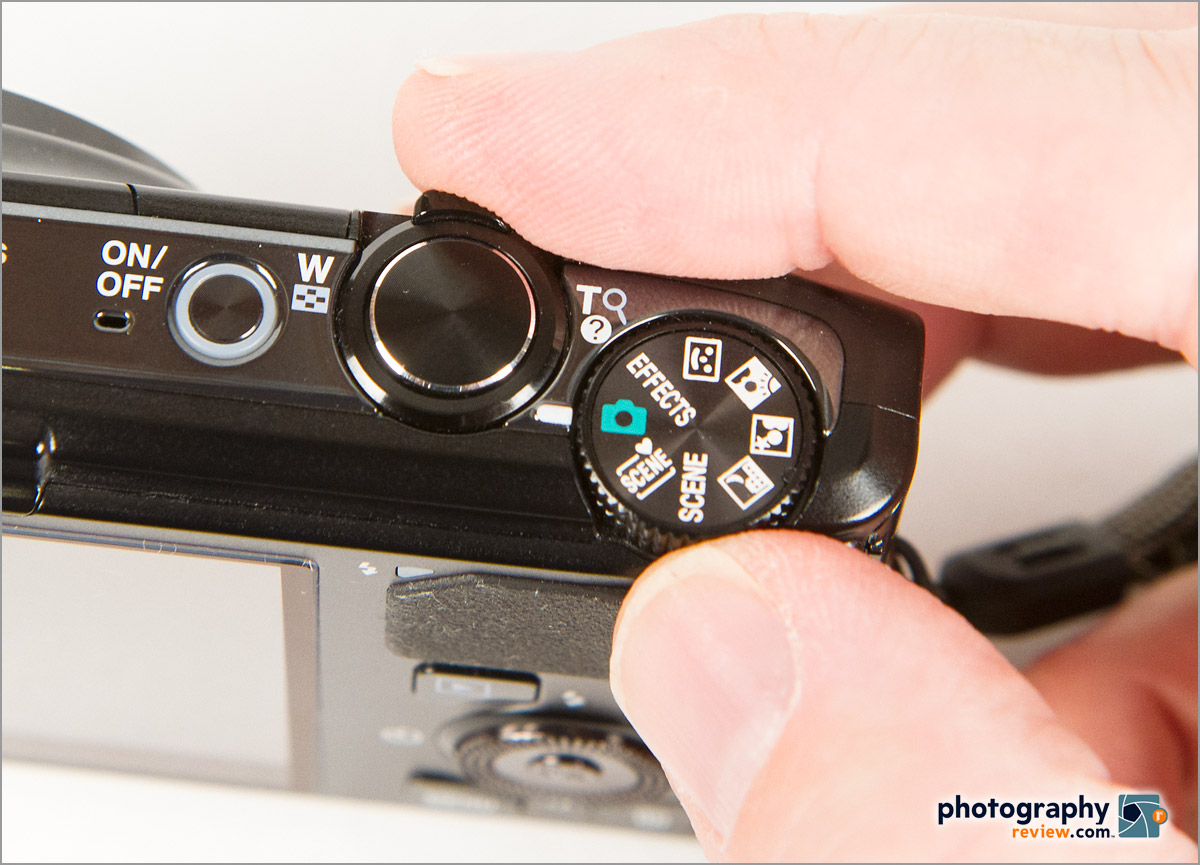 Nikon Coolpix S9500 Mode Dial, Zoom Lever & Shutter Release
A few things about the Nikon S9500 bugged me: First, the camera seemed to have greater shutter lag time than I'm accustomed to. I found myself hunting for the burst mode to speed up the response; the manual informed me it was under the Menu options in Auto mode, but unfortunately not available in Scene or Scene auto selector modes. I was also annoyed by the pop-up flash. When I manually turned the flash off, it kept reverting to the default auto mode when I switched the modes or turned off the camera. I discovered that was because I was using the Scene modes. In Auto mode the flash settings stick, even if you turn the camera off. If you want maximum control with the S9500, the Auto mode (green camera icon on the mode dial) is your best bet. Photographers who like real manual shooting modes (PASM) will need to look elsewhere. The Nikon Coolpix S9500 is really a fairly simple point-and-shoot camera.
One of my favorite features on the Nikon S9500 is the 22x zoom lens. At 25-550mm (35mm equivalent), this lens is amazing. Superzoom lenses just keep getting longer and better and it's incredible to me that I can fit this kind of power in my purse or pocket. At this length, you can photograph subjects that are literally miles away. The 25mm wide end is extra wide, making it great for big landscapes and photos in tight spaces. The auto-focus is surprisingly good and Nikon's Vibration Reduction (VR) optical image stabilization helps keep photos sharp in low light and when you're zoomed all the way out to 550mm.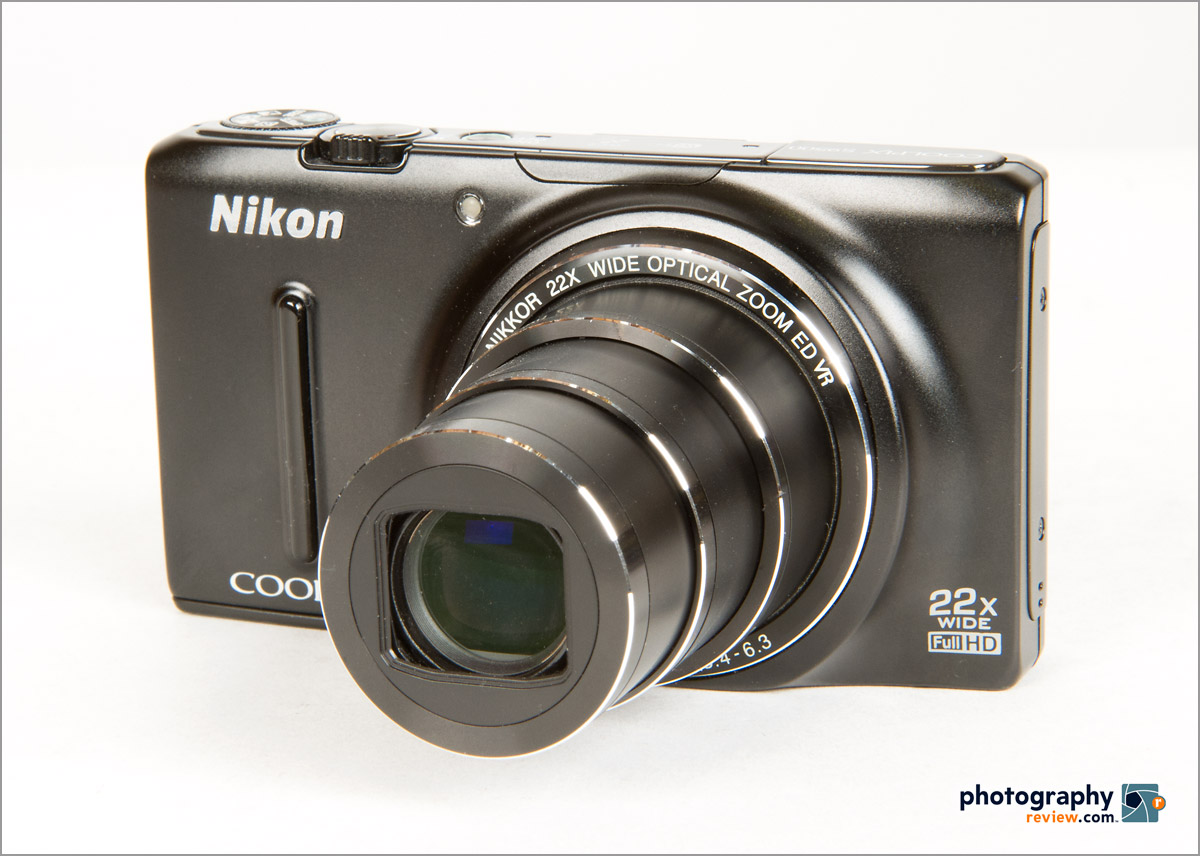 The Nikon Coolpix S9500's 22x 25-550mm Nikkor Zoom Lens
I was most excited to try the Nikon's in-camera Wi-Fi, since I have become increasingly lazy. And by lazy I mean, dependent on my iPhone's camera and its ability to instantly share photos via Facebook, email and text. (I also love the additional features provided by the Camera+ app.) The S9500 promised to deliver much better image quality with nearly the same ease and speed using its built-in Wi-Fi and mobile app. In theory, this sounds great, but in practice it's nowhere near as simple as the iPhone alone.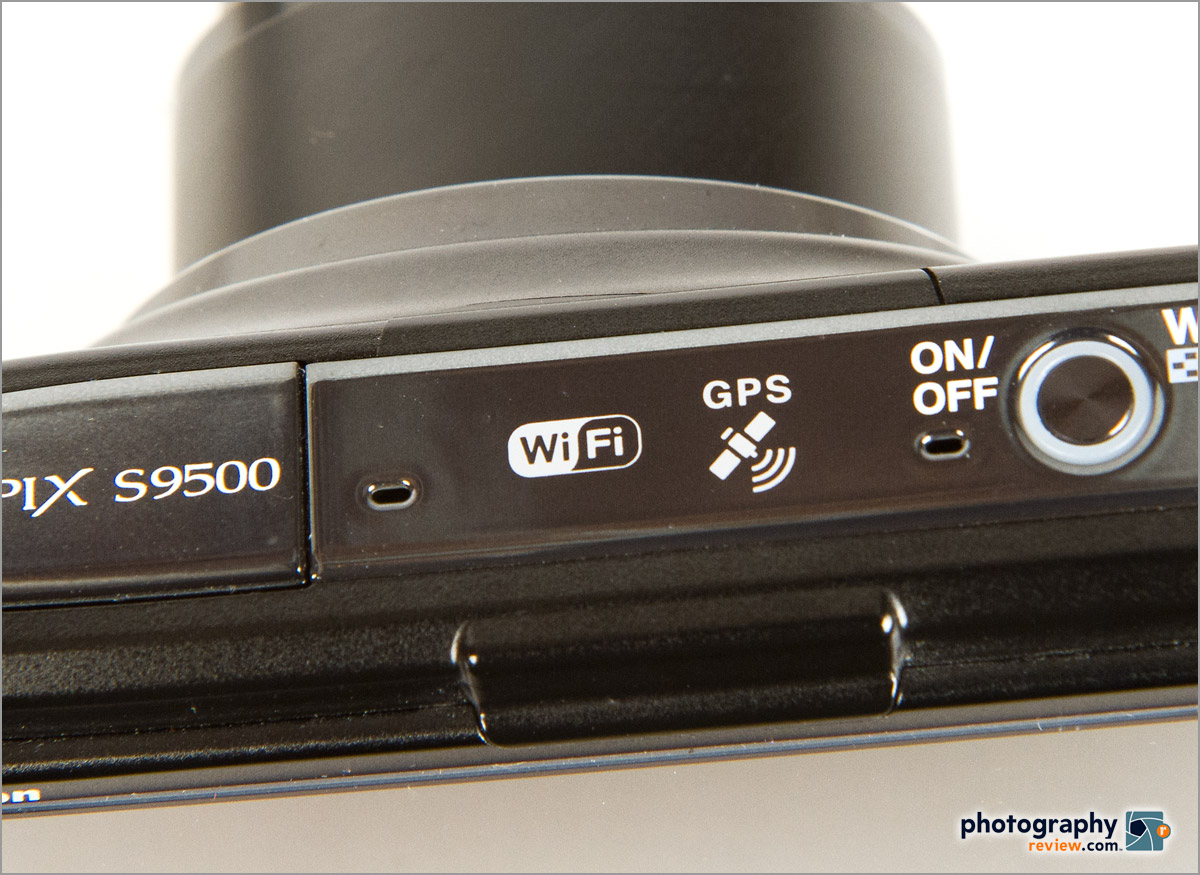 Nikon Coolpix S9500 – Built-In Wi-Fi & GPS
Downloading Nikon's Wireless Mobile Utility app from the App Store was easy, but pairing the camera and phone was not. The camera's Quick Start guide does not include Wi-Fi setup; the PDF manual on the included DVD does, but the instructions for Wi-Fi setup were unclear. The camera kept saying, "Negotiating, can't connect." I searched Google and finally found a solution on a Nikon discussion forum: Once the camera says it's negotiating, you then must open the WMU app. Voila! The camera and phone are connected.

Nikon Coolpix S9500 Wi-Fi mobile app screenshots
You also have to go into your phone's settings and set up the Wi-Fi network and password. After that the phone will automatically select the Nikon network unless you are already connected to another local network, in which case you must manually select it.
After pairing is set up and connected, the process of uploading a photo to the iPhone is fairly intuitive, but requires numerous clicks: Menu > Settings > Wi-Fi Network > On. Open WMU app > View Photos > Pictures on Camera > Select > Download > Download. Whew, that's a lot of steps!
Using this somewhat cumbersome process, I was able to upload many beautiful photos from the Nikon S9500 to Facebook using my iPhone's cellular data connection — while at the beach, no less. The 22x optical zoom and larger sensor make a real difference in the quality of photos compared to the iPhone. I even used the Camera+ app to process my photos once they were on my phone. The transferred photos are optimized a bit smaller – from about 3MB to about 2MB – and the transfer takes just a few seconds per photo. Very cool – but Nikon needs to make the transfer process simpler .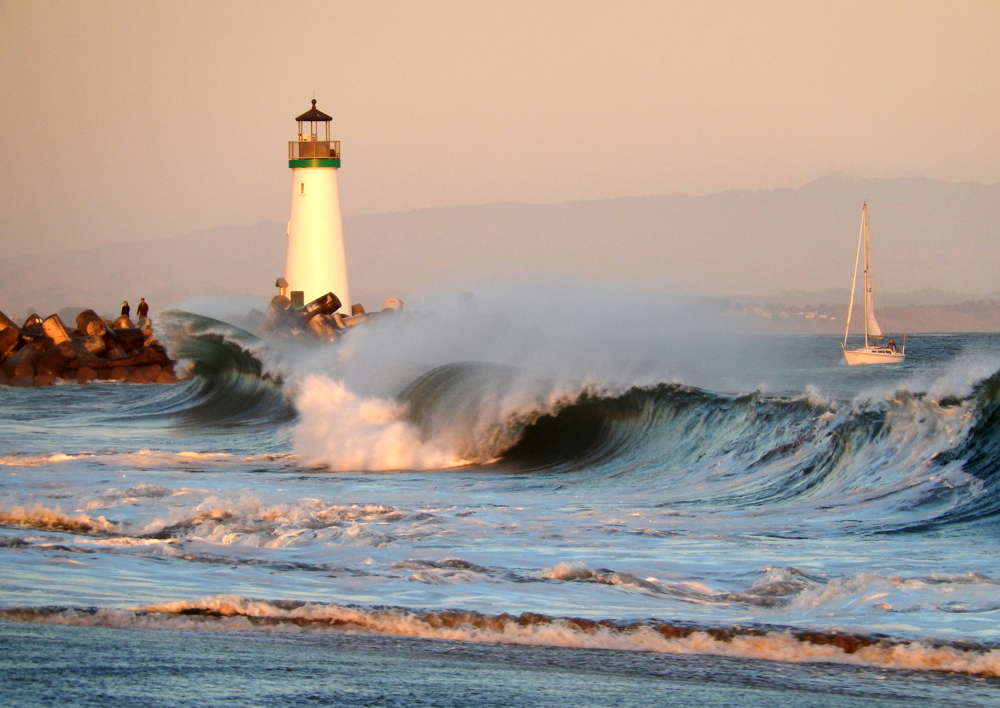 Nikon Coolpix S9500 Lighthouse Sample Photo
Continue reading for the Nikon Coolpix S9500 Image Quality.