Camera Experience – The Olympus E-PL1 In Mazatlan
Let's get to the meat of this review – the Olympus E-PL1 Mazatlan travel experience. This was a real vacation and I wanted to keep things simple and light so I made a big gamble and left all the digital SLR gear at home in favor of the tiny but mighty Olympus E-PL1. I packed the Olympus body and two lenses along with my laptop, iPod, passport, a point-and-shoot camera and miscellaneous other junk in a large shoulder bag that fit under an airplane seat. It was awesome not having to hump around my 35-pound camera backpack – especially when we boarded last on a full return flight. If I'd had my camera pack I would have had to check it and risk lost or damaged camera equipment – totally unacceptable.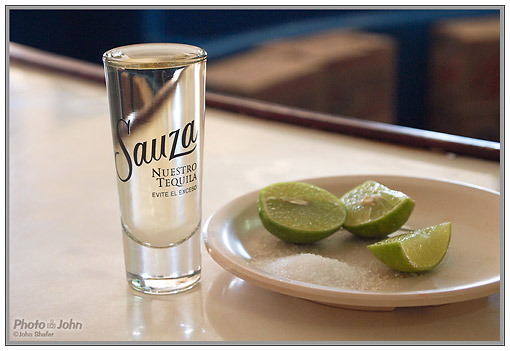 My main concern taking the E-PL1 to Mazatlan was whether I would miss shots and regret my decision. The answer is a definite, "no." In fact, I think I was probably able to do more with the E-PL1 than I would have with a full DSLR rig. Besides the small size, I also benefited from the built-in, sensor-shift image stabilization and the 2x conversion factor. The E-PL1′s sensor-shift image stabilization means that no matter what lens you use you can use slower shutter speeds (Olympus claims 3 stops with the E-PL1) without blur from camera shake (Image Stabilization article). That's great when shooting in low light situations like the Mazatlan central market and cathedral.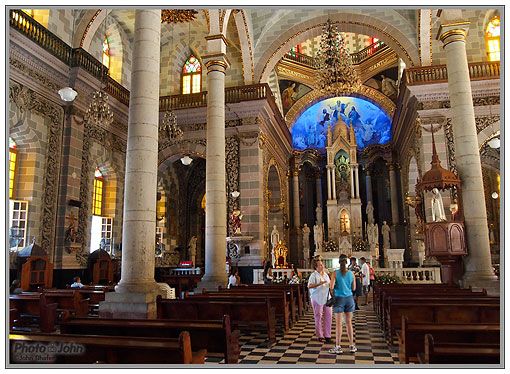 The Four Thirds sensor is smaller than an APS-C sensor and that gives you a 2x digital crop compared to a full frame / 35mm camera. With the conversion, the 14-42mm kit lens I used most of the time has an effective focal length of 28-82mm. That's a great walk-around zoom range. For longer shots I brought the Olympus Zuiko 40-150mm f/4-5.6 Four Thirds lens and Micro Four Thirds adapter. That lens is comparable to an 80-300mm lens on a full frame or 35mm camera but it's only about the size of a jar of baby food. Between those two lenses I had a hell of focal range available to me on the trip.
I already mentioned that the E-PL1′s contrast detect auto focus isn't as precise as a digital SLR. However, for the type of pictures I took in Mazatlan, it was not an issue. A firmware update right before my trip improved auto focus speed and accuracy with the kit lens but the 40-150mm Four Thirds lens auto focus was still pretty bad. On the other hand, temperamental auto focus is a small price to pay for a lens the size of my fist with a 300mm telephoto reach. And it's not like it didn't work. I just had to keep it steady and pay extra attention to my focus. As the Micro Four Thirds lens options increase, things will get better. There are two new Olympus Micro Four Thirds zoom lenses – a 9-18mm and a 14-150mm. Both lenses are designed for better auto focus performance – it would have been sweet to have the 14-150mm zoom. Next time maybe I can replace both the 14-42mm kit lens and the 40-150mm Four Thirds lens with the new 14-150mm zoom!
Although the Olympus Pen camera auto focus is a bit slow and finicky compared to digital SLRs, I have taken some nice action photos with the E-PL1. Good action photos with the Pen cameras require extra planning and care, though. You'll need to predict the action, pre-focus and time your shot well. Using the EVF helps – I've found it next to impossible to take good panning photos using just a rear LCD display. LCD blackout is also an issue for action photos. In burst mode you can't see anything in the viewfinder or LCD after you press the shutter release. Once again – planning your shots is the key to success. And for what it's worth, if you're comparing to the Panasonic Micro Four Thirds cameras, I've had the same problems shooting action with the Panasonic G1 and GH1. These issues are inherent to compact mirrorless cameras so be prepared to deal with them whether you buy Olympus Pen, Panasonic G-Series, Samsung NX or Sony NEX. If action is your top priority, a digital SLR is still the way to go.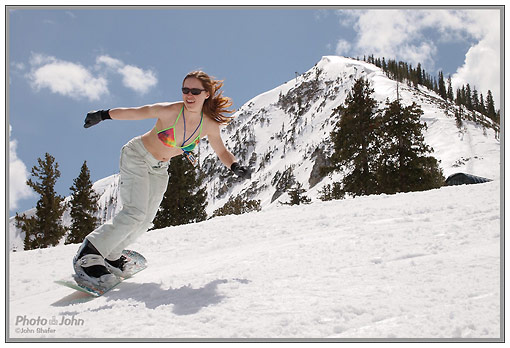 I discovered an unexpected benefit with the E-PL1; it's a lot less conspicuous than a digital SLR. It looks more like a big point-and-shoot than the full-powered camera it actually is. People paid less attention to me than they would if I had been carrying my EOS 7D and a big, pro lens. This made me a lot more comfortable taking pictures in Mazatlan's central market and the surrounding neighborhoods. I was less worried about being a target for thieves and I also think people were less concerned with me taking their picture since I looked like just another tourist.
I didn't shoot any video with the E-PL1 while I was in Mexico but the E-PL1 is currently my favorite camera for video capture. As I mentioned in the Features section, the EVF adds a third point of contact for handheld video and that makes it great for outdoor movies when I don't want to carry a tripod. The Four Thirds sensor is also a bit smaller than the APS-C sensors in entry-level DSLRs like the Canon EOS Rebel T21/550D and Nikon D5000. That gives it a bit more depth-of-field, which means a bit more focus cushion when filming. Those two things make it easier to get sharp, smooth video with the E-PL1 than with an HD DSLR. And for sharing on the Web, which is all I do with my video, the 720p video resolution is just fine.