Olympus E-PL1 Features & Design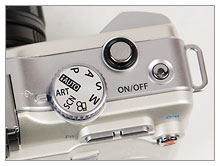 Photographers used to point-and-shoot cameras will feel right at home with the E-PL1. It doesn't have the solid, metallic feel of the Olympus E-P1 and E-P2 but it doesn't feel like a toy, either. It's similar in size and feel as a Canon G-Series compact and the exposure controls are more in line with a point-and-shoot camera than a digital SLR. The E-PL1 is a lot more than a simple point-and-shoot, though. There's a mode dial on top of the camera where you can select scene modes, Art Modes (more on the Art Filters), manual exposure modes, iAuto and movie. The movie mode can be selected with the mode dial or with the new dedicated movie button on the back of the camera. Even though it doesn't have dedicated aperture and shutter speed dials, the E-PL1 has a complete range of exposure controls including full manual. Exposure adjustments are a little less convenient but once you get used them they're easy enough to use.
There were a lot of complaints about the first Olympus Pen cameras not having a built-in flash. Olympus listened and the E-PL1 has a sweet pop-up flash. I was surprised to discover it can even be bounced off ceilings to minimize background shadows and eliminate the harsh look of many flash photos!
| | | |
| --- | --- | --- |
| Olympus E-PL1 pop-up flash | | Olympus E-PL1 flash in the bounce position |

Another feature introduced with the E-PL1 is the new Live Guide control interface. Live Guide is part of the iAuto shooting mode. It was created for people who don't have a lot of photography experience but still want to take creative control of their photos. It uses intuitive new focus, motion, color and brightness controls, on-screen explanations and built-in photo tips to help photographers take better pictures. Rather than me trying to describe it, why don't we let Olympus tech rep. Sally Smith Clemens, demo the Live Guide for us in this video:
The E-PL1 uses contrast detect auto focus, which works pretty well, but not nearly as well digital SLR auto focus systems. Contrast detect AF is standard with all compact system cameras – that means Panasonic Micro Four Thirds, Sony NEX and Samsung NX as well as the Olympus Pen cameras. The E-PL1 and other Micro Four Thirds cameras include continuous and tracking auto focus, which can even be used in the movie mode – something you still can't do with digital SLRs. You have to get a camcorder or mirrorless camera like the E-PL1 if you want continuous auto focus. The slower, less accurate contrast detect auto focus system is arguably the biggest compromise with Micro Four Thirds and other EVIL cameras. On the other hand, if video is important to you, the E-PL1′s continuous auto focus might give it the edge over a digital SLR. The reality is, for most photographers and most subjects, contrast detect auto focus is fine. It worked just fine while I was shooting travel photos in Mazatlan.
| | | |
| --- | --- | --- |
| The Olympus E-PL1 accessory port and hot shoe can accomodate a flash, electronic viewfinder and optional stereo microphone for video | | The EVF electronic viewfinder mounted on the E-PL1′s accessory port |

What looks like a standard flash hot shoe on top of the E-PL1 is actually part of the camera's accessory port. If you look closely, there's also a socket on the back of the camera, just below the hot shoe. The accessory port can accommodate a flash, a stereo microphone or the optional electronic viewfinder (EVF). The EVF is a $200 accessory for the E-PL1 (it's included with the E-P2) but I've found it invaluable – especially for video. Of course, the EVF makes it easier to compose and take pictures in bright light. But it also provides a third point of contact with your body, helping to minimize camera shake. The combination of EVF and built-in sensor-shift image stabilization makes handheld videos much smoother than what you'd get with a digital SLR. You'll also get sharper still images with the EVF.
Hands-On Video Tour Of The Olympus E-PL1: