Conclusion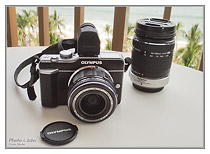 Taking the Olympus E-PL1 to Mazatlan was a great test. I don't regret it one bit. It made air travel and customs easier, it didn't attract attention while I was shooting in the street, and the image quality and performance didn't let me down. The photos I shot in Mexico – people, streetscapes and landscapes – represent what most people would shoot with the E-PL1. Shooting action with the E-PL1 is a little harder but with proper technique even that is doable. I'm really pleased with the photos I took on my trip. They're gonna look great printed, framed and hung on the wall and I wouldn't hesitate to submit them to magazine photo editors, either. No – the E-PL1 doesn't have the performance or image quality of a digital SLR. But for most photographers, most of the time, it delivers more than required.
The Olympus E-PL1 is one of the best camera values right now. You get almost all the performance of a digital SLR for less money and in a smaller package. And for just $100 more than a Canon G11, you get interchangeable lenses, better image quality and HD video. Unless you really need superior low light image quality or you're a serious action shooter, the E-PL1 (or another Micro Four Thirds camera) should be on your camera wish list.
Who Should Buy It
The Olympus E-PL1 is an excellent choice for:
Point-and-shoot photographers who want more control and/or better image quality
Serious photographers who want a compact alternative to a digital SLR
Travel photographers or outdoorsmen who want a small camera that can produce high-quality photos
People who want a camera that can shoot high-quality stills and HD video
Photographers who want a stealth camera that can produce high-quality photos
The Olympus E-PL1 is not a good choice for:
Photographers who require the absolute best image quality
Professional sports photographers who need a fast burst rate and perfect auto focus
Someone who wants a real pocket point-and-shoot
Photographers who love huge, heavy cameras
- end -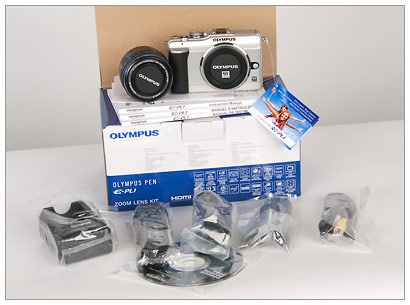 Contents of the Olympus E-PL1 Box
Olympus E-PL1 camera body
M-Zuiko Digital 14-42mm f/3.5-5.6 zoom lens
Li-ion battery BLS-1
Battery charger BCS-1
Shoulder strap
USB/Video Multi cable
CD-ROM
Olympus E-PL1 instruction manual
Warranty card
All photos copyright John Shafer and/or PhotographyREVIEW.com.
Other Olympus E-PL1 Resources:
Olympus E-PL1 Video Preview >>
Compare Prices For Olympus E-PL1 >>
Olympus E-PL1 User Reviews >>
Write an Olympus E-PL1 Review >>
Olympus E-PL1 Camera Specs >>
Olympus E-PL1 Sample Gallery >>
Download Olympus E-PL1 Camera Manual >>
All Olympus User Reviews
All Digital SLR Reviews
EVIL & Micro Four Thirds Cameras Forum
Olympus Cameras Cameras Forum
All Digital Camera Pro Reviews >>
All Digital Camera Studio Sample Photos >>
More Olympus News, Reviews, and Articles
Olympus Digital Cameras Web Site