Olympus Stylus 1030 SW Camera Experience
There's nothing quite like the Olympus Stylus SW line when it comes to pocketable point-and-shoot durability and versatility. Because of its rugged design, the 1030 SW will appeal to pro photographers and serious outdoor sportsmen, even if it doesn't offer digital SLR performance or image quality. The important thing is that I can put it in my pocket and it ain't gonna break. I used the original Olympus Stylus 720 SW a lot more than I expected, in spite of the 7-megapixel resolution, minimal control, and noisy image quality. It was easy to keep it around and that meant it was available for photos when other cameras weren't. With more resolution, a wider lens, more speed, and better image quality, the Stylus 1030 SW has to be a winner, right?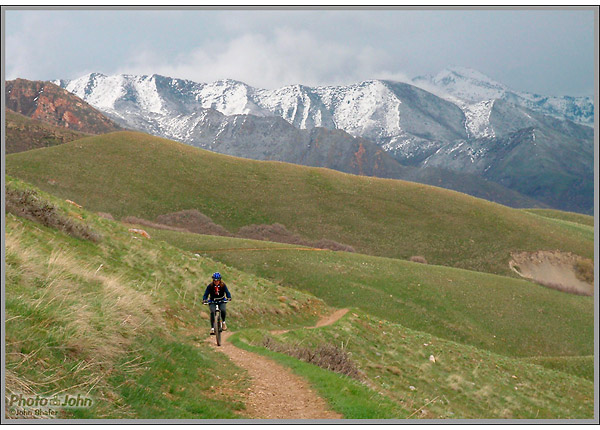 I've taken the Stylus 1030 SW skiing, mountain biking, and even to the waterpark. I also gave it to aquadog for snorkeling photos on her recent Hawaiian vacation. Most of the time I carry it in a little pouch on the shoulder strap of my backpack. But you can put it in a jeans pocket without worrying about damaging it, since it's crushproof. Somehow I did manage to scratch the stainless front cover of the camera. I hope Olympus doesn't mind. I think it just adds character ….
I have a few complaints about the camera. The first is that it doesn't have real, mechanical image stabilization. At $400 (MSRP), it's already a little on the expensive side. Why not just give us everything? Image stabilization makes a big difference in image quality and is available in so many cameras now that I really hate using a point-and-shoot without it. I would get more usable photos and be able to use lower ISO settings if the Stylus 1030 SW had image stabilization.
Another problem is that the mode dial rotates too easily. Too often, when I pulled it out, the dial had traveled to a different mode. I prefer standard Program mode because it gives me the most control and best image quality. It's a real bummer when I later discover I took a bunch of pictures in the digital image stabilization mode and the sensitivity was pumped up, making my photos really noisy.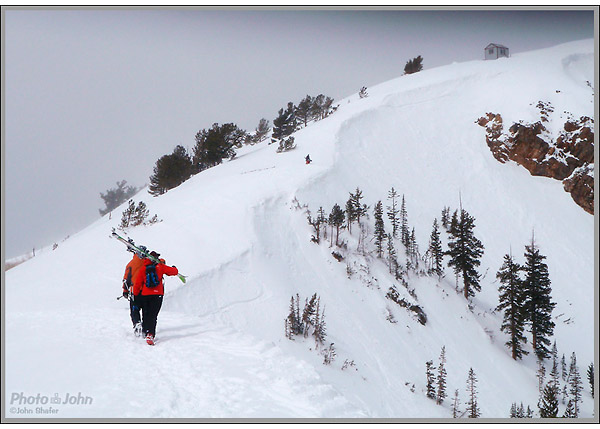 The third problem is the lens position. It's too easy to get a finger in front of the lens when you're taking pictures. It may be that the lens position is a result of the internal zooming mechanism – a critical part of the camera's water-resistant design. Unfortunately, my finger occasionally ended up in front of the lens and spoiled a photo – especially if I was wearing gloves, as in the ski photo above.

The 1030 SW offers two fun ways to do in-camera panorama stitching, as well a "Combine In PC" mode with frame lines to help you compose your panoramic image. Unfortunately, selecting either of the "Combine In Cameras" modes changes the ISO to 800 and severely compromises image quality. The final images are mushy and noisy and the stitching is usually very obvious. Since the user interfaces of the in-camera Panorama modes are so neat, discovering the poor image quality was a big disappointment. It's much better to use the "Combine In PC" mode and then stitch them in Photoshop. Maybe Olympus can fix this in future versions.
My biggest problem with the Olympus Stylus 1030 SW is that it only has an LCD for composing photos. Most people probably don't care. But I shoot a lot of mountain bike and ski action photos and it's nearly impossible to pan accurately without an optical viewfinder. Mountain bike, ski, and even photos of kids playing are much more difficult when you're shooting with only an LCD. Since it's such a great outdoor camera in terms of build, it's a bummer that I can't get better action photos with it. Good optical viewfinders are expensive to make and most people prefer a larger LCD, but an optical viewfinder would make the 1030 SW a more versatile outdoor camera – especially for those of us who shoot sports.
These few complaints aside, the point of the Olympus Stylus 1030 SW is that it's waterproof and nearly indestructible. That means I can take it everywhere and get pictures I wouldn't get with other cameras.
Rain? Got the Olympus.
Snow? Olympus in my pocket.
Sandstorm or dusty mountain bike race? Olympus has it covered.
Volcanic eruption? Umm, well – maybe they've still got some work to do.
aquadog's Olympus Stylus 1030 SW Hawaiian Snorkeling Experience
by Valerie Woo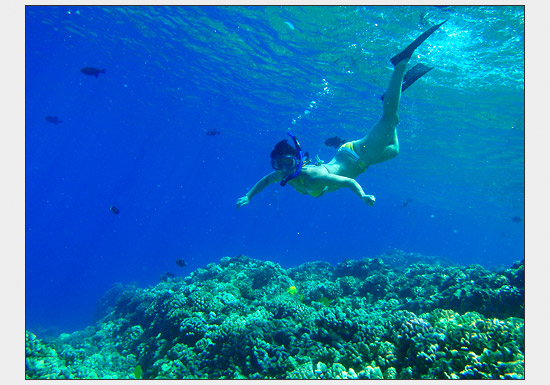 I took the Olympus Stylus 1030 SW on a recent trip to Maui and used it snorkeling around Ka'anapali, Kapalua Bay, Molokini, and Turtle Town. I couldn't wait to use a real underwater digital camera since I've only used disposable waterproof film cameras in the past. It was a joy to be able to jump in the water, take pictures of fish and other marine life, and the photos come out clear and vibrant. With disposable waterproof cameras, my images always came out blurry and didn't show the colors of the fish I had seen while snorkeling. It was also nice to see my photos on the LCD while snorkeling – another perk of a waterproof digital camera! Photos were more vibrant where the water visibility was greater and when clouds were absent.
I used the Underwater Snapshot Shooting mode as well as the Digital Image Stabilization to capture quick moving fish. The different menus and shooting modes were pretty easy to navigate on the mode dial.
The only complaint I had about the camera was that I wish it had a better wrist strap. The strap didn't have a plastic adjuster to tighten the strap to my wrist like my Canon digital cameras have. This made swimming with the camera a bit annoying, in that it would keep slipping off my wrist. I would advise buying a strap that you can securely tighten around your wrist or even a longer strap so that you can swim with the camera around your neck and not have to worry about it sinking to the ocean floor.
I haven't had much experience with underwater photography so testing out the Olympus 1030 SW was a treat! Overall, I was satisfied with a majority of the pictures I captured. Most importantly, I was satisfied with the fact that I was able to share decent underwater photos with friends and family – something I've never been able to do before.

See All Of Valerie's Olympus Stylus 1030 SW Snorkeling Photos >>
next page – Olympus Stylus 1030 SW Image Quality >>