Last week I attended a Sony event where I got to spend some time testing their new high-end camera equipment, including the new A99 full-frame professional digital SLR. They set up a great event and over about four days with the camera, I got to shoot professional models, San Francisco city photos, action, outdoor/landscape, travel photos and lots of low light images. I didn't get a chance to do studio tests but otherwise, I think I got a pretty complete idea of what the A99 can do.
12/13/2012 Update: Since this article was originally published, I was able to borrow a Sony Alpha A99 from a local photographer to shoot a set of studio tests. As expected, the image quality is excellent and compares very well to other current full-frame DSLRs. To my eye, the studio samples look excellent all the way up to ISO 6400 and even ISO 25,600 looks like it would be useable under the right circumstances. See the Sony Alpha A99 Studio Tests >>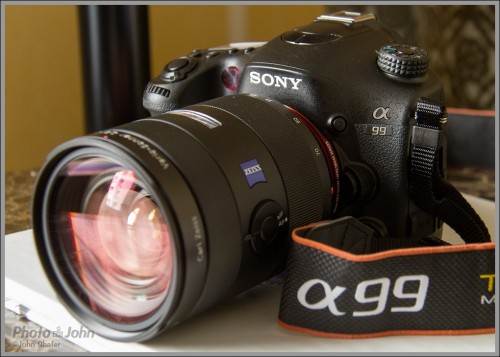 With a suggested retail price of US $2800 and a 24-megapixel full-frame sensor, the Sony A99 falls in-between the Canon EOS 5D Mark III, the new Canon EOS 6D, the Nikon D800 and the new Nikon D600. What sets it apart – way apart – is its transparent mirror design, electronic viewfinder and hybrid auto focus system. The transparent mirror allows the A99 to use phase detect auto focus for stills and live view / video. It also has a new hybrid auto focus system that combines contrast detect and phase detect auto focus on the sensor. Over the past few years, contrast detect auto focus – the kind used on mirrorless cameras – has surpassed phase detect in terms of speed and accuracy. However, for moving subjects, phase detect AF systems – located on the mirror of an SLR – is still the only thing that really works for fast moving subjects. Since the A99's transparent mirror allows you to shoot without the mirror moving, it's the only full-frame camera with really usable auto focus for live view and movies. I dropped the ball and forgot to shoot any action video with the A99 but my experience shooting video of moving subjects with other Sony SLT transparent mirror DSLRs has been excellent. With the addition of the A99's new hybrid auto focus system, the A99 should only be better. In fact, if video is your thing and you use auto focus, then I would go so far as to say that the Sony A99 is probably the best full-frame DSLR on the market. If I were a serious videographer, it's what I'd own.
Sony Alpha SLT-A99 Key Features and Specs:
New 24.3-megapixel Exmor CMOS full-frame sensor
Built-in sensor-shift image stabilization
Sensitivity: ISO 50 – ISO 25600
Translucent mirror design
1920 x 1080 full HD video (24p, 60i, 60p)
Headphone jack and adjustable audio levels with audio levels display
New "Dual AF" dual phase detect auto focus system
2.3-million-dot OLED electronic viewfinder
New 3-inch 3-way tilting 1.2-million-dot LCD display
19-point AF system
Continuous auto focus in movie mode
6 frames per second high-speed burst
200k-rated shutter
Built-in GPS
Weather and dust-sealed magnesium alloy body
Dual memory card slots – SD & SD/memory stick
New silent, programmable multi-control dial on front of body
Price US $2800 (body-only)
Sony Alpha A99 Studio Sample Photos: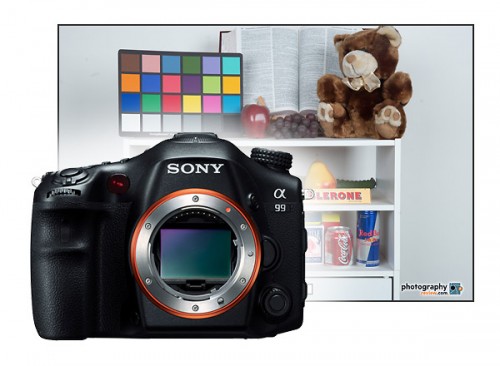 Click to see the all the Sony Alpha A99 studio sample photos >>
If you've been an SLR photographer for a long time, you would be right to be suspicious of the A99's electronic viewfinder (EVF). But I'm here to tell you it's ok. In fact, I prefer it to a traditional optical viewfinder. A few years ago I wouldn't have said that but EVFs have improved a lot and the A99's 2.3-million-dot OLED EVF is beautiful. In fact, I bet a lot of photographers wouldn't even realize they were looking through an EVF when they first put the camera up to their eye. And there are a whole bunch of benefits to using a camera with an EVF. The first and most obvious one is you can see all the same stuff in the viewfinder that you would normally see only on the LCD display – that includes the histogram, menus, playback, the effects of adjusted exposure, and white balance. You can even use it to capture video. And that's where I think the EVF is most valuable. With a normal HD DSLR you need to add a bunch of accessories to stabilize the camera. The A99's EVF allows you to just put the camera up to your eye, adding a third point-of-contact that stabilizes the camera for smoother handheld video. The A99 also has great built-in image stabilization. Sony's SteadyShot INSIDE image stabilization compensates for camera shake by moving the sensor instead of lens optics. That means you don't need to use special image-stabilized lenses since it's handled in the camera. The combination of EVF and SteadyShot image stabilization make shooting handheld video with the A99 easier than with any other full-frame HD DSLR. Video isn't my area of expertise but the video features and specs of the A99 appear to match up very well with the competition. It's got a headphone jack, audio levels control, HDMI out for uncompressed video and it's the only true DSLR that can capture full HD video at 60 frames per second. I haven't had a chance to sort and edit them yet, but I have few video clips I shot with the A99 that I will put together into a sample video and include here in the next few days.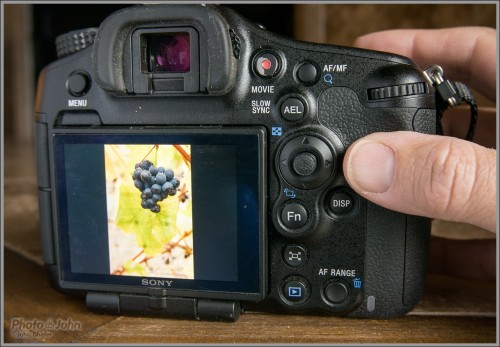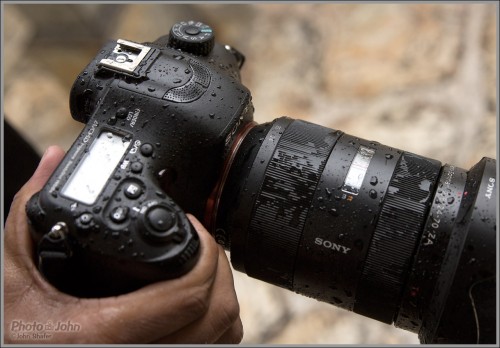 Sony set up a really well-rounded roster of events for camera testing. One area where these photography press junkets often fall short is action shooting. That was not the case on this trip. For action testing, they took us out to an airport in Monterey where we got to shoot McLaren and Jaguar supercars racing around on a tight rally-cross course. I shot with the A99 and Sony's excellent 70-400mm f/4-5.6 zoom lens. This gave me a chance to really test the A99's continuous auto focus and burst rate and I was not disappointed. Since I wanted great photos and not just tests, I mostly shot at 1/250th of a second and slower to get some wheel spin on the cars. As a result I got a lot of photos with motion blur because there's a lot of pitch and roll with this kind of driving. But when I got a smooth pan and timed my shots well, they were beautiful. If I cranked up the shutter speed to really freeze things, almost every photo was in focus. In other words – bad photos were pretty much because of user error – not the camera's fault. The A99's 6 FPS burst rate is the same as the Canon EOS-5D Mark III but slower than more expensive dedicated action DSLRs like the Canon EOS-1D X and Nikon D4. As I found with the Canon 5D Mk III (Canon EOS 5D Mark II Pro Review), for most action subjects, 6 FPS is plenty fast. Faster is nice but not necessary. And to be fair, I don't believe the A99 is intended for dedicated sports photographers. As great as the A99 is, Nikon and Canon still own that category. And the Canon EOS-1D X and Nikon D4 both cost twice as much as the A99.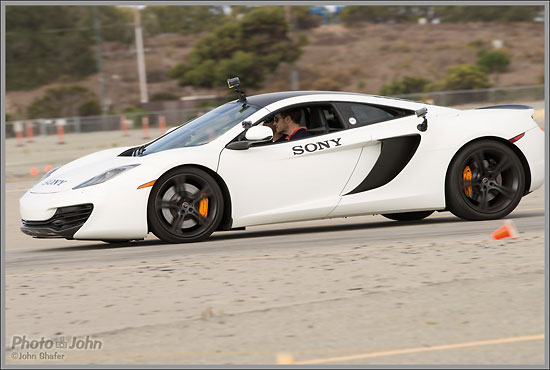 Although I'm primarily a manual exposure guy, I tried out the A99's Tele Zoom High Speed shooting mode (see photo, below). It's an auto mode that crops the image to 10-megapixels and uses auto exposure to deliver action-freezing shutter speeds and continuous auto focus at 8 frames per second. Besides increasing the burst rate, cropping the images increases the coverage of the auto focus sensor array, making it easier to fill the frame with your subject. The tradeoff is you don't get to choose your aperture or shutter speed. So, although I liked being able to shoot tighter and faster with the Tele Zoom High Speed mode, I went back to manual so I could shoot at 1/250th of a second to get some wheel spin and a better action feel. The Tele Zoom High Speed shooting mode will make it easy for less experienced photographers to get great action photos and it will also be good for sports where you do want to completely freeze your subject. But experienced sports photographers will likely find, as I did, that they'd rather have more control.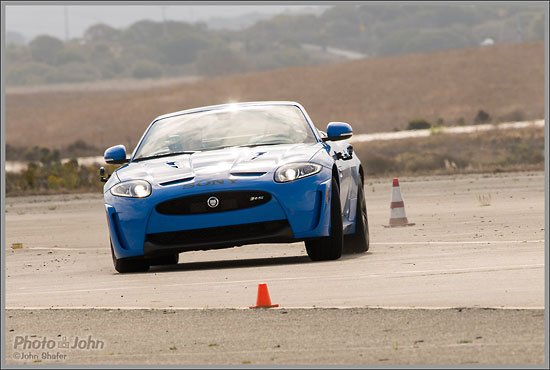 Since the A99 is a full-frame camera, image quality is going to be one of the main concerns. Namely – how does it compare to the competition? I was able to shoot over 800 photos with the A99, in all kinds of conditions, of all kinds of subjects and I thought the image quality was excellent up to ISO 6400 – even higher in some cases. I'm not going to make any definitive rulings until I can make and compare studio tests. However, I've used the Nikon D4, Canon EOS 5D Mark II and EOS-1D X extensively this year and my informal impression is that the A99 image quality compares very well. I also believe the new 24-megapixel Sony full-frame sensor produces the sharpest images I've ever seen from a digital SLR. That was the most remarkable thing I noted when I looked through A99 images. Whether I was using the 24-70mm f/2.8 Zeiss or Sony's 70-400mm telephoto zoom (both excellent lenses), my photos were notably sharper and more detailed than anything I've seen before. I believe the A99 stands up against the best as far as sharpness and detail go. I'm not entirely sure about low light yet. That's going to have to wait until I get a camera for controlled studio testing. But it's certainly useable up to ISO 6400 and higher – especially with good exposures.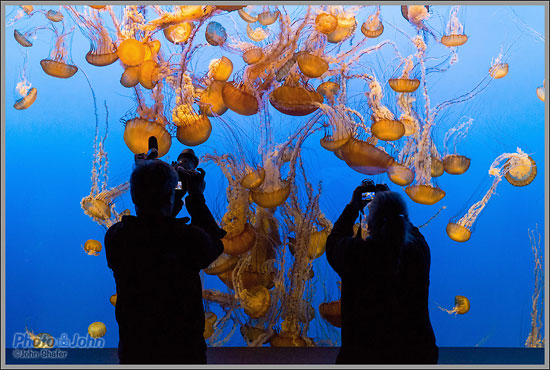 I was really impressed with the Sony Alpha A99 DSLR and hated having to give it back. The A99 is a camera I would love to own. It's built very well, with great controls, excellent image quality, and the speed and auto focus are great. I love the transparent mirror design and the electronic viewfinder. In fact, I believe that EVFs will replace optical viewfinders in most cameras in the near future. They offer so many benefits and the A99's EVF is beautiful, with no obvious downsides that I can detect. I absolutely prefer it to an optical viewfinder. Photographers who are looking to invest in a full-frame system should take a very close at the A99. I believe Sony has the most forward-thinking digital SLR design right now and if I was building a new system, that's where I'd put my money. For video, I don't think any other digital SLR can compete with the A99. It's the only HD DSLR with truly useable continuous auto focus in movie mode. Plus, the EVF means you can get good handheld video without spending hundreds or thousands of extra dollars for a viewfinder and stabilizing accessories.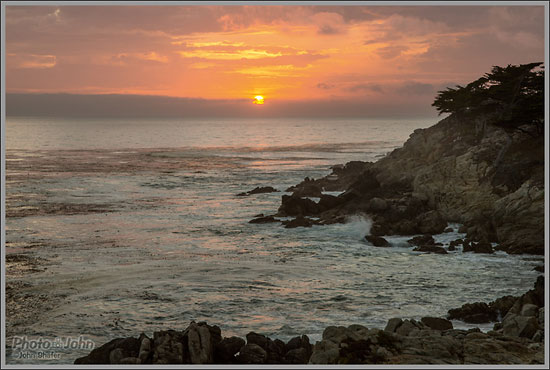 Sony Alpha A99 Studio Sample Photos >>
All Sony Alpha A99 Sample Photos >>
Sony Alpha A99 Intro >>
Related Content:
Sony Digital Camera User Reviews
All Digital SLR User Reviews
Digital SLRs forum
Sony Cameras Forum
Sony Alpha Cameras Web Site