Sony Cybershot TX5 Waterproof Camera Experience

Sony rushed a TX5 to me in May so I could take it on vacation to Mazatlan, Mexico and I've been abusing it ever since. I pride myself on really testing any camera described as "waterproof," "shockproof" or "rugged." The TX5 has been in a sandy pocket while I bodysurfed, it's been dropped on tile, my neighbor's kids took turns tossing it in a kiddy pool, it's been liberally coated with sunscreen, and last week I shot an underwater video clip of a mountain bike riding through a creek. A couple times I was afraid it might not start up again. But no matter what I've done to it, the TX5 has continued to perform like a champ.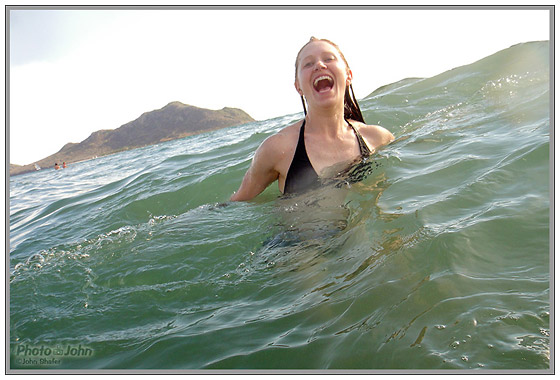 The things I like most about the TX5 are the size, the touchscreen LCD display, the HD video and the iSweep in-camera panorama mode. The TX5′s body is less than an inch thick making it really easy to carry in a pocket. The sliding lens cover, which doubles as an on/off switch, and the touchscreen LCD, make the TX5 really easy to use in the water or with bike gloves on. Taking off bike gloves to mess with tiny point-and-shoot camera buttons is a hassle and most of the time the rider gets past me before I can get my gloves off. Like I said in the Camera Design section, I haven't been a fan of touchscreen cameras in the past. But in the case of the TX5 it turns out to be real benefit.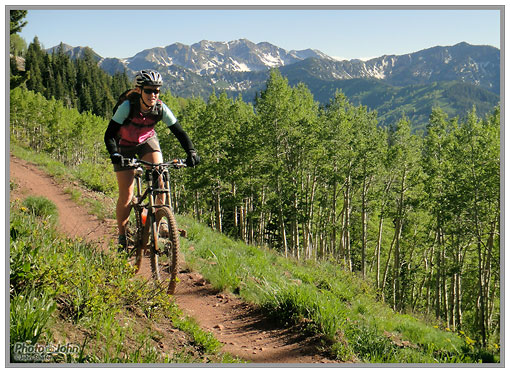 I haven't done a lot of action shooting with the TX5 – mostly because I got so caught up in shooting mountain bike video clips instead of still photos. The TX5 has some cool features that make it very good for action photos, though – minimal shutter-lag (for a point-and-shoot) – and a super fast, full resolution, 10 frames-per-second burst rate. That's as fast as the quickest professional sports digital SLR on the market right now. Very impressive, Sony!
The day after I got the TX5 I flew to Mazatlan and started taking lots of touristy snapshots. Always having it in my pocket meant I took pictures of everything, all the time. I also took a higher-end interchangeable lens camera to Mexico (see my Olympus E-PL1 Pro Review) but the pocketability of the Sony made it more convenient to carry all the time. It's nice to have a pro camera when you're traveling but there's a lot to be said about blending in and being inconspicuous. At some point during my trip my interest began to shift to video. I shot video all through my Mazatlan vacation and lately I've been using it to film mountain bike video clips. It's so small and quick and the 720p video quality is surprisingly good. It's not as good as my Canon EOS 7D or the Olympus E-PL1 Micro Four Thirds camera I also use for video. But the pocket-sized convenience of the TX5 makes up for any quality compromise. It also has surprisingly good sound and the Sony's Optical SteadyShot image stabilization keeps handheld video clips from looking too shaky. And I really get a kick out of being able to stick it under water for HD video! Try that with your DSLR!
Sony Cybershot TX5 Mazatlan Video:
Sony's iSweep panorama mode was a very nice surprise. Most point-and-shoot cameras have built-in panoramic modes now but you usually pay with compromised image quality and somewhat awkward controls. The TX5′s iSweep panorama mode is the most intuitive in-camera panorama feature I've ever used. All you do is select the iSweep mode, point the camera, hold the shutter release button down, and pan (sweep) with the camera. You don't have to line up frame lines in the LCD or try to keep the camera level – after you press the button and start panning, the camera does everything else for you.

The biggest problem I've had with the TX5 is getting my finger in front of the lens – especially when I'm shooting videos. The position of the lens makes it far too easy to accidentally get your finger in the way when you take a picture or shoot a video clip. This isn't just a problem with the Sony TX5, though. I've had the same problem with other Sony T-Series cameras, the Olympus Stylus Tough cameras and the Casio G1 waterproof camera – all of which have a similar lens-in-the-corner design. It's not a deal-killer but it is a bummer when you think you got a good picture or video clip and then discover your finger in the frame.
Sony's camera menus are arranged differently from other cameras. If you haven't used a Sony camera before you can expect to be a little lost at first. There are only three external controls on the camera – the on-off switch, the zoom lever and a playback button. That means all regularly accessed controls must be accessed with the touchscreen. At first I was a little disappointed with the controls I could access without going into the menus. Exposure compensation, which I adjust all the time, was in the menus and required extra clicks. However, discovered you can add and remove controls from the main screen and I moved the exposure compensation to the top level and lived happily ever after.