Sony Cybershot TX5 Features & Design
The TX5 follows in the footsteps of Sony's well-established T-Series pocket point-and-shoot digital cameras. It has a small, internally zooming lens in the upper left corner with a sliding cover that also turns the camera on and off. I was a little surprised to see a T-Series waterproof camera but it makes sense when you think about – the sealed, internal lens, the easy on-off sliding lens cover, and a convenient pocket-sized body. Integral to the TX5′s design is the 3-inch touchscreen LCD display. I haven't been a big fan of touchscreen display cameras but I think it works well for a waterproof camera. It means less buttons, which are potential spots for leaks; and the touchscreen turns out to be easier to use in the water or with gloves on. In fact, the TX5′s touchscreen controls are the easiest I've ever used with bike gloves on.
As far as rugged goes, the TX5 is in the middle of the durability spectrum. Waterproof camera ratings range from 4 feet to 30 feet and I think the TX5′s 10-foot depth rating is the sweet spot for active adults who aren't real SCUBA divers. The shockproof camera drop range is about 3 feet to 6 feet and I think 5 feet (1.5m) is plenty of drop-proofedness (how do you like that word?). More would mean a bigger, heavier camera and 5 feet is realistic for cameras slipping out of your hand or getting knocked off a table. The freezeproof rating is something to be viewed with some suspicion, in my opinion. Yes, you can probably freeze the TX5 in a block of ice or leave it out in the snow all night. But even though the camera might not be damaged by the cold, battery performance sucks at temperatures below freezing. I only used the TX5 in the snow once but based on my experience with other point-and-shoot cameras I wouldn't expect it to take more than 3 or 4 photos before it loses power.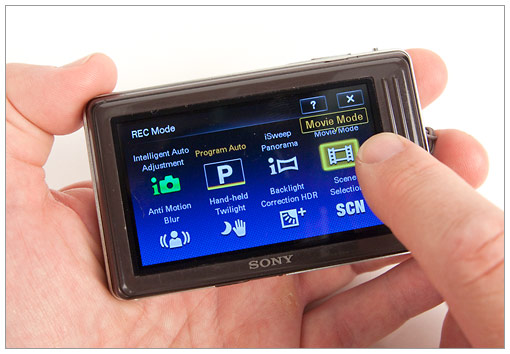 If you've been scared off from Sony cameras in the past by their proprietary Memory Stick format, your worries are over. Although the TX5 accepts Memory Stick Duo cards, all Sony Cybershot cameras are now also SD memory card-compatible. Thank you, Sony!