Conclusion

I've really enjoyed my time with the Sony Cybershot TX5 – enough that I'm considered buying it from Sony. Plus, time spent in the pocket of my sandy swim trunks left it not quite as pretty and polished as when I received it. It still works great, though. I can honestly say it's my favorite waterproof point-and-shoot camera yet – and I've used a bunch. But am I willing to give up better image quality for the TX5′s water and trail-worthy build? I think I am. In fact, I have. Even though I have point-and-shoots with better image quality available, I keep grabbing the TX5 when I go out on the bike. It's so small, easy to use and it's great not having to worry about breaking it. I also love having good HD video in a camera that I can drop in my pants pocket. There are a few compromises with the TX5 – the zoom range is limited compared to many non-waterproof pocket cameras and, as I've said plenty of times now, the image quality isn't as good. But for an all-weather pocket point-and-shoot, I think it's just about perfect.
Everyone who reads this review or any of our other waterproof camera reviews should read my Outdoor & Waterproof Camera Guide. That article covers waterproof camera issues gleaned from the PhotographyREVIEW.com user reviews as well as my own experience with waterproof point-and-shoots over the 5 years or so that I've been using them. It's an invaluable resource for anyone considering buying a "rugged," waterproof digital camera.
Who Should Buy It
The Sony Cybershot TX5 is an excellent choice for:
Active outdoor folks who want to be able to take pictures in all kinds of weather
Boaters, fisherman and others who want a camera they can use in and around water
Clumsy people who drop cameras
Anyone who wants a good pocket-sized point-and-shoot camera that doesn't have to be babied
The Sony Cybershot TX5 is not a good choice for:
Photographers who value image quality above all else
Serious divers and underwater photographers
Photographers who want lots of manual controls
- end -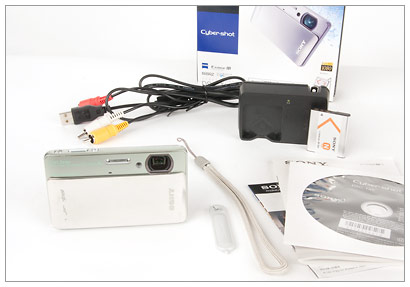 Contents of the Sony Cybershot TX5 Box
Sony Cybershot TX5 camera
Rechargeable Battery (NP-BN1)
Battery charger
Wrist strap
USB/Video cable
CD-ROM
Paint Pen
All photos copyright John Shafer and/or PhotographyREVIEW.com.
Other Sony Cybershot TX5 Resources:
Sony Cybershot TX5 Announcement >>
Compare Prices For Sony Cybershot TX5 >>
Sony Cybershot TX5 User Reviews >>
Write a Sony Cybershot TX5 Review >>
Sony Cybershot TX5 Camera Specs >>
Sony Cybershot TX5 Sample Gallery >>
Download Sony Cybershot TX5 Camera Manual >>
All Sony User Reviews
All Digital Camera Reviews
Digital Cameras Forum
Sony Cameras Cameras Forum
All Digital Camera Pro Reviews >>
All Digital Camera Studio Sample Photos >>
More Sony News, Reviews, and Articles
Sony Cybershot Cameras Web Site