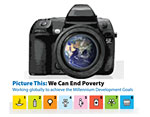 Olympus Corporation, United Nations Development Programme (UNDP), and Agence France-Presse (AFP) Foundation have announced their second annual "Picture This" photo contest, titled "Picture This: We Can End Poverty".
The contest is open to amateur and professional photographers worldwide and contestants may submit up to three different photographs. The photographs must show the inspirational work that is being done to achieve the Millennium Development Goals (MDGs) in developing countries agreed on by world leaders to halve extreme poverty by 2015. The eight Millennium Development Goals are Eradicate extreme poverty and hunger, Achieve universal primary education, Promote gender equality and empower women, Reduce child mortality, Improve maternal health, Combat HIV/AIDS, malaria and other diseases, Ensure environmental sustainability, and Develop a global partnership for development. The contest hopes to bring attention to the urgency of achieving the MDGs.
Prizes include, an Olympus E-3 Body and Zuiko Digital 12-60mm SWD lens for the People's Choice and first place winners, an Olympus E-620 Body and Zuiko Digital zoom lens for second place winners and an Olympus μ-Tough 8000 for third place winners. The first place winners and the People's Choice winner will be flown to New York for an awards ceremony. An exhibit of the winning photos will be held during the UN Summit as well. The first prize winner in the professional category will also be eligible for a fellowship through The AFP Foundation.
For more information and to submit photos, visit the UNDP-Olympus-AFP Foundation "Picture This: We Can End Poverty" photo contest page at: http://picturethis.undp.org/. The deadline for entries is July 16th, 2010 by midnight.
UNDP-Olympus-AFP Foundation "Picture This: We Can End Poverty" Photo Contest Press Release
Related Content:
All Olympus User Reviews
Olympus Cameras Forum
Contest News & Articles
Olympus News & Articles
"Picture This: We Can End Poverty" Photo Contest Web Site
Olympus Web Site