It won't fit in a pants pocket and you can't upload to Instagram with it. But the $99 Wanderlust Travelwide 90 is definitely one of the coolest "point-and-shoot" cameras on the market. Note that I put quotes around "point-and-shoot." That's because the Travelwide 90 is a 4×5 film camera. There's no zoom, no auto focus, no Wi-Fi, no LCD display, no auto exposure, no built-in art filters and you can only take one photo before you have to change the film. But a sheet of 4×5 film is 13x larger than 35mm roll film and the image quality is amazing. Plus, Holga and Lomo-toting hipsters will be green with envy when they see you with a Travelwide 90.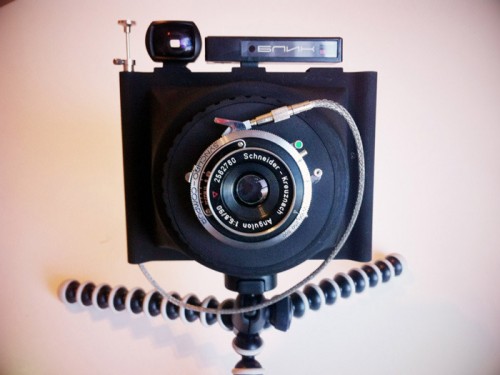 "It's easy to fall in love with the incredible quality of 4×5 analog film, but no one loves lugging a heavy metal camera. We wanted to create a 4×5 that you could take anywhere in the world, and carry every day at home."
Photographers Justin Lundquist and Ben Syverson launched their Wanderlust Travelwide camera project on Kickstarter. The Travelwide 90 camera was designed for photographers who want the quality of 4×5 sheet film with the simplicity of a point-and-shoot camera. It was built around the Schneider Angulon 90mm ƒ/6.8 (28mm equivalent) because that lens is "small, cheap, and good." The lens isn't included with the camera but the Wanderlust guys say it's relatively easy to find on the used market for $150 – $200.
Don't expect the Travelwide 90 to be quite as brainless as a normal point-and-shoot camera. You will need to focus the camera manually as well as calculate your exposure and then set the shutter speed and aperture. And then there's the small detail of carrying a bunch of 4×5 film holders and dealing with sheet film. On the other hand, the quality and tactile experience of the Travelwide 90 will be unlike any other camera, except classic Speed Graphic press cameras used by news photographers like Weegee in the 1930's and 40'3. The Travelwide is a lot lighter than a 4×5 press camera, though. At just 1 pound 6 ounces (630g) with lens, film holder and accessories, the Travelwide is closer to the weight of an entry-level DSLR and lens than a full-frame DSLR or medium format film camera, let alone a standard 4×5 film camera.
The Wanderlust Travelwide 90 is kind of a ridiculous concept, actually – but ridiculous in a cool way. It's a neat idea and it looks like a super fun camera for large format photographers or people who want to get into large format film photography. For US $99 you get the camera, a metal sport finder and a precision pinhole for pinhole photography. If you want a wider lens, they also make the Travelwide 65. It's a fixed-focus camera designed around the 20mm-equivalent Schneider Super Angulon 65mm ƒ/8 lens (lens not included).
Wanderlust Travelwide Kickstarter Page >>
Related Content:
Film Photography Forum
More Film Photography News & Articles
Lomography Web Site