Fujifilm's X100 rangefinder-style compact camera was one of the surprise successes of the past couple years. With a fast prime lens, APS-C sensor, simple intuitive controls and a unique hybrid viewfinder, the X100 set itself well apart from other "compact" cameras and became one of the most coveted walk-around cameras for serious photographers (Hands-On With the Fujifilm X100). Enter the Fujifilm X100S: introduced at the annual CES tradeshow this week in Las Vegas, the X100S builds on the original X platform with a new X-Trans sensor, new EXR Processor II, and an improved hybrid viewfinder with increased resolution and new "Digital Split Image" focusing aid. With phase detect AF pixels embedded in the new sensor and Intelligent Hybrid AF, Fujifilm is also claiming the X100S has "the world's fastest AF in as little as 0.08 seconds."

Update: We got the Fujifilm X100S in for review a few weeks ago and just finshed our studio testing. Check out our X100S high-res studio sample photos and anaylsis:
Fujifilm X100S Studio Sample Photos >>
Fujifilm X100S Key Features and Specs:
New 16.3-megapixel APS-C X-Trans CMOS II sensor
New EXR Processor II
Embedded phase detect pixels for hybrid auto focus
World's fastest AF – as quick as 0.08 seconds
Fujinon 23mm f/2.0 prime lens (equivalent to 35mm focal length)
Hybrid Viewfinder combines with optical and electronic modes
2.8-inch 460k-dot LCD display
Focus peaking
Digital Split Image
1920 x 1080 60 FPS full HD video
ISO 200 to 6400, expandable to ISO 100 and ISO 25,600
Die-cast magnesium alloy body
New Q "Quick" button and menu
Built-in flash and flash hot shoe
6 FPS high-speed burst
Built-in electronic level
The X100 was already known for excellent image quality but it's going to be stellar with the X-Trans sensor. The X-Trans sensor was introduced last year with Fujifilm's very popular X-Pro1 interchangeable lens mirrorless camera (hands-on with the Fujifilm X-Pro1). Its groundbreaking design randomizes red, green and blue pixels on the sensor array to minimizing moiré. Because there's no moiré there's no need for an anti-aliasing filter. Removing the anti-aliasing filter allows more light to reach the sensor for better image quality at all ISO settings. It also allows the sensor to capture more detail, effectively increasing the resolution of the camera. While it's a stretch to say the X-Trans sensor matches full-frame sensor quality, as some people do, the X-Pro1 images I've studied closely do look much better than anything I've seen from standard Bayer array APS-C sensors.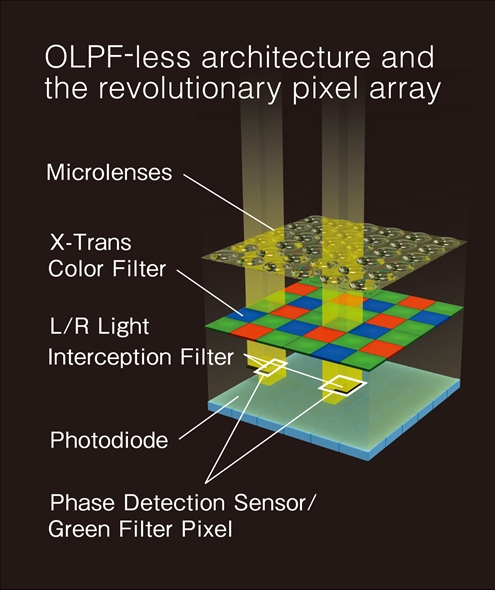 Lens quality and processing are also critical elements of image quality. The new EXR Processor II is supposed to be twice as fast as the previous processor, giving the X100S a start-up time of just 0.5 seconds, shutter lag of only 0.01 seconds, increasing the burst rate from 5 FPS to 6 FPS, and making it possible for the X100S to capture full HD video at 60 FPS. But the processor is also responsible for image processing and Fujifilm claims the new EXR Processor II reduces noise by as much as 30% compared to the X100.
The X100S lens is a given. It's the exact same Fujinon 23mm f/2.0 prime that was on the X100. Fewer optical compromises need to be made to engineer an excellent prime lens and that's why so many professional photographers revere them. With the APS-C sensor, the 23mm lens on the X100S is equivalent to a 35mm lens on a full-frame/35mm camera. Why 35mm, you ask? The 35mm focal length is a conservative wide-angle. It's shorter than a "standard" 50mm but not so wide that it makes things look funky – the perfect focal length for a camera with a fixed lens like the X100S. That's also the reason that the 35mm prime has been traditional for photojournalists, travel and street photographers. The fast f/2.0 aperture makes the lens great for low light shooting and for shallow depth-of-field photos. The lens has a 9-blade aperture for creamy smooth bokeh and a built-in 3-step neutral density filter to take full advantage of the big aperture in all lighting conditions.
One of the most interesting features in the original X100 was the hybrid viewfinder. The first time I looked through it, I was really impressed. I think the best way to describe it is Star Wars meets the traditional rangefinder. The electronic mode gives you everything you'd get with the LCD display – playback, histogram, all exposure data, etc.; and the optical mode has a built-in overlay with electronic level and exposure data. Switching between electronic and optical viewfinder modes is done with an intuitively-placed lever on the front of the camera. The X100S has a new, increased resolution 2.3-million-dot electronic display, which should make it much more comfortable to use. Fujifilm also added two new focusing tools – focus peaking and a Digital Split Image display. For the youngsters reading this, a split image was how we made sure our photos were focused back in the olden days. There was a small split circle in the viewfinder of your film SLR and as you focused the split images on both sides of the circle slid past each other. When they matched up, you were in focus and ready to press the shutter release button. It's a very effective focus method and I often miss it in this era of auto focus cameras. Fujifilm has replicated this feature in digital form for the X100S viewfinder. I haven't seen it in person and I've seen some criticism of it on the Web. However, it seems like a good idea to me. I guess we'll have to wait and see what people think as they start to get the camera out in the field. Check out the official X100S intro video (errr – commercial) below to get a closer look at the hybrid viewfinder and some of the other features:
Official Fujifilm X100S Promo Video:
After better image quality, improved auto focus performance is probably the most important enhancement on the X100S. To this end, Fujifilm is jumping on the hybrid auto focus bandwagon, adding embedded phase detect AF pixels to the 16-megapixel X-Trans sensor. I believe Nikon's original J1 and V1 mirrorless cameras were the first to have embedded phase detect AF pixels on the sensor for improved auto focus performance, and it worked great (Nikon J1 Pro Review), delivering continuous auto focus performance that was way better than any other mirrorless camera on the market. Fujifilm calls the new auto focus system, Intelligent Hybrid AF. It's designed to automatically choose between contrast detect and phase detect systems, depending on which will deliver the best performance in a given situation. With that system, Fujifilm claims the X100S has the fastest auto focus in the world, "focusing in as little as 0.08 seconds." That number is hard to translate to the real world, though. I'll have to get some hands-on time to see how it actually measures up. The real challenge with cameras that don't have mirrors isn't so much auto focus speed as continuous auto focus performance. Generally, continuous auto focus sucks on mirrorless and compact cameras. So hopefully, the embedded phase detect pixels will give the X100S continuous auto focus performance comparable to a DSLR. I say, "hopefully," because that's not the case with all cameras that have used this strategy. Some of them remain deplorably slow in spite of their hybrid AF systems.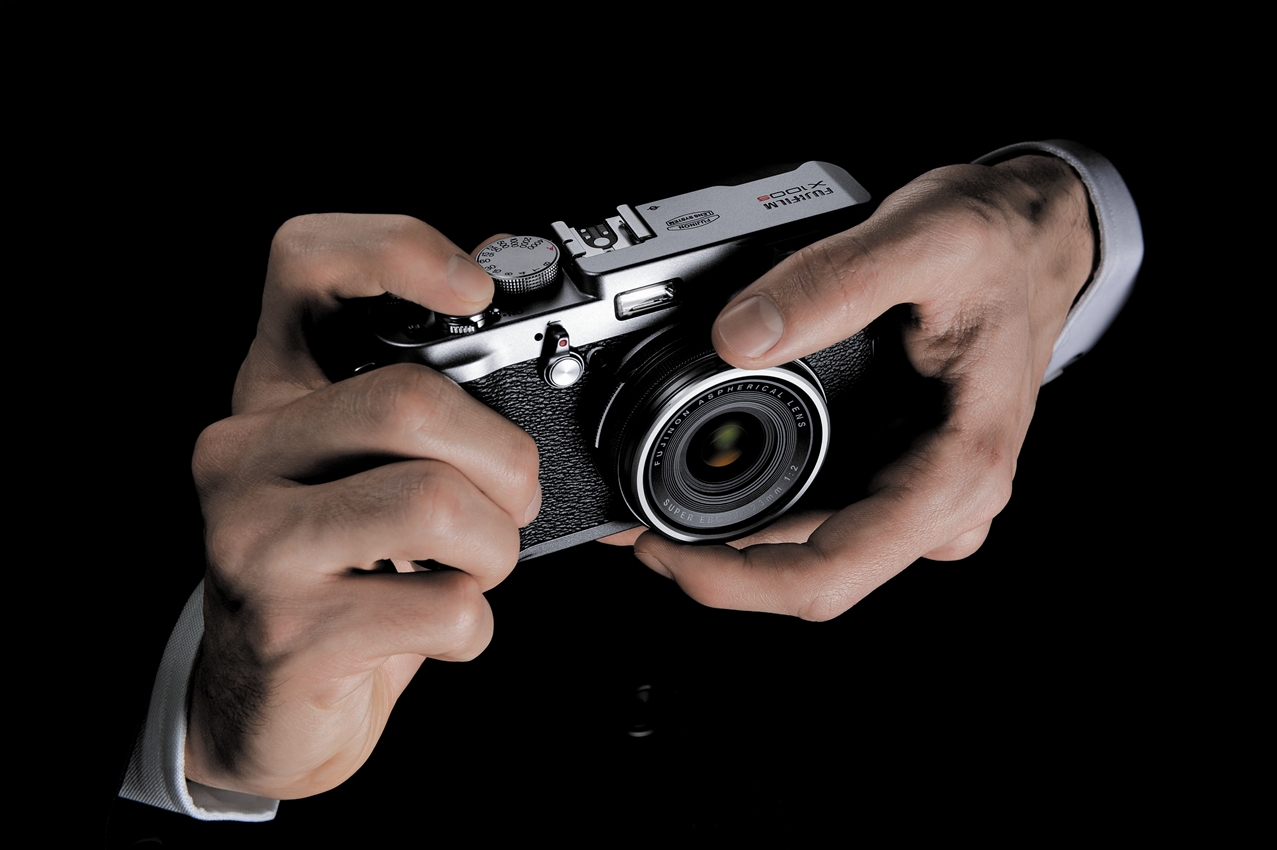 Last but not least, one of the things that made the original X100 so popular was the traditional, intuitive, dial-controlled design. It struck a nerve with photographers who felt like all the bells and whistles on their DSLR might actually be distracting them from the photographic process. The purity of using a prime lens and "zooming with your feet," using an aperture ring or shutter speed dial to control exposure, and leaving the bag of accessories at home, was appealing to many photographers. The X100S shares the same basic design as the X100, with the addition of a new Q "Quick" button for immediate access to regularly used functions like ISO, white balance and Fujifilm's cool Film Simulation settings.
In the end, the most important thing that can be said about the Fujifilm X100S is that it's the same as the X100, but better. If you coveted the X100, then you should covet the X100S more. I'll be honest, personally, I wasn't that psyched about the X100 when it was first announced. But when I finally got my hands on one it clicked. I still wish it had a zoom lens. But I get it. The simple purity of the camera combined with great image quality speaks for itself. And at US $1299.95 (MSRP), it's a hell of a lot more affordable than a Leica M rangefinder or the Sony RX1.
Fujifilm X100S Studio Sample Photos >>
Official Fujifilm X100S Announcement >>
Related Content:
All Fujifilm User Reviews
All Digital Camera User Reviews
Digital Cameras Forum
More Fujifilm News & Articles
Fujifilm Web Site